WBCSD superintendent submits resignation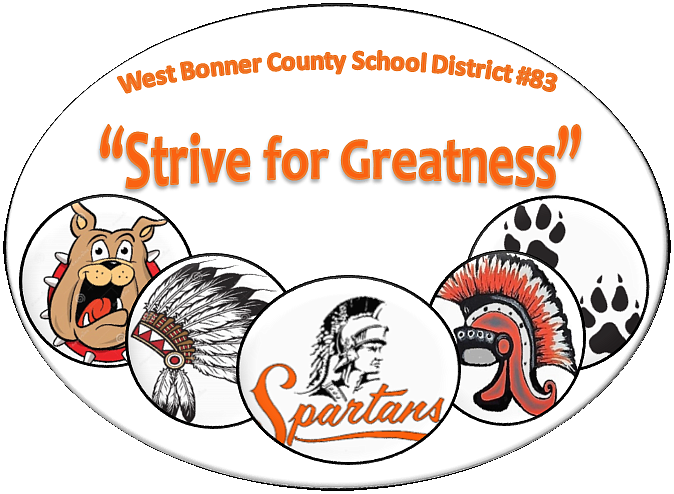 West Bonner County School District logo.
(Photo courtesy WEST BONNER COUNTY SCHOOL DISTRICT)
by
BEAUX WHITE EAGLE
Staff Writer
|
March 21, 2023 1:00 AM
PRIEST RIVER — West Bonner County School District has named a former Priest Lake Elementary principal as interim superintendent after the sudden resignation of Jackie Branum.
The board had announced a special board meeting Friday, noting the matter would cover a personnel issue. Because the meeting involved an executive session, which is closed to the public, the meeting was not live-streamed. However, following the meeting, the school district released a letter from Susie Luckey, who was named interim superintendent, via email and social media announcing the change and how it would affect the district moving forward.
The former principal of Priest Lake Elementary, Luckey said her appointment would last until June 30. She told the district's residents that the board had already given her instructions on how to continue with the current works of the district such as the implementation of its five-year strategic plan.
Luckey said her focus for the remainder of the school year will be to move forward with the Quantum Learning program, which aims to focus teaching to accommodate how students best learn as well as on a switch to a four-day school week for the 2023-24 school year.
Echoing a sentiment from Branum, Luckey said the importance of the five-year strategic plan lies with the students in getting them ready to not only graduate high school but to be college and career ready by the time they leave WBCSD.
"As we move forward, I am asking you to support me in the journey of using the implementation of the 5-year Strategic Plan as our roadmap to increased academic excellence," Luckey said.
Recent Headlines
---