Bulldogs have no trouble defeating Trojans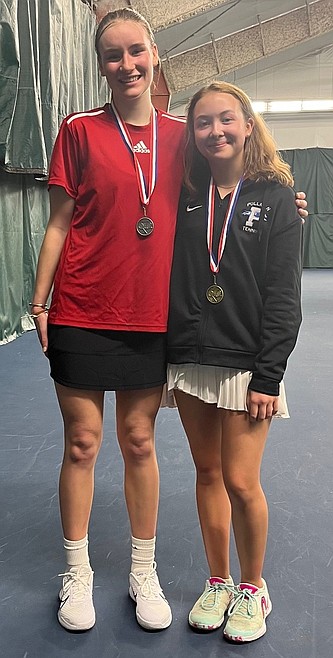 Neva Reseka (Sandpoint) poses with Gwyn Heim (Pullman) at the Clarkston Tourney.
(Photo courtesy Kent Anderson)
POST FALLS — The Sandpoint tennis team beat Post Falls, 9-3, on Monday, March 20, with dominant doubles performances by both the girls and boys.
The girls swept the match, winning all of their singles and doubles. Adrian Doty, Maise Brazill and Neva Reseka handled their opponents with ease. Combined, the three did not lose a single set.
"Adrian Doty overpowered her opponent; Maise had amazing consistency; and Neva had such great anticipation and court sense. It was a great showing for them today," coach Kent Anderson said.
On the doubles side of things, the matches were a bit closer. Patch Howard and Sydney Webb were out of the lineup for doubles, but the Bulldogs pulled through. Maile Evans and Aubrey Knowles made up one pair; Berkeley Cox and Elly Tutin made up the other.
"Berkely and Ellie had good serves and strong volleys. Aubrey and Maile maintained their composure after winning two tiebreakers; it was great to see them perform in a situation like this early in the season," Anderson said.
For the boys, Elliot Lowman was the lone singles winner. He won both of his sets 4-1. Doubles pairs Evan Wiley and Aidan Heitz and Ivan Steinbachs and Brennan Johnson swept their matches.
Anderson said Elliot's topspin proved to be too much for his opponent and both pairs of doubles closed on the net well and played at a great pace.
Rounding out the day, Fisher Dail and Lily Evans won their mixed doubles match in a third set that went down to the wire.
Sandpoint will take a road trip to Latah County to play a doubleheader against Lewiston and Moscow.
SANDPOINT 9, POST FALLS 3
BOYS SINGLES — No. 1 Summit Newell, PF, d. Jacob Dawson, 4-2, 4-0. No.2 Cadence Warren, PF, d. Owen Larson, 4-3, (10-8), 4-0. No.3 Elliot Lowman, Spt, d. Colby Michalk, 4-1, 4-1.
BOYS DOUBLES — No. 1 Evan Wiley/Aden Heitz, Spt, d. Colby Calkins/Isaac Holding, 4-3, 4-1, (8-6). No. 2 Ivan Steinbachs/Brennan Johnson, Spt, d. Carson Hunter/Nigel Greaser, 4-3, (7-2), 4-1.
GIRLS SINGLES — No. 1 Neva Reseska, Spt, d. Tara Newell, 4-0, 4-0. No. 2 Maise Brazill, Spt, d. Makensy Shapiro, 4-0, 4-1. No. 3 Adrian Doty, Spt, d. Raya Zirker, 4-0, 4-1.
GIRLS DOUBLES — No. 1 Maile Evans/Aubrey Knowles, Spt, d. Madi Barkley/Addie Muir, 4-3, (5-7), 4-3, (7-5). No. 2 Berkeley Cox/Elly Tutin, Spt, d. Ashley Webster/Christina Turbes, 4-2, 4-3, (7-5).
MIXED DOUBLES — No. 1 Fisher Dail/Lily Evans, Spt, d. Ethan Fleischman/Christina Turbes, 4-0, 4-3, (7-4). No. 2 Lincoln Allred/Rutit Beal, PF, d. Colby Dyk/Hannah Fisher, 4-3, (7-5) , 4-1.
Recent Headlines
---