U.S. 95 project set to resume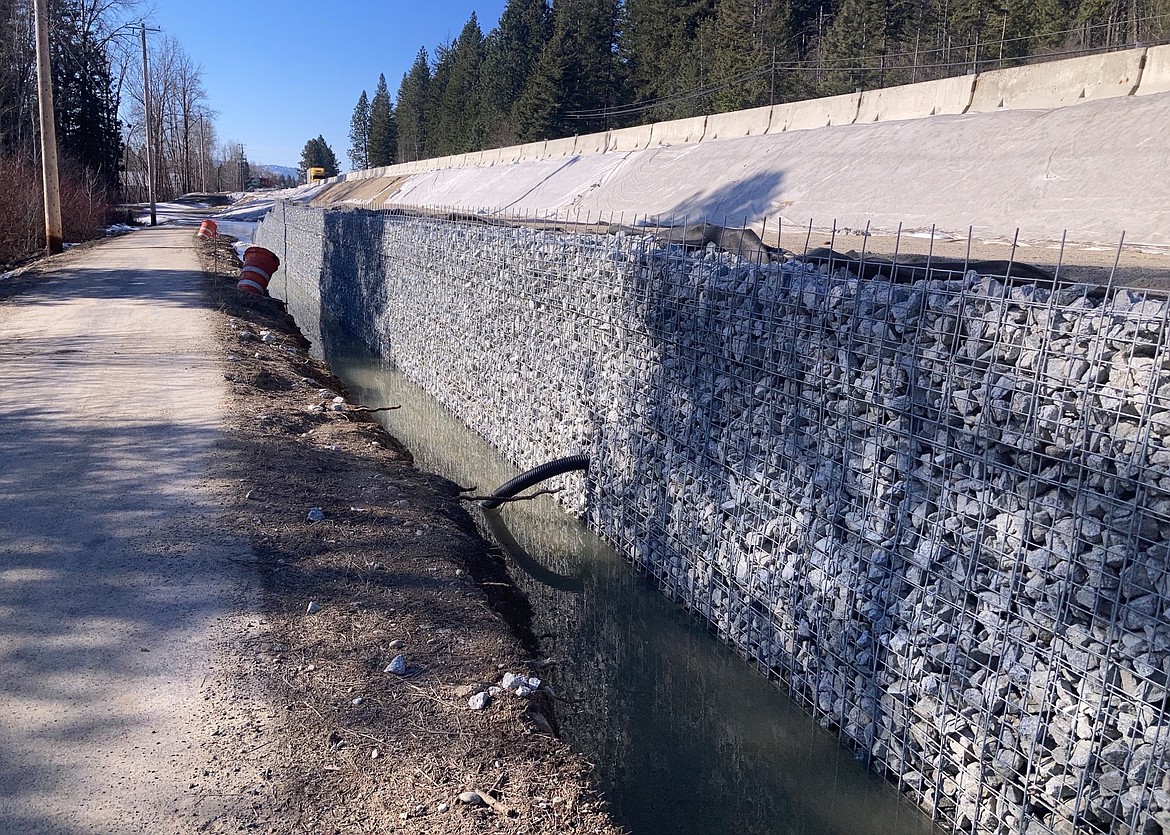 A look at a retaining wall constructed as part of the Lakeshore Drive/Sagle construction project. As part of the final phase, crews will finish the retaining wall along U.S. 95, pave the widened portion of the highway and rebuild the Serenity Lee Trail. In addition, construction on a new signal at Sagle Road will continue.
(Photo courtesy IDAHO TRANSPORTATION DEPARTMENT)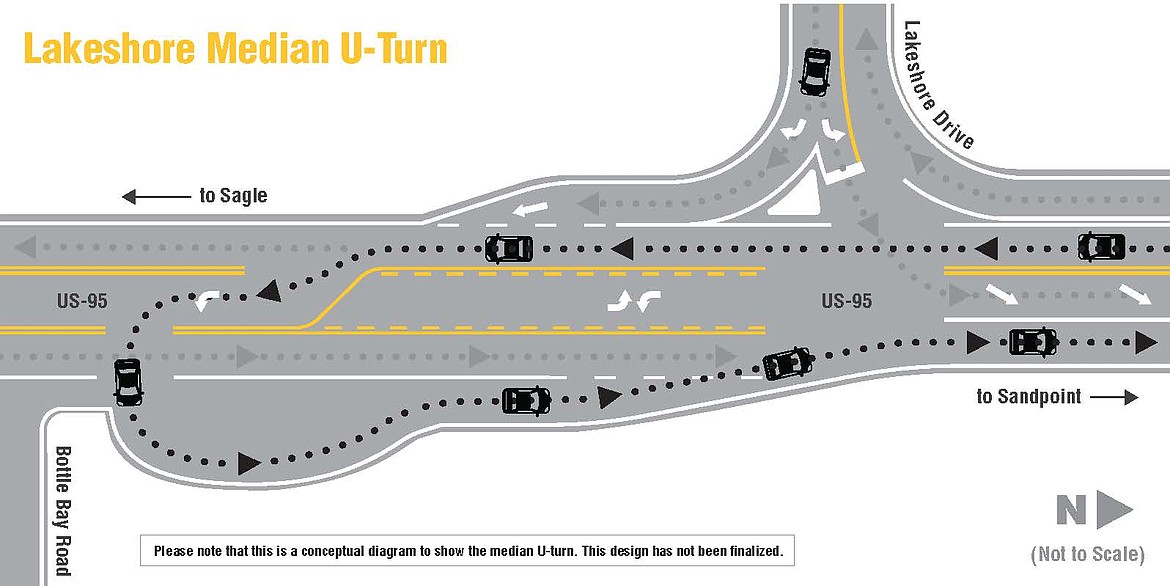 A concept drawing of what a median U-turn could look like in the area of U.S. 95 and Lakeshore Drive in Sagle.
Previous
Next
SAGLE — With a June goal in mind, work on the Lakeshore Drive project is set to resume on Monday, Idaho Transportation Department officials said.
As part of the final phase, crews will finish the retaining wall along U.S. 95, pave the widened portion of the highway and rebuild the Serenity Lee Trail. In addition, construction on a new signal at Sagle Road will continue.
Megan Jahns, ITD public information officer, said one lane would remain open in each direction during the several months of construction. However, flaggers will intermittently stop traffic for trucks entering and exiting the work zone.
In addition, she noted that drivers can expect the turn lane for Bottle Bay to remain reduced in length, while a detour for users of the pedestrian/bicycle bath will be marked along county roads.
A median U-turn being constructed will give drivers looking to travel north on U.S. 95 across the Long Bridge from Lakeshore Drive onto the highway another option. After construction wraps up in June, drivers will be able to either make an immediate left turn onto the highway or turn right to join southbound traffic and perform a U-turn a half-mile away from the intersection to head north.
"Providing the U-turn option will reduce delays for drivers trying to get on the highway at Lakeshore Drive, as well as reduce the likelihood of near misses at this intersection," Project Manager Phil Stout said.
While work on a new traffic signal at Sagle Road will also pick back up, ITD officials said the work isn't expected to disrupt traffic significantly. Work on the light began last fall as crews started to build the signal arm and light pole foundation.
"Delays to traffic are anticipated to be minimal and limited to lane shifts and shoulder closures until a detour is posted in late April," Jahns said.
The most significant impact to drivers will be the closure of Sagle Road between U.S. 95 and Lignite Road for approximately a month, Jahns said. The closure will be in effect for all traffic.
During the construction, drivers will not be able to turn east from U.S. 95 onto Sagle Road and drivers westbound on the road will not be able to access the highway. Instead, drivers will be routed along Lignite and Bottle Bay roads in order to access the highway.
Local traffic only — such as school buses, emergency vehicles and residents living in the area — will be allowed through via Monarch Road, ITD officials said.
Drivers will be encouraged to continue to use the detour even after Sagle Road opens at U.S. 95 as not all lanes will be open to traffic until the project is complete.
"Our goal is to minimize the traffic impacts while allowing the contractor to complete the work safely," Stout said. "We have put an incentive in the contract to encourage early completion."
Both the median U-turn and the new signal at Sagle Road are expected to be done in June.
While that will wrap up construction in the area, Jahns said additional projects are likely this summer. Those details are still being finalized.
Construction of the first phase, which included adding an acceleration lane for drivers turning south onto U.S. 95, was competed in fall 2021 and spring 2022. Dedicated lanes for different turning movements from Lakeshore Drive were also established.
"U-turns give drivers who want to turn left onto U.S. 95 an option to turn right first, travel downstream and then use a new lane to make a U-turn and rejoin traffic," ITD officials said on the department's website. "These U-turns are designed to increase safety and traffic flow in areas such as the south end of the Long Bridge."
While ITD does not plan to restrict left turns from Lakeshore Drive onto U.S. 95 at the Long Bridge, officials cautioned that could happen in the future. If that decision is made, drivers would still be able to head north from Lakeshore Drive by using the U-turn to the south.
While U.S. 95 improvements taking place in the Sagle area immediate safety and mobility concerns, ITD officials said a long-term study is planned to look at what the highway might look like in the future.
"This process could take several years," Jahns said on the website. "ITD will share opportunities for the public to participate as this project progresses."
Information: itdprojects.org/us95lakeshoredrive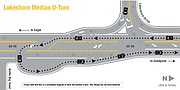 Recent Headlines
---