Local Day of Prayer event set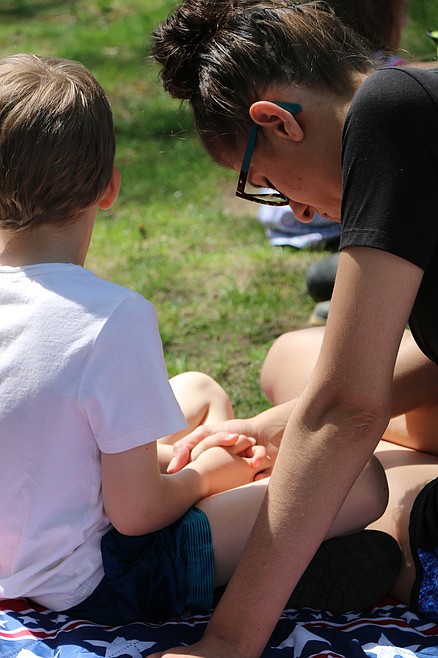 A Bonner County resident and child bow their heads in prayer at a past National Day of Prayer event at Farmin Park in Sandpoint.
(Photo by CAROLINE LOBSINGER)
Faith and the power of prayer will take center stage Thursday as local residents turn out for the 72nd annual National Day of Prayer.
Sandpoint is one of tens of thousands of communities taking part in the annual event to pray for the nation, government leaders, media, military, schools, churches, business and families.
Many Sandpoint area churches are participating in the National Day of Prayer with the community-wide event starting at 11:30 a.m. with music from a multi-church band. The observance will begin at noon in Farmin Park. As part of the event, area pastors in attendance will be introduced, there will be music, the Armed Forces Color Guard and prayer for area cities, the state and the nation.
"It is a great time of unity among the churches," said Janine Shepard of Pray 7B. "We will also be live that day on Facebook, so those who are unable to come to the park can join us."
Shepard said Pray 7B is continuing its Adopt-a-Cop program, which asks residents to regularly pray for a local officer or deputy.
"We want to show our extreme gratitude to our law enforcement for the work they do to keep us safe every day," Shepard said.
Shepard invited local law enforcement to attend the event — and for local residents to sign up to pray for them.
"At this crucial time for our nation, we can do nothing more important than pray," Shepard said in a press release. "Thank you in advance for making this spiritual discipline a personal priority and for standing with us as we encourage others to incorporate prayer in their lives."
Pray 7B officials invited the community to join with the millions of believers from across the nation Thursday. Like last year, this year's theme "Exalt the Lord Who has Established us" from Colossians 2:6-7.
Congress established the National Day of Prayer in 1952. This observance is currently held the first Thursday each May when all Americans are encouraged to exercise their religious freedom by gathering publicly to worship and pray for the country.
Information: Pray7B.org
Recent Headlines
---