Community's help needed to ensure SHS Grad Night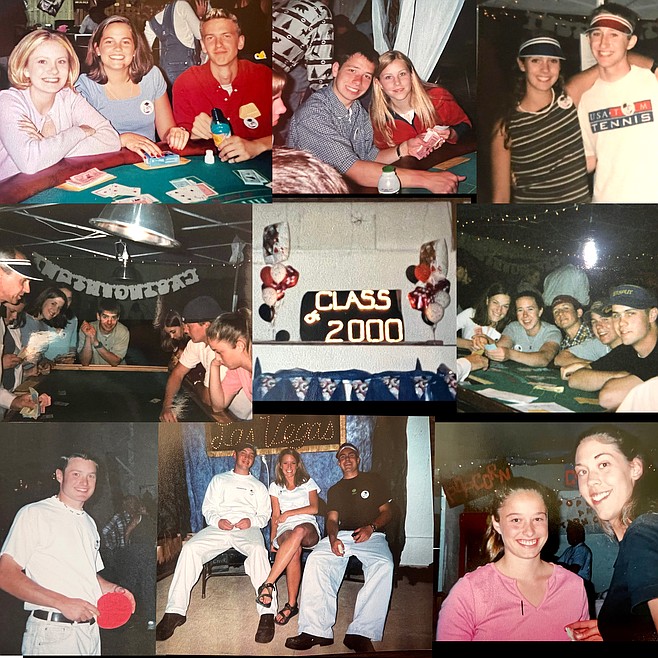 In a collage of photos, Sandpoint High School graduate Abby Leisy showcases the fun and events the Class of 2000's Grad Night celebration. With her son set to graduate next month, Leisy and other senior class parents are working to ensure this year's graduating class has the same fun.
(Photo courtesy ABBY LEISY)
by
CAROLINE LOBSINGER
Staff Writer
|
May 11, 2023 1:00 AM
Abby Leisy remembers walking into her own Grad Night.
The fairgrounds was transformed into a teen-friendly casino with poker tables, craps, a ring toss and dart games. Parents staffed the different tables, wearing poker visors and setting the mood.
"They wanted to make it the best night for us including dressing up," Leisy said of the event. "Everyone had fun that night and it didn't matter what group you were part of. You went from table to table playing and hanging out with everyone."
She remembers the huge dance party and limbo contest. She remembers that after the event ended, the entire group left the fairgrounds and headed to City Beach.
"We sat in the sand with our blankets and talked about high school and our goals for after school," Leisy said. "We watched the sunrise and knew that nothing was going to be the same but at least we had this one last night together."
She wants soon-to-be Sandpoint High School grads, including her son, to have that same experience. To make that happen, Leisy and fellow SHS 2023 senior class parents are organizing this year's event — but to make it happen, they need the community's help.
"Once again, Grad Night is in danger of not happening," Leisy said. "The event is not a district-sponsored event. That means all prizes, gifts, games and the event itself are paid for via donations."
In the past, senior class parents have relied on businesses to donate items that could be packaged together and given to each student who stays until the end. However, business in Sandpoint is not what it used to be and Grad Night organizers said they can no longer rely just on businesses to supply these gifts. That's why they have reached out to the community for cash donations to help them buy the prizes for each student and include the things they need most. Among the most requested items are towels, microwaves, mini-fridges, hangers, phone chargers, gas cards, Amazon gift cards and bedding.
To make sure this event happens, the group is seeking donations from anyone who is willing and wants to see Grad Night traditions continue, Leisy said. Parents also are selling raffle tickets around town on Saturdays at Super 1 Foods in Sandpoint and North 40 Outfitters in Ponderay.
Raffle prizes include a truckload of gravel from Peak Sand and Gravel, a Dover-themed basket with a night's stay and dinner for five, Mariners tickets and a Sandpoint-themed basket with meats from Woods. Tickets are $5 each or five for $20.
To purchase tickets, Venmo @Abby-Leisy and state what basket you want to enter and leave your phone number in the comments. You will receive a comment confirmation with a picture of the tickets filled out.
As much as possible, Leisy said she and the other parents want their children to look back on Grad Night the same way that they do — a fun, safe time with all of their friends, enjoying one last night together before heading their separate ways.
"Now that I have my own son graduating from Sandpoint I want him and his classmates to have this same experience," Leisy said. "Time has changed what this event looks like now. We hardly have any parents willing to help, lack of donations and carnival games might not be enough to entertain kids until 6 a.m."
They've shortened the time with this year's event ending at 2 a.m. in hopes that will encourage students to stay the whole event and have a chance to win some of the big prizes. 
The two highest-risk nights for high school students are prom and graduation. The community's Grad Night party is a response to keep its students safe, senior class parents said.
"Since 1974, Sandpoint High School parents have been organizing a Grad Night party to provide a celebration that is safe, sober and memorable," Leisy said. "Our Grad Night Party sends a clear message to all graduates that we care about them and their safety. Grad Night is a commitment by parents, Sandpoint High School and the community to provide a great, once-in-a-lifetime experience."
Anyone wishing to donate to Grad Night, Venmo donations to @GradnightSHS-23.
Recent Headlines
---