U.S. 95 project nears completion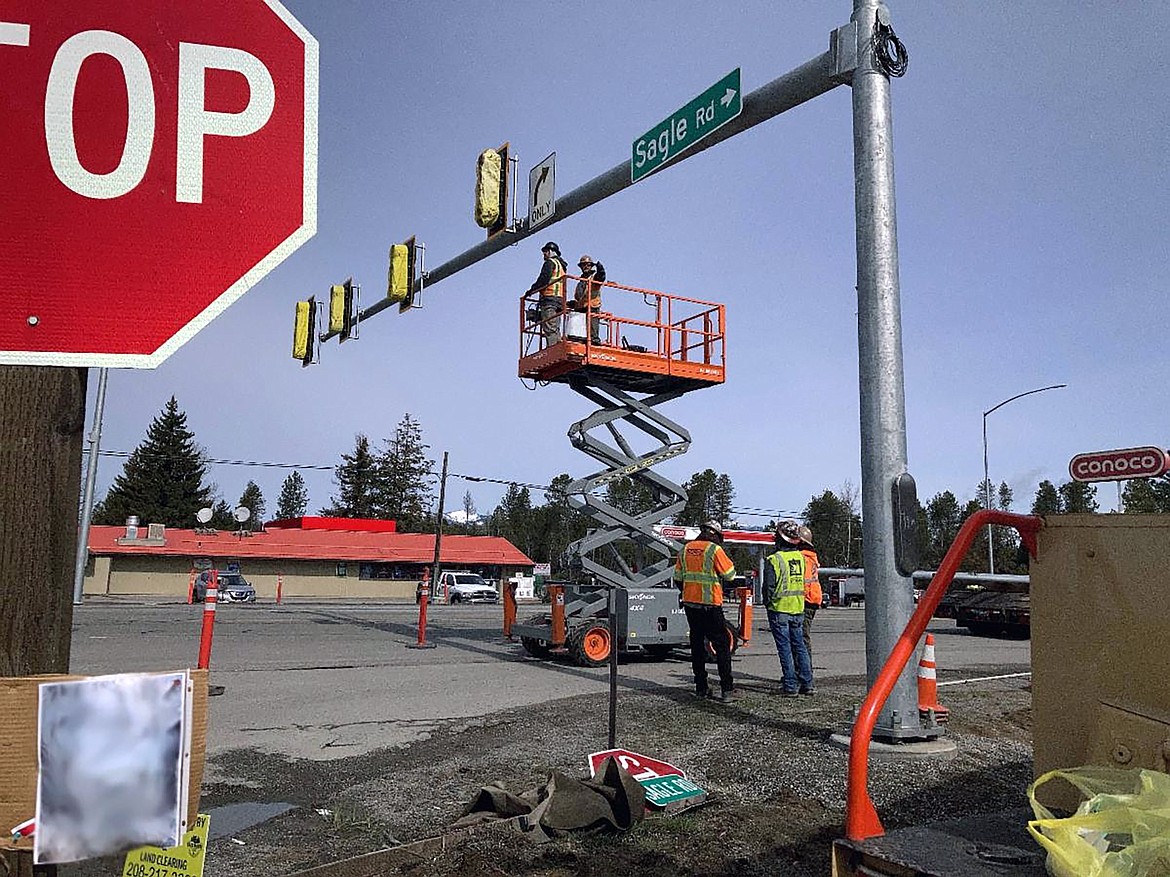 Idaho Transportation Department crews work to complete a new light at Sagle Road and U.S. 95. The light is expected to go live on Friday, May 19.
(Photo courtesy IDAHO TRANSPORTATION DEPARTMENT)
SAGLE — There's some good news for area drivers: the detour of Sagle Road was lifted Thursday.
And, Idaho Transportation Department officials said, the new signal at U.S. 95 and Sagle Road is expected to go live next Friday.
A median U-turn on U.S. 95 is expected to open by May 19 as well, Megan Jahns, Idaho Transportation Department public information officer, said.
Drivers will be able to either make an immediate left turn onto U.S. 95 from Lakeshore Drive and other nearby roads. They also will be able to turn right, travel downstream and then use the median U-turn to rejoin northbound traffic.
"This U-turn is designed to increase safety and traffic flow south of the Long Bridge," Jahns said.
The U-turn is expected to reduce delays for drivers northbound from Lakeshore Drive, as well as reduce the likelihood of near misses at this intersection.
As part of the project, crews also added a retaining wall, paved the widened portion of the highway and rebuild the Serenity Lee Trail.
The work is part of a final phase of a project to improve safety on the highway from Lakeshore Drive to Sagle Road.
Construction of the first phase, which included adding an acceleration lane for drivers turning south onto U.S. 95, was completed in fall of 2021 and spring 2022. Dedicated lanes for different turning movements from Lakeshore Drive were also established.
While ITD does not plan to restrict left turns from Lakeshore Drive onto U.S. 95 at the Long Bridge, officials cautioned that could happen in the future. If that decision is made, drivers would still be able to head north from Lakeshore Drive by using the U-turn to the south.
While U.S. 95 improvements taking place in the Sagle area bring immediate safety and mobility concerns, ITD officials said a long-term study is planned to look at what the highway might look like in the future.
Information: itdprojects.org/us95lakeshoredrive
Recent Headlines
---