Fledgling foresters head into the woods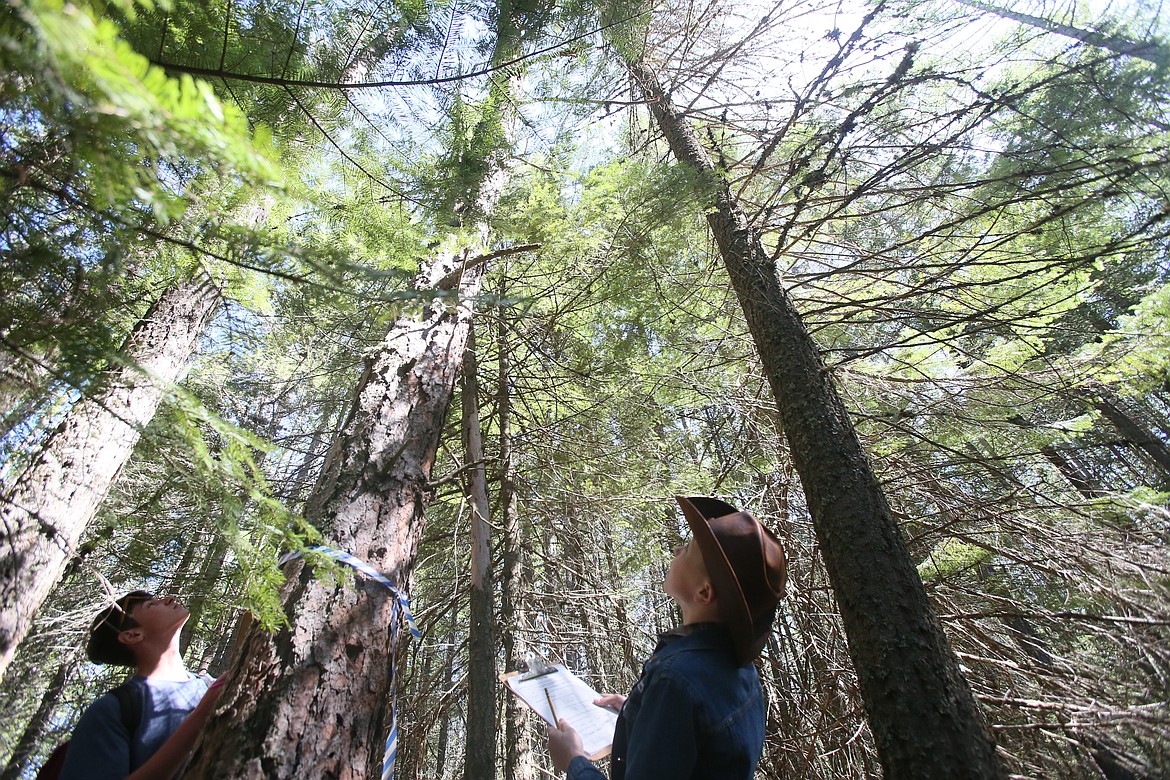 North Idaho STEM Charter Academy freshman Vincent LaPresta, left, and seventh grade homeschooler Levi Betts of Coeur d'Alene examine a tall tree Thursday morning at Farragut State Park during the Idaho State Forestry Contest.
DEVIN WEEKS/Press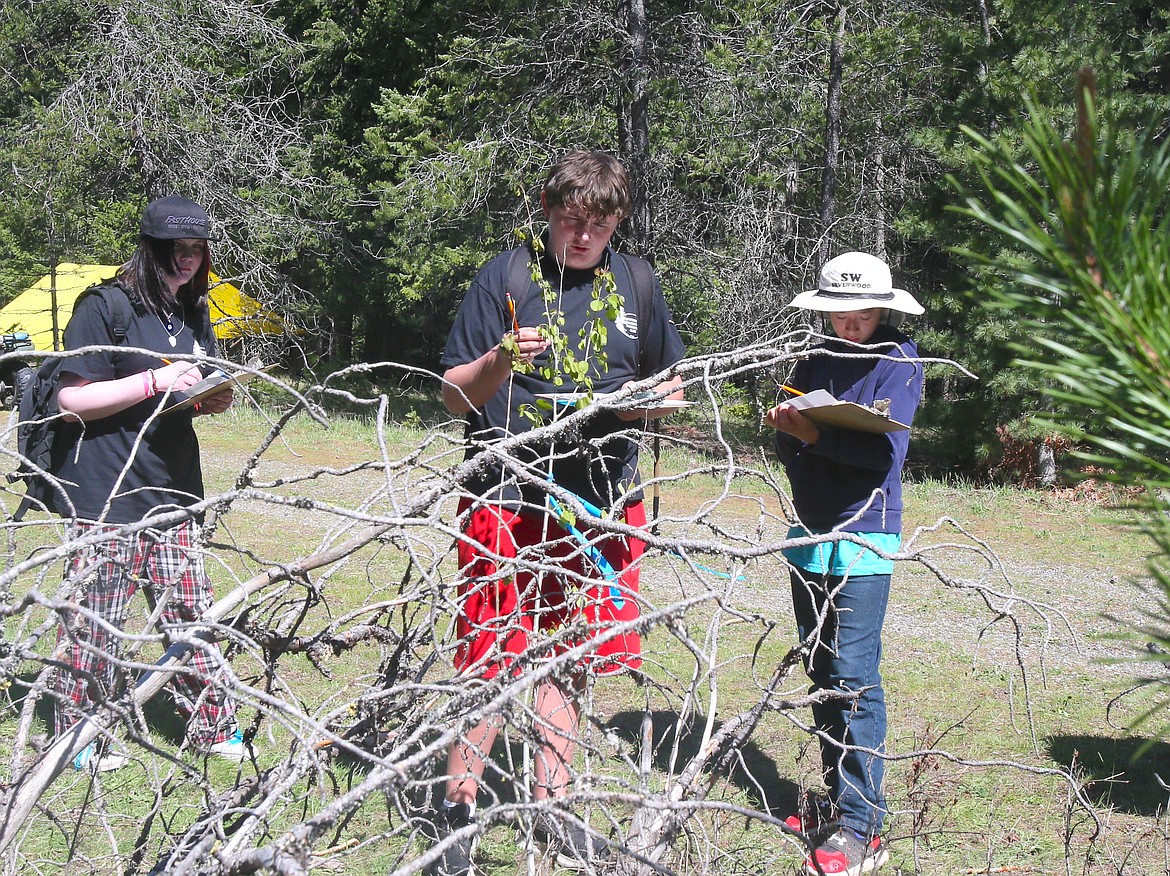 Post Falls Middle School eighth graders Dallas Dolence, left and Nathaniel Franklin work alongside Selle Valley Carden School sixth grader Andrew Ford to identify trees and shrubs Thursday morning at Farragut State Park during the Idaho State Forestry Contest.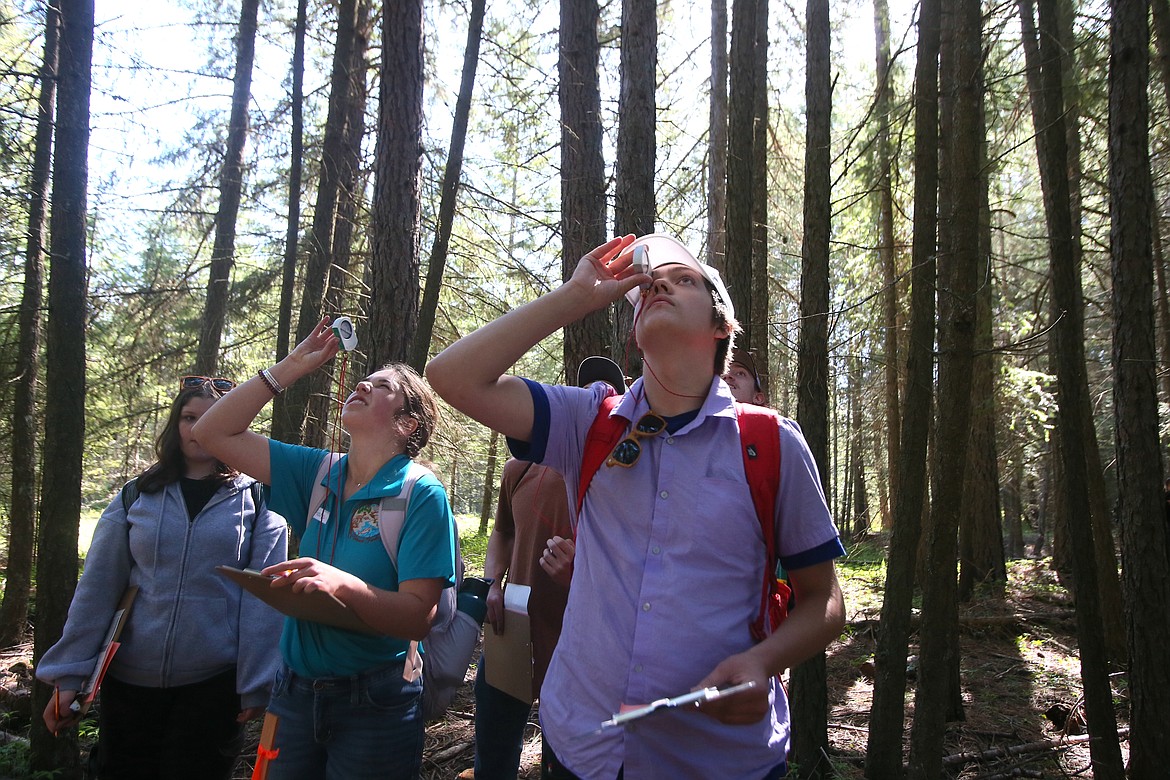 Lake Pend Oreille Alternative High School junior Kaiden Harper, center, and Orofino High School junior Shaylee Taylor peer through clinometers as they measure tree height Thursday morning during the Idaho State Forestry Competition at Farragut State Park. More than 300 students from across the state participated.
Previous
Next
by
DEVIN WEEKS
Hagadone News Network
|
May 13, 2023 1:00 AM
Future foresters, firefighters, engineers and more took to the woods Thursday to explore silviculture and expand their knowledge of all things arboreous.
Using Farragut State Park as their arena, more than 300 students from across the Gem State competed in the 40th annual Idaho State Forestry Contest. More than 150 volunteers and 95 coaches/chaperones helped facilitate the event.
Students vied for cash prizes and scholarships, ranging from $50-$1,000. Categories included timber cruising, which is a process used to determine the board foot volume of lumber in standing trees; silviculture, the science of controlling the establishment, growth, composition, health and quality of forests; tree and shrub identification; log scaling, which is done to measure the volume of a log before it becomes lumber; map and compass reading; soil and water quality; noxious weeds; tool identification; and tree health.
"I've been learning a lot about how to just take care of the environment," said Levi Betts, a homeschool student from Coeur d'Alene.
Levi said he wants to be a firefighter when he grows up, so woodland knowledge will be helpful as he pursues that profession. He said more kids should take advantage of the unique opportunity to participate in the forestry contest.
"Not everyone's going to be able to take a chance like this to enjoy the environment and learn about something God created," Levi said.
Kaiden Harper, a junior from Lake Pend Oreille Alternative High School in Sandpoint, peered through a clinometer to determine the height of certain trees. This was his first time competing in the contest.
"It's pretty cool," he said. "It's good to do all this again. I did it in my class, but it's good to do it in the woods. It's pretty neat to be able to go into the woods and see what trees I know."
Ethan Hunt, a freshman from North Idaho STEM Charter Academy, was also a first-timer. He said he has been learning literally everything about forestry for the contest.
"I didn't know any of this stuff until a couple months ago," he said. "It's really interesting."
He said it's important for people to learn how to take care of forests and wildlife.
"Knowing the different species helps us to know what they're susceptible to, what diseases, and how to protect them," he said.
His classmate, North Idaho STEM freshman Luken Egusquiva, said learning about forestry in school has sparked his interest in the field.
"Every tree I look at, I want to know what species it is now," he said.
Luken said they're learning how to keep forests alive to "just make sure our world isn't doomed for the next 100 years."
"We need some people who know how to do it," he said. "With electronics becoming so famous nowadays, there's probably not going to be that many people outdoors in the future."
Tree farmer and retired teacher Kurt Koetter has been a mentor and volunteer with the Idaho State Forestry Contest since 1984, one year after its inaugural year.
"Living in Idaho, of course, our economy is based on logging in this area, and forestry," Koetter said. "Some of these kids may end up owning property they manage themselves."
He said he enjoys how the contest provides students with so many learning opportunities.
"I just love the interaction of education and forestry," he said.
This was the second year the contest was at Farragut. It was previously held at Delay Farms in Careywood. The contest was sponsored by the Idaho Department of Lands, Bonner Soil and Water Conservation District and the Natural Resources Conservation Service and hosted by the Idaho Department of Parks and Recreation.
"Looking back 40 years, it's hard to measure the impact all of these student competitors have had on Idaho as we continue to grow, protect, enjoy and eventually harvest the incredible natural resource that is timber," Idaho Department of Lands Director Dustin Miller said in a news release. "We want to thank the countless participants, schools and volunteers over the years for their commitment to this contest."
Top winners included:
First place, senior division: Alanna Hinkle, Whistle Stop 4H
First place, rookie division: Braden Burrows, Selle Valley Carden School
A full list of winners will be posted on the Idaho State Forestry Contest official website: https://bit.ly/3o4xh1Y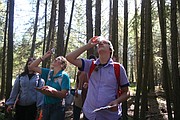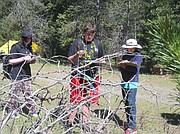 Recent Headlines
---