Open house to reveal Travers Park design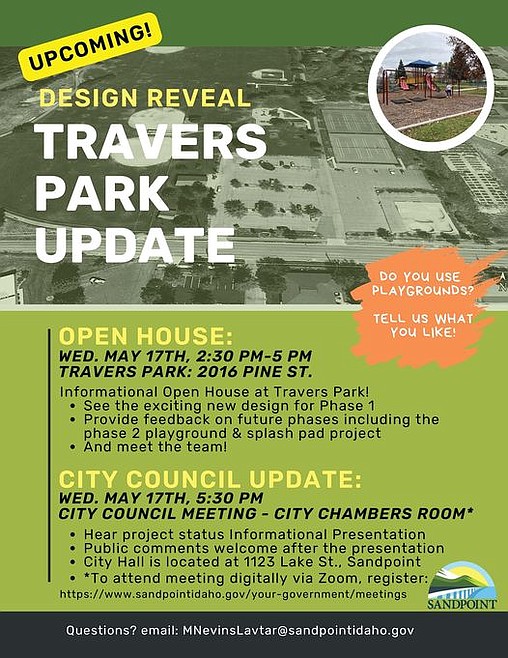 by
DAILY BEE STAFF
|
May 16, 2023 1:00 AM
SANDPOINT — Want to get a sneak peek at what Travers Park could look like?
The city of Sandpoint is hosting an informational open house at Travers Park, 2016 Pine St., on Wednesday, May 17, from 2:30-5 p.m. The community is invited to an afternoon at the park to see the first phase of the park design, which includes the unveiling of the design of the James E. Russell Sports Center, City Administrator Jennifer Stapleton said. The public will have the opportunity to meet the design and construction team and provide feedback on future phases including an inclusive playground expansion and splash pad project, planned for the second phase.
The project's first phase will include the new James E. Russell Sports Center multi-use court facility with four indoor tennis courts multi-striped with 16 pickleball courts. The first phase also includes a welcome plaza and new park trailhead, a relocated playground and picnic shelter, and indoor-outdoor restrooms. Also included are new park benches, picnic tables, signage, and other amenities, an expanded skatepark, and a bike skills course renovation.
Construction is expected to begin in early July and be completed in the spring of 2024, Stapleton said.
The open house will provide an opportunity for community members to ask questions about the upcoming Phase 1 project. There will also be an interactive design feedback opportunity for community members of all ages and abilities to share their ideas for the future Phase 2 inclusive playground expansion and splash pad, scheduled for construction in 2024.
Following the open house, the project team will then proceed to Sandpoint City Hall for the regularly scheduled 5:30 p.m. council meeting. A digital presentation of the updated design and project schedule update will occur, and the public will be invited to provide comments following the presentation.
To attend the council meeting virtually via Zoom, register online at sandpointidaho.gov/your-government/meetings.
Recent Headlines
---