NIC won't fight Swayne lawsuit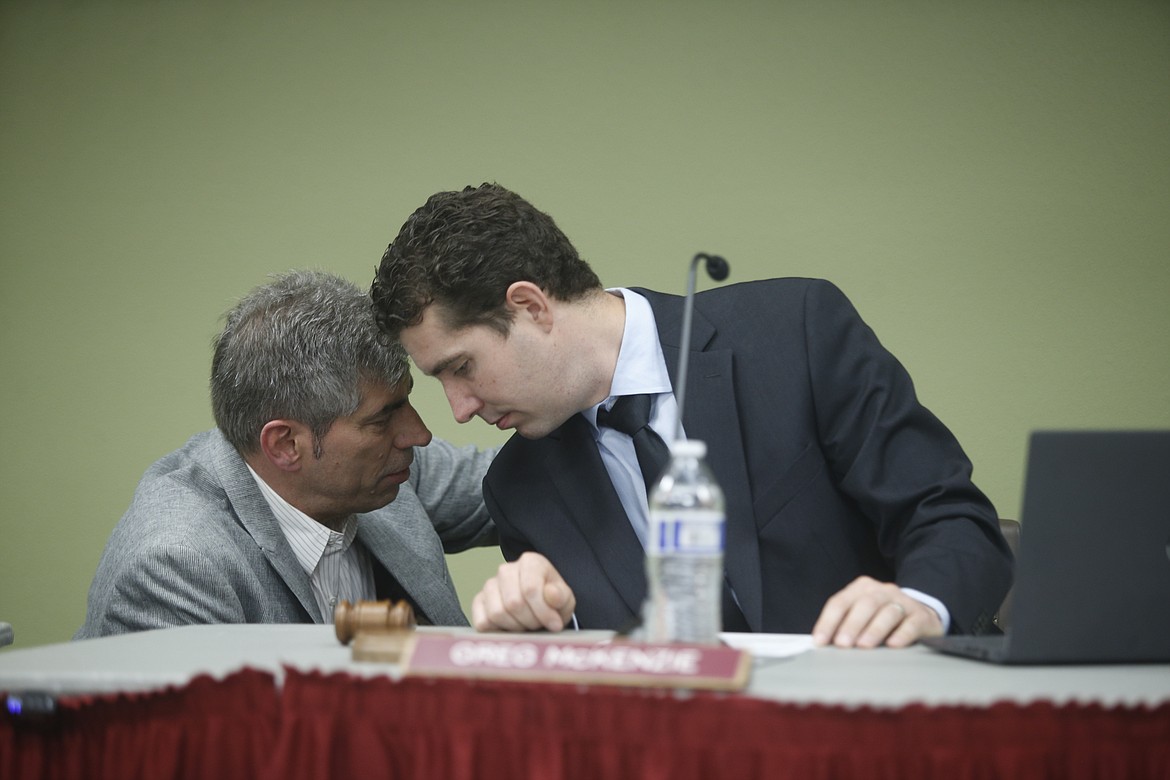 North Idaho College Trustees Todd Banducci and Greg McKenzie confer before the public part of a board meeting Wednesday night.
KAYE THORNBRUGH/Press
COEUR d'ALENE — North Idaho College trustees voted unanimously Wednesday night not to oppose NIC President Nick Swayne's request that the court grant him permanent reinstatement without going to trial.
The board convened Wednesday for a special meeting at which trustees Greg McKenzie, Todd Banducci, Mike Waggoner and Tarie Zimmerman were present. Trustee Brad Corkill did not attend.
The decision came after NIC received a peer evaluation report prepared by a team sent by the college's accreditor, the Northwest Commission on Colleges and Universities. The team conducted a campus visit in late April.
McKenzie said the report — which is currently confidential but expected to be made public — indicates that NIC has made some progress since it received a show cause sanction in February.
"While some initial improvement has been observed, the institution must overcome its current environment of distrust, poor communication, conspiracy and the debilitating undercurrent of placing other priorities above those that are in the best interest of the institution," McKenzie said, apparently reading from the report.
Trustees voted in December to place Swayne on indefinite administrative leave for no disciplinary reason, triggering warnings from NWCCU and ultimately a show cause sanction.
Swayne has been back in the president's office since early March, when Judge Cynthia Meyer granted a preliminary injunction that ordered NIC to reinstate him as active president until his lawsuit seeking permanent reinstatement is resolved. The board voted in April to nullify Swayne's contract but leave him in place until trustees decide otherwise.
Meyer reaffirmed her ruling in early May, after which Swayne's attorneys filed a motion for summary judgement seeking reinstatement without going to trial.
"While I believe that Dr. Swayne's motion for summary judgement was aimed at increased tensions between the board and Dr. Swayne and may have been an invitation to further the opposition between the board and Dr. Swayne, I also believe the board should not accept this invitation," McKenzie said during the meeting, held in the Lake Coeur d'Alene Room of the Edminster Student Union Building on NIC's main campus.
Instead, McKenzie recommended that the board refrain from opposing Swayne's motion and agree with a potential order for summary judgement that reinstates Swayne permanently.
"I make this recommendation in the spirit of peace and compromise with the great hope that if we can end Dr. Swayne's legal battle against the college and, hopefully, the other lawsuits waged against the college by The Coeur d'Alene Press and Michael Gridley, the president and the board can better work together in furtherance of the best interests of the college," McKenzie said.
In February, attorneys for the Coeur d'Alene Press filed a lawsuit alleging that NIC and chief communications officer Laura Rumpler violated Idaho public records laws by not fulfilling lawful requests for public records made by the newspaper.
Mike Gridley, the former attorney for the city of Coeur d'Alene, filed a lawsuit in December that accuses McKenzie, Banducci and Waggoner, as well as college attorney Art Macomber, of fraud and of violating Idaho's open meeting laws.
The board unanimously approved a motion authorizing McKenzie, in his capacity as board chair, to make "all legal decisions" about pending litigation, in coordination with the college's president and other designated personnel.
Trustees also voted to grant McKenzie the authority to release documents and information from executive sessions from times when McKenzie worked with former NIC President Rick MacLennan and former college attorney Marc Lyons.
"There is lots of information and plenty of people to share an opinion regarding the past two years at North Idaho College with regarding certain individuals," McKenzie said. "I just intend to set the record straight and provide NWCCU factual information that still exists under attorney-client privilege, which is why they were unaware when certain things were drafted."
The next regular meeting of the board is scheduled for Wednesday, May 24.
Recent Headlines
---