Quest for more ice time in North Idaho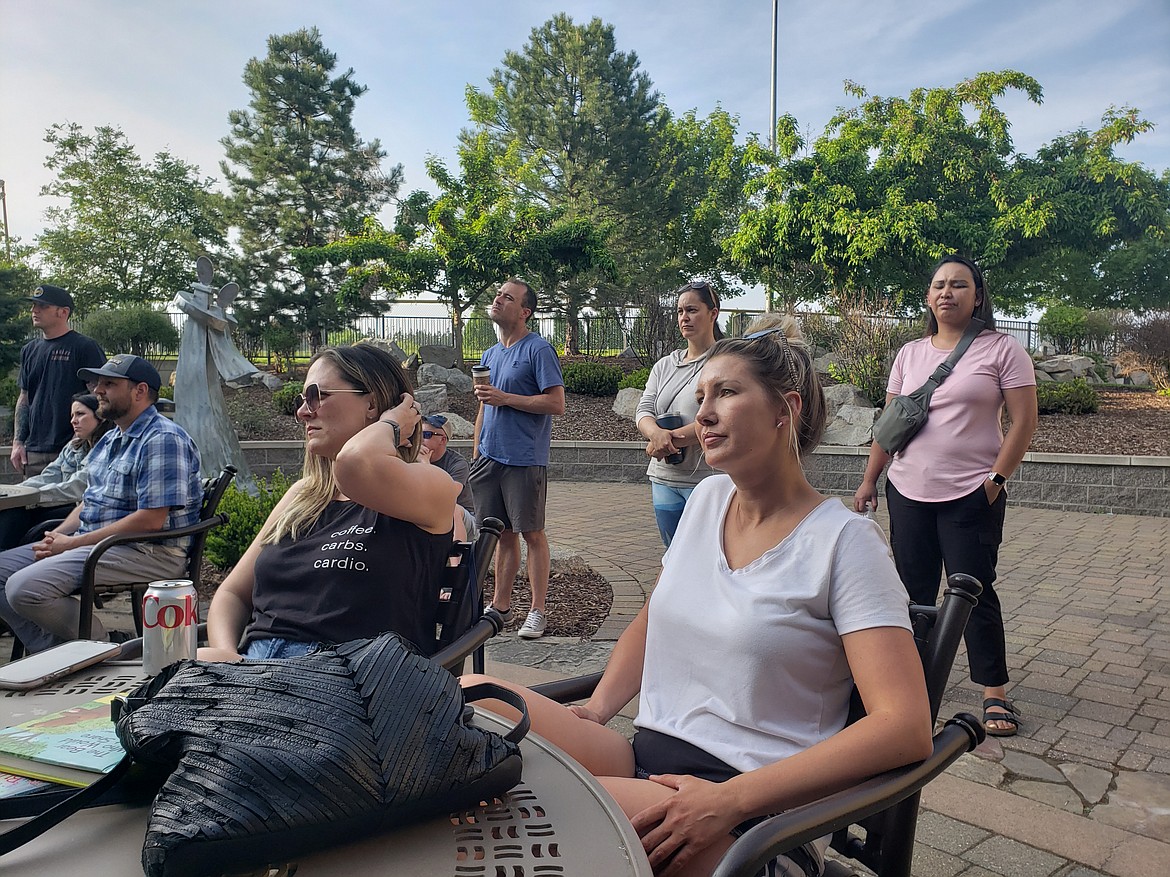 From left, parents Whitney Carpenter and Lacy McCormick both have children in youth hockey organizations. They attended a community forum Thursday to hear how they can be involved in expanding the local access to hockey options, like ice sheets and teams.
JOSA SNOW/Press
by
JOSA SNOW
Hagadone News Network
|
May 25, 2023 1:00 AM
Members of North Idaho's hockey and figure skating community gathered last week at the Kroc Center in Coeur d'Alene to explore ways to increase opportunities for time on the ice.
"This meeting is basically to introduce who we are, why we're trying to do what we're doing and where we've gotten so far," said Andrea Balsimo, founding member of event host North Wilderness Hockey Association.
Balsimo and her husband, Jesse Balsimo, grew up playing hockey in Minnesota, where both were part of Division 1 teams. The Balsimos moved to Athol, where they wanted their kids to play, but they were alarmed by the lack of access to ice sheets, team options or ice time for players.
The Balsimos started the North Wilderness Hockey Association in Coeur d'Alene, where Jesse is president. The association has multiple local businesses expressing interest in sponsorships or support.
The hockey association seeks to raise awareness of how little ice and ice time exist in the Panhandle, especially in Boundary and Bonner counties, where access to rinks is limited.
"We only have Frontier Ice Arena," Andrea said. "There's just a single sheet of ice in the Panhandle and kids have a dire need for ice time."
Around 30 parents, coaches and players attended the gathering to help connect the association to local resources.
Andrea has surveyed local parents with an overwhelming amount of support for adding an arena for teams and individuals to compete, practice or play.
"We don't want any drama," Jesse said. "We want to build the ice."
So far, the Wilderness Hockey Association has partnered with nonprofit North Idaho Ice, and gained support from Coeur d'Alene Hockey and Lake City Figure Skating to advocate for skaters and players.
North Idaho Ice's mission is bringing broader access to winter sports in Bonner County. North Wilderness will support that through fundraising and grassroots outreach.
The association particularly wants the city of Ponderay to shorten the timeline for adding an ice sheet to its Field of Dreams project.
Field of Dreams includes indoor and outdoor park space, sports fields, arenas and more, as funding allows.
North Idaho Ice and the North Wilderness have advocated for the city of Ponderay to create an outdoor ice rink to fill the local need until a rink can be added to the Field of Dreams project.
"We are working very closely with North Idaho Ice," Ponderay Parks and Community Development Director Eric Brubaker said. "And we're hoping to see all the nonprofits come together toward the same direction."
Phases one and two of construction on Field of Dreams includes parks, sports fields and walking paths.
Phase three couild include an indoor ice sheet.
"The only thing we really know is phase one, because that's fully funded," Brubaker said. "So much of our timing depends on funding and what fundraising money the nonprofits are able to bring to the project."
Field of Dreams complex construction is slated to begin this summer.
"Even if we can get a temporary ice rink in Ponderay, that would be a huge help to these kids who want to play," Andrea said.
The Balsimos' two boys play hockey, and they hope their 3-year-old girl will as well, but they face huge struggles trying to get their kids ice time in the local rink.
Other parents are driving to Spokane from places in Boundary County to find open ice, Andrea said.
"We put a rink in our backyard and there were maybe 15 days of skateable ice last year," Andrea said.
She knows other parents who tried, with little success, to erect rinks in their own yards. The cold is too inconsistent and ponds don't often stay frozen long enough through the season for parents to find their own resources for kids to skate safely.
They're trying to keep it simple, Andrea said.
"It's all about the kids," she said. "And the kids need more ice."
For more information, contact Jesse@northwilderness.hockey or Andrea@northwilderness.hockey.
Recent Headlines
---