MCS celebrates Sandpoint's rising musical stars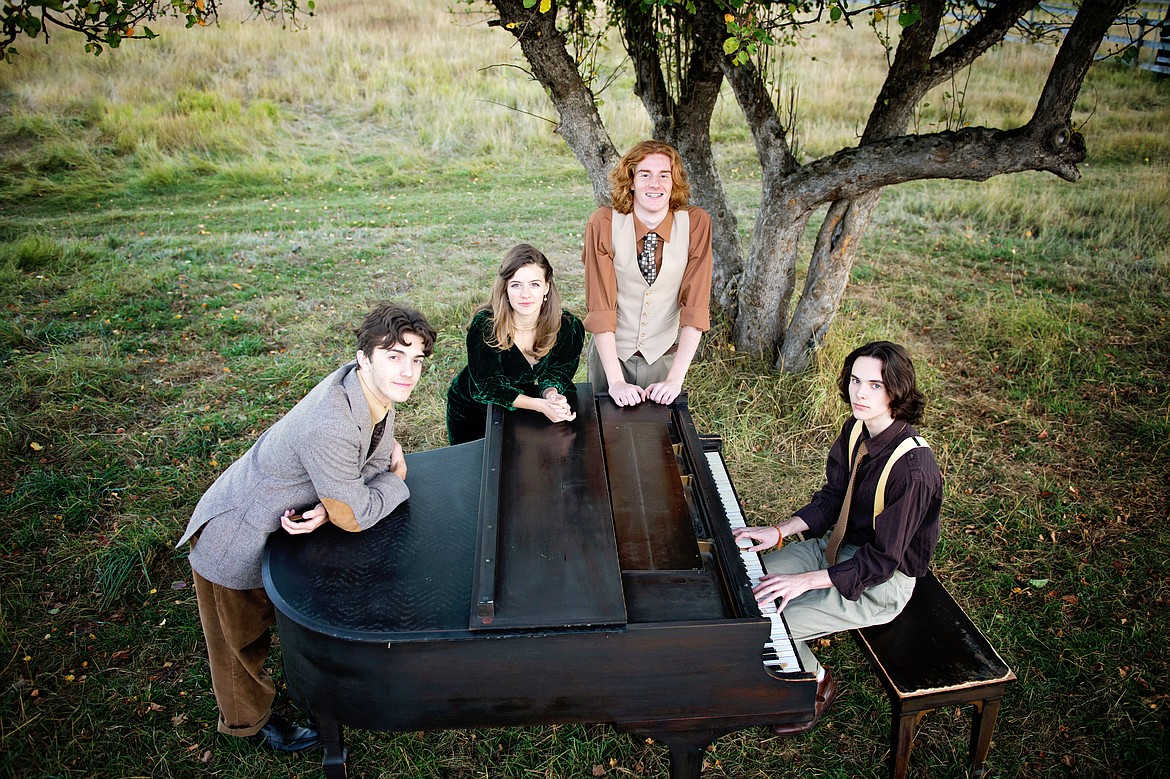 Senior piano honor students pose for a photo. Pictured from left are Aaron Wilcox, Lark Waldrup, Cody Moore and Levi Hill-Wright. The senior recital for the trio will take place on May 26. The senior recital for Aaron Wilcox is June 16.
(Photo courtesy MUSIC CONSERVATORY OF SANDPOINT)
by
PATTY HUTCHENS / Contributing Writer
|
May 25, 2023 1:00 AM
For a small town such as Sandpoint, there are surprisingly many unique opportunities for youth to be exposed to and excel in the performing arts.
The Music Conservatory of Sandpoint is an international school of performing arts and is the answer to several who are passionate about piano, voice, orchestra and the performing arts.
As one passes by the historic building in downtown Sandpoint, one may hear the beautiful sound of music being performed by the students or witness a passerby playing the piano outside the building.
Spring is always an exciting time of year for students to demonstrate to others the fruits of their work in their chosen form of musical expression.
On May 26 at 7 p.m., honor students Cody Moore, Lark Waldrup, and Levi Hill-Wright will perform their senior piano recitals at the Little Carnegie Hall located at 110 Main St.
Levi states he has always had a passion for music. He recalls his first exposure to piano happened when he was about 5 years old and was shopping in Costco with his dad.
"There was an electric piano on display," said Levi. "My dad taught me a quick song." But it was not until he was about 8 or 9 years old that Levi began to take lessons and became truly passionate about piano.
He shares that his preferred type of music to perform is impressionist music — a movement of music that was popular among various classical composers who focused on mood and atmosphere.
"I associate some of the music with different memories in my life," said Levi. "It comes from a deep emotional place for me."
Over the last few years, Levi has attended Interlochen Center for the Arts Summer Arts Program in Michigan, where he has studied various composers. He is grateful that he will attend again this summer.
Levi is an exceptional site reader, which has afforded him the opportunity to accompany several choirs in our area.
Levi said that playing music as a career would likely take a lot of fun out of it for him, but he does plan to minor in music when he attends college.
"Music has been such a huge passion for me for so long," he said.
Also performing on May 26 will be Lark Waldrup. Lark plays the piano and said what she enjoys playing is music from the Romantic period — a period that covers much of the 1800s.
She especially enjoys Chopin, but shares that the entire time period is her favorite. "I feel those are my best pieces."
Not only does she enjoy the music itself, but Lark also said she enjoys the different stories of why a piece is written, citing the Raindrop Prelude as one of her favorite pieces.
"You can hear the raindrops in the piece," she said.
Music has been a blessing in her life, as have the relationships she has made on her journey. "I love all the people at the Music Conservatory," said Lark. "Most of the people I hang out with are those people I met through the Conservatory. We all love music."
Lark is applying to various schools on the West Coast and plans to minor in music.
"No matter what one does with music, it's just a wonderful thing to have in your life," she said.
Joining Levi and Lark on the stage will be Cody Moore.
Cody has played piano for the past 11 years and has taken voice lessons for approximately eight years.
"I also do theater off and on," he said of his well-rounded music education.
While Cody has a passion for the performing arts, he also has a passion for basketball; something that is not always conducive to someone who has to take care of his vocal cords.
"I'm encouraged to drink tea and hot lemonade and not scream and yell excessively," said Cody. "That's sometimes difficult because I watch a lot of sports and I'm an avid basketball player."
There are many avenues and options as to where he can go with music. He would like to attend a college that has both a good music program and a basketball program. "Both of my parents played college basketball, and I would like to carry that on," he said.
Cody said that performing lends him an opportunity to share the many talents he has been given with others.
When asked if he is nervous when he performs, Cody said he tends to think of it more as excitement.
"I think of it more like I'm excited to share what I've brought to the table," said Cody. "I want to invite the audience on my journey."
Other performances over the next month include Aaron Wilcox, who will perform his senior piano recital June 16 at 7 p.m. Kathleen Polocz's senior recital will take place May 27 at 7 p.m. All performances take place in the Little Carnegie Hall at the Music Conservatory.
"Student Allana Dixon held her recital on April 22 to great acclaim with Caren Reiner as her accompanist," said Katherine Converse of the Music Conservatory.
The Music Conservatory of Sandpoint's honor students recently competed in Musicfest Northwest. The students had three gold medals and four silver medals in piano, voice and flute. Cody and Levi both received silver medals for piano while Terra Converse received two gold medals in flute. Jubilant Duvall received a gold medal for voice.
With such an abundance of talent in our town, the Music Conservatory's programs are always a treat for all who attend. Be sure to check out all the programs, including the summer programs, at sandpointcoservatory.org.
Recent Headlines
---