Sandpoint Disc Golf hosts 'Lost in the Fir Trees' tournament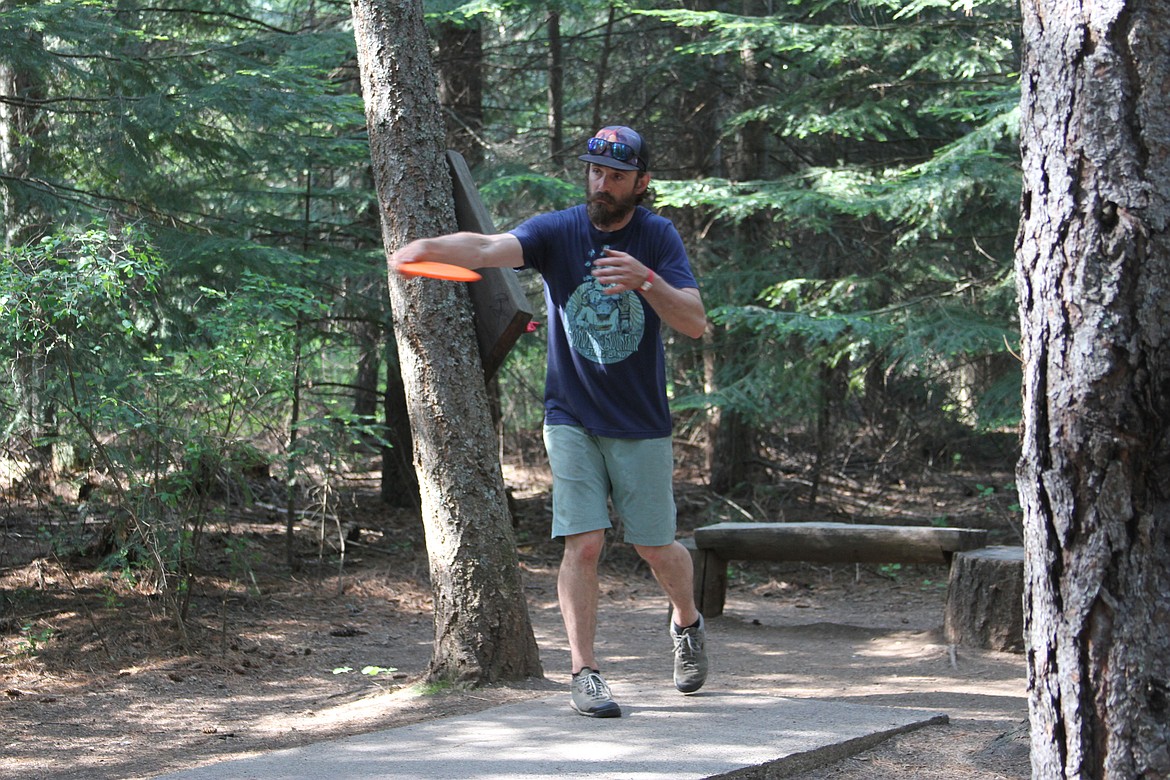 A disc golfer gets ready to make his first throw on Hole #2 at the Baldfoot Disc Golf Course on Saturday.
Photo by MAX OSWALD
by
MAX OSWALD
Sports Reporter
|
May 25, 2023 1:00 AM
SANDPOINT — Sandpoint Disc Golf hosted the "Lost in the Fir Trees" tournament Saturday, May 20, at the Baldfoot Disc Golf Course. More than 70 athletes from Idaho, Washington and Montana competed in the tournament.
Of the 70 athletes, 14 were competing in the professional division, two were in the junior division and nine were playing in the women's advanced division.
Despite the record high temperatures and alarming amount of mosquitos, all the athletes finished the 18-hole course. The Baldfoot course is almost entirely covered by the surrounding woods and is considered to be rather technical and challenging. The course consists of holes ranging from 250 feet long to over 400 feet long.
Ten athletes shot below the course's par of 54; seven shot under in both rounds. Mike Givens was the overall tournament winner with a combined score of 97. Givens shot a remarkable 46 in the first round and a 51 in the second. Just behind him was Ben Squires, who placed second with a score of 98. Rounding out the top three was Jared Person with a score of 103. All three athletes competed in the professional division.
In the amateur division, Sean Tessier placed first with a combined score of 114. He was the only amateur competitor who shot under par — a 51 in round two. In the advanced women's division, Jennifer Shanley took home gold with a score of 123.
In addition to the impressive performances, two aces occurred on the day, both on hole number 10. Matthew Bennett and Bryan Skrehot delivered the skilled throws.
During the trophy ceremony, the six professionals who won prize money donated it back to tournament organizers.
"It was really cool that this happened," Josh Delucchi, one of the tournament's organizers, said. "All of our donations go back into our nonprofit, Great Northern Disc Golf. Every dollar helps to maintain and improve the Baldfoot Disc Golf Course."
Great Northern Disc Golf netted over $2,500 from the tournament and would like to thank those who participated and the following sponsors: Mogul's Disc Golf Supply, Greasy Fingers Bikes N Repair, Ryan Huffey Construction, Murphy, Skywalker Tree Care, Northwest Autobody and Towing, e2 Services, Gaddess Tree and Timber, Connie's Cafe, Wine4u, ClearWater Gear, Eichardt's.
Sandpoint Disc Golf is set to host more tournaments at Baldfoot this summer.
2023 Lost in the Fir Trees Tournament
MIXED PROFESSIONALS (Top 10)
1 Mike Givens 46 51 97
2 Ben Squires 49 49 98
3 Jared Person 53 50 103
4 Riley Emmer 51 53 104
5 Karl Kleinkauf 51 53 104
6 Christian Cook 52 52 104
7 Robert Ryan 53 53 106
8 Cody Hixson 53 55 108
9 Chris Faulkner 52 56 108
10 John Eastaugh 54 56 110
MIXED AMATEURS (Top 10)
1 Sean Tessier 56 51 107
2 Noah Demski 57 57 114
3 Dave Dishong 58 56 114
4 Matthew Bennett 61 53 114
5 Michael Duncan 57 58 115
T6 Bryan Skrehot 55 61 116
T6 Derek Glenn 61 55 116
T6 Jason Shanley 59 57 116
9 Jason Luke 61 56 117
T10 Griffin Jaklich 56 62 118
T10 Trevor Mort 58 60 118
ADVANCED WOMEN
1 Jennifer Shanley 61 62 123
2 Dani Petersen 66 60 126
3 Brianne Wenborg 60 69 129
4 LaRue Weber 68 67 135
5 Drea Maquelle 68 71 139
6 Kyla Meyer 68 72 140
7 Stacy Sitton 75 72 147
8 Jessica Jaklich 78 72 150
9 Carol Saler 94 87 181
JUNIOR
1 Quinton Bednarczyk 70 75 145
2 Alex Jimenez 75 75 150
Recent Headlines
---