Sandpoint Sharks have strong showing at Fazzari's Open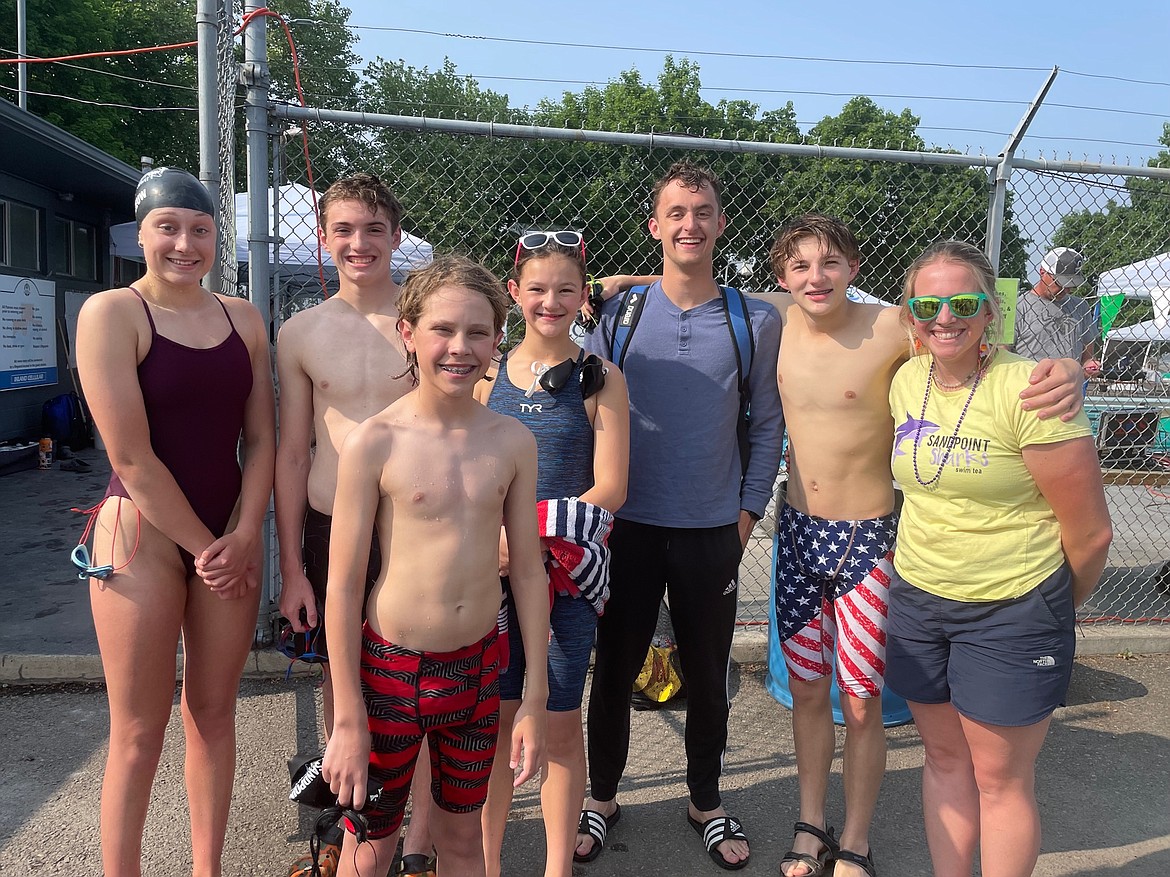 Sandpoint sharks prepare to race in the mile on Friday afternoon. Pictured, left to right: Ava de Leeuw, Lou Foust, Bodi Demmons, Myelle Jensen, Caleb Norling, McCoy Jensen and Head Coach Emily Renzini (not pictured Ryleigh Bamer)
(Courtesy Photo)
The Sandpoint Sharks swim team had a strong debut in their first long course meet held May 19-21 in Lewiston.
"Words can't explain how excited I am for this season," head coach Emily Renzini said. "With the kids swimming this fast so early on in the season, especially after a hard week at practice, we are set up really well right now."
The meet kicked off Friday, May 19, with eight swimmers racing in the 1500-meter freestyle.
"That's the most athletes we've ever had in that event," Renzini said. "These swimmers have come a long way. All of them gave that race everything they could, and not one athlete gave up when it got hard."
For the girls, Ava de Leeuw had the fastest time on the day and placed third in the 15-16 age division with a time of 20:10.18. At just 11 years old, Myelle Jensen finished second in the 12U division with an impressive time of 20:59.67. Jensen also won the 100-meter backstroke in 1:20.42.
Overall, the Sandpoint Sharks had 15 athletes representing the team at the three-day meet, including new member 11-year-old Alivia Storms.
"Alivia proved her athleticism this weekend," Renzini said. "It was a long, hot meet and she finished it with a strong eighth place finish in the 50 free (35.30) late Sunday afternoon. That's not easy to do."
Caleb Norling, 18, also had a strong showing in the 50 free, winning the event in 26.34 seconds. Norling also walked away with the high point award for men 17 and older.
"All of our swimmers looked stronger than ever in the pool," Renzini said. "All of the hard work the last month is paying off — and this is only the beginning."
The Sandpoint Sharks head to Pasco, Wash., for the Tri-City Invitational meet June 2-4.
If you have a swimmer who is interested in being on the Sandpoint Sharks Swim team, tryout sessions are June 13 and June 15 at 9 a.m. at the Litehouse YMCA. For information about the team, follow Sandpoint Sharks Swim on Facebook or contact coach Emily Renzini at ERenzini@ymcainw.org.
Recent Headlines
---