Sandpoint Special Olympics swim team wins regionals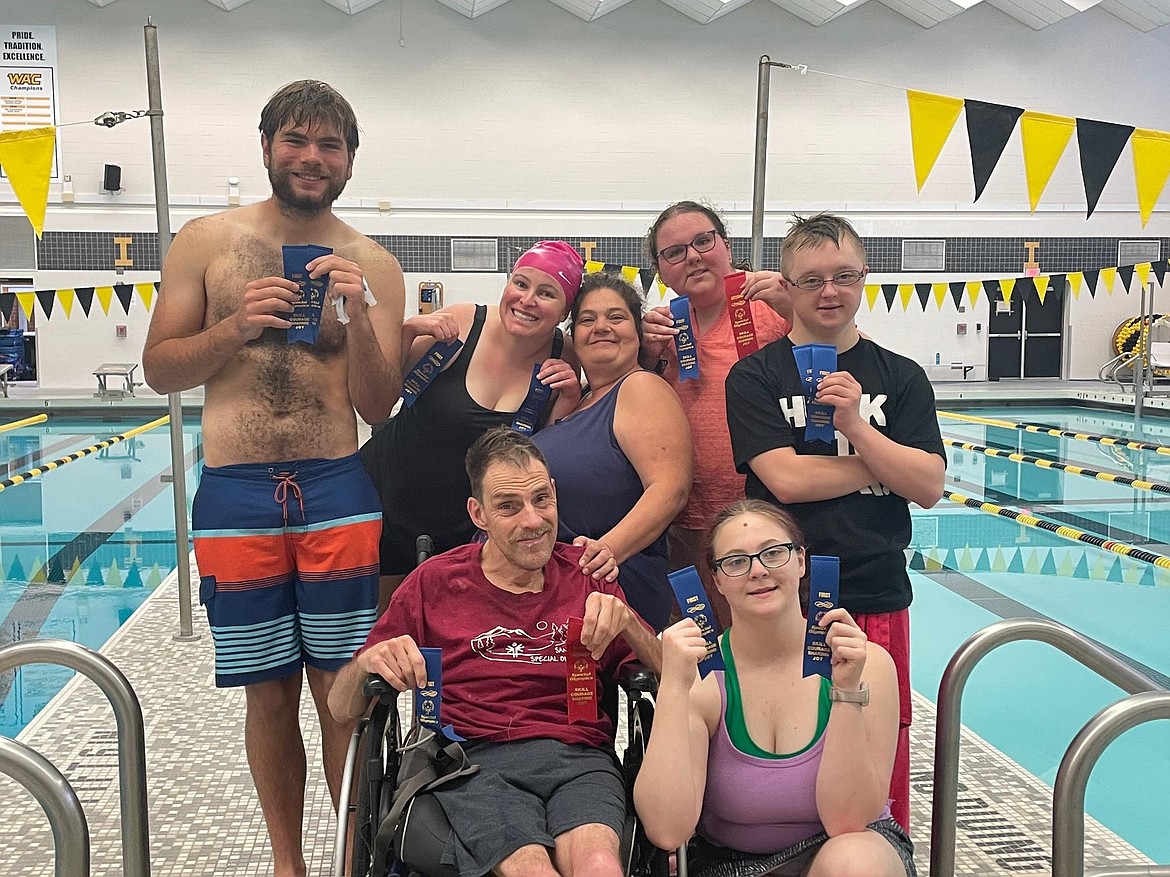 The Sandpoint Special Olympics swim team poses with their ribbons from the regional meet. From left, back row: Brandon Beck, Ashley Lengyel, Tammy Hudson, Jessica Sierant, Campbell Wyman. Front row: Robert Leichtman, Beverly Hudson
(Courtesy Photo)
by
MAX OSWALD
Sports Reporter
|
May 26, 2023 1:00 AM
The Sandpoint Special Olympics swim team came away with the title Saturday, May 20, at the regional meet held at the University of Idaho in Moscow.
Athletes from Sandpoint, Moscow and various parts of Kootenai County attended the meet. Six athletes represented Sandpoint and all six came home with at least one first-place ribbon.
"I'm very proud of everyone who competed," head coach Meggie Foust said. "We have been working very hard to get ready for this meet and their hard work paid off."
Bobby Leichtman kicked off the meet for the team in the 15-meter flotation event. He took a strong second. This event was followed closely by the 10-meter assisted event, where he took first.
Brandon Beck was the first Sandpoint athlete to dive into the competition pool for the 50-meter freestyle, which he won. After a short break, he also won the 25-meter freestyle.
Beverly Hudson and Jessica Sierant had strong first- and second-place finishes respectively in the 25-meter event. Hudson went on to win a very competitive and exciting race in the 50 freestyle as well.
Ashley Lengyel came home with two first-place ribbons — one for the 25-meter butterfly and one for 25-meter freestyle. Campbell Wyman demonstrated his athleticism by being the only athlete at the meet to swim over 50 meters; he swam the 100-meter freestyle and the 200-meter breaststroke.
Wyman is working to qualify for an international Special Olympics meet in Turkey. He made two qualifying times this weekend and is well on his way to meeting his goal.
Now that regionals is complete, athletes are focused on the state competition June 9 in Nampa.
If you know someone who would like to compete on a Sandpoint Special Olympics team, please contact Kelli Bult at UCAN Sandpoint at ucansandpoint@gmail.com.
Recent Headlines
---