POAC announces Lyman 'Rediscovered' exhibit
by
KATHY HUBBARD Contributing Writer
|
May 27, 2023 1:00 AM
"I want to open people's eyes to points of view and perspectives that aren't human based, to suggest a less self-centered outlook in their role on the planet," Stephen Lyman, wilderness artist, said about his work.
The public is invited to experience that perspective when Pend Oreille Arts Council and Lewiston collector Ryan Fiske present "Rediscovered," Friday, June 2, and Saturday, June 3, from 9 a.m. to 10 p.m. at the University of Idaho's Sandpoint Organic Agriculture Center, 10881 N. Boyer Road. This exhibition of Lyman's work contains a large selection of Fiske's personal collection.
In January of 1995, a book containing 133 photographs of Lyman's work was published. That spring, the popular Lyman Gallery opened in downtown Sandpoint. Lyman, who originally hailed from Lewiston, was living a rural life as an artist and organic farmer with his wife and two sons just outside town.
Sadly, his life was cut short when, in a tragic fall in April 1996 at Yosemite National Park, Lyman died an untimely death. He was 38 years old.
Lyman's memorial in Sandpoint was attended by more than 300 people. In an article published in the Daily Bee, his paintings were described as "stark in their realism and depictions of nature's majesty, beauty, fury and serenity."
By 1992, Lyman was ranked as the third most popular artist in America for limited edition prints by U.S. Art Magazine. Over the years, Fiske and his wife, Jennie, have been purchasing these prints. It's their excellent collection that will be on display.
"I would say that there's something for everybody in there," Fiske said in a promotional brochure. "I really can't imagine that there wouldn't be something there for anybody to enjoy. Everybody will fall in love with at least one of the pieces there."
Pend Oreille Arts council facilitates quality cultural experiences to Bonner County through their visual and performing arts programs. For more information about POAC and their events, or to learn how to get involved, go to artinsandpoint.org.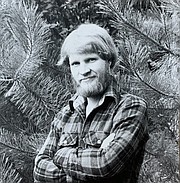 Recent Headlines
---