12 Sandpoint lacrosse players earn all-conference honors; Three earn all-state honors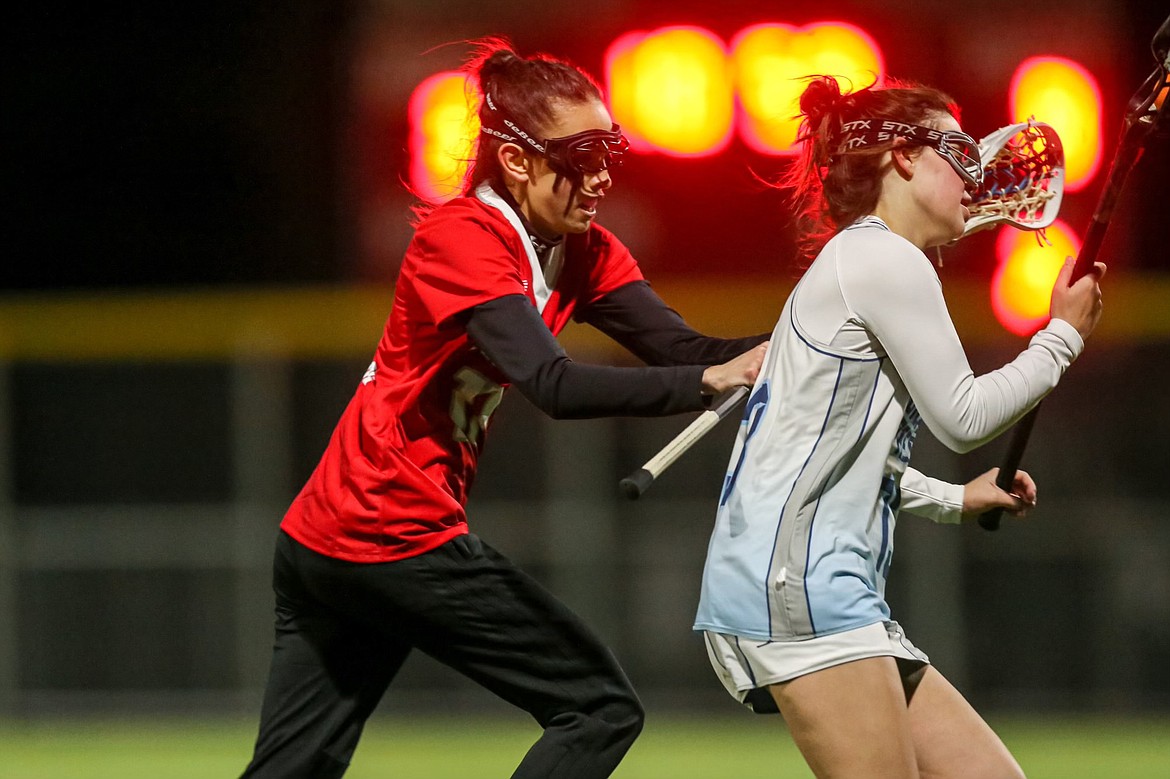 Kennedy Phillips guards a Gonzaga Prep attacker in game earlier this season.
(Photo courtesy JASON DUCHOW PHOTOGRAPHY)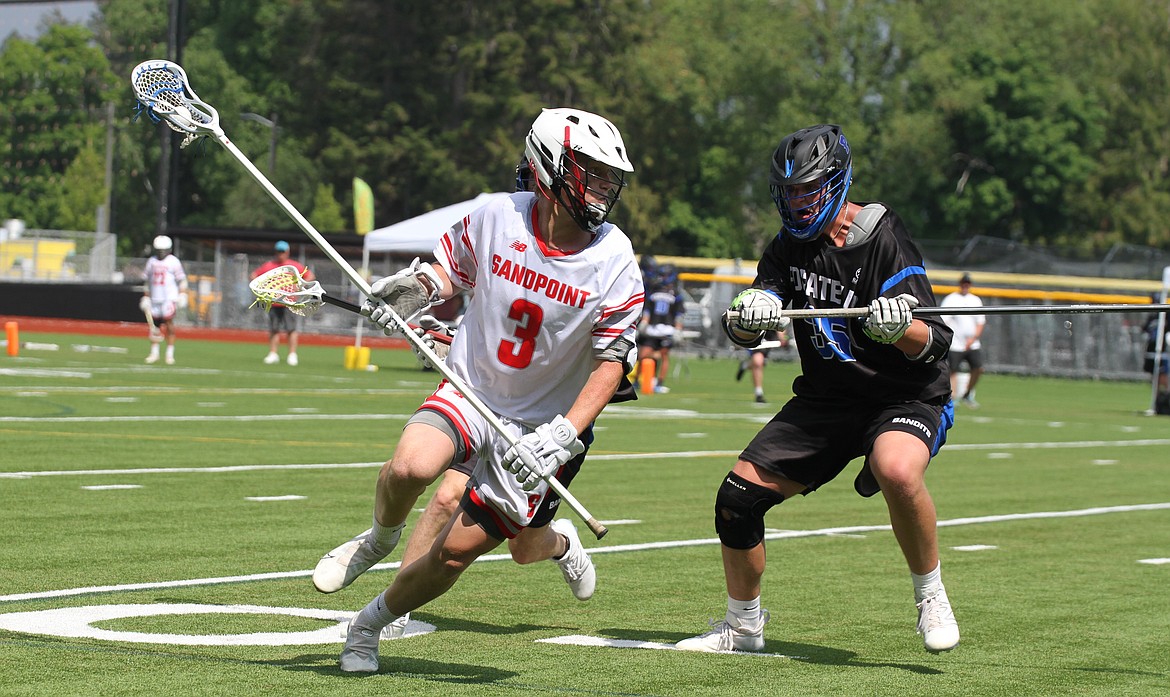 Sawyer Treadaway makes a move to pass Pocatello's Daniel Bailey in the first round of the state championship.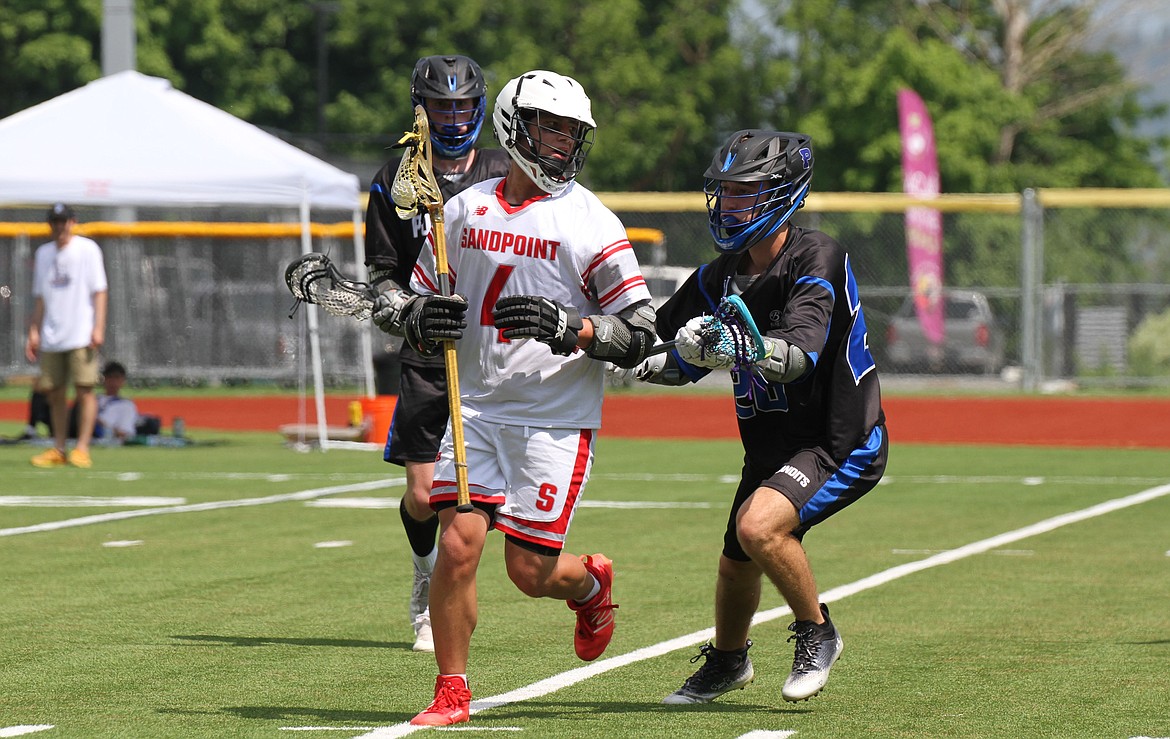 Gabriel Linck is guarded by two Pocatello defenders in the first round of the state championship earlier this season.
Previous
Next
by
MAX OSWALD
Sports Reporter
|
May 30, 2023 1:00 AM
After terrific seasons by both the Sandpoint girls and boys lacrosse teams, 12 athletes received all-conference honors, and three athletes – Sawyer Treadaway, Forest Ambridge, and Owen Wimmer – received all-state honors.
Sandpoint boys lacrosse finished the season with a phenomenal 11-5 record. At one point in the season the boys were riding a six-game winning streak until losing 12-15 in the Northwest Regional final to Lake City. Most recently, the Bulldogs made it to the semifinals of the state championship tournament before losing to Jackson Hole 18-5. Jackson Hole went on to win the state tournament over Lake City, 13-6. All of the games were played at War Memorial Field in Sandpoint. Overall, Sandpoint outscored their opponents 211-60 and defeated rivals Mead and Lake City once each during the team's historic season.
Sandpoint girls lacrosse finished the season with a 6-4 record; the girls compete in Washington state's Eastern Division due to a lack of other teams in the area. The girls only losses were against powerhouses Gonzaga Prep and Spokane. In their final game of the season, the team lost 18-12 to Spokane, which is the closest a conference opponent has ever been to the Stealth in recent years. The girls put together key wins against Kamiakin, Mead, Richland-Hanford. The Bulldogs outscored their opponents 93-82 on the season.
BOYS
NORTH ALL-CONFERENCE 1ST TEAM
Maksym Page (Attacker) – Page had plenty of multi-goal efforts which helped the Bulldogs win by double-digits numerous times. One of Page's biggest games of the season was when he scored four goals in a 13-12 victory over Mead. The attacker finished with 28 goals this season and a team-high 19 assists.
Blayne Kanning (Attacker) – Kanning was all over the field this season for Sandpoint; he not only scored 37 goals this season, but he also accumulated 43 ground balls and 13 assists. Kanning scored the game winning goal in the final seconds of an 11-10 victory over Lake City.
Owen Wimmer (Midfielder) – Wimmer scored 28 goals this season, but more impressively, he scooped up 68 ground balls which helped the Bulldogs take control in games. Wimmer also won a team-high 85 face-offs. Sandpoint dominated in time of possession this season thanks to Wimmer's amazing play. On top of all-conference first team honors, Wimmer earned all-state second team honors as well. Wimmer will play lacrosse for the University of Idaho next season.
Levi Balison (Long-Stick Midfielder) – Balison was not a player whose role was to fill up the stat sheet. Balison was tasked with defending the opposing team's best offensive player in just about every game. In addition to his amazing defense, he also picked up 51 ground balls this season.
Forest Ambridge (Face-off) – Ambridge won 72 face-offs this season; he won 75 percent of his draws. In addition to his amazing work in the circle, the midfielder also added six goals and six assists this season. His amazing efforts earned him all-state second team honors as well.
Sawyer Treadaway (Defender) – Treadaway was not only named all-conference, but received Idaho all-state first team honors; he was the only Bulldog named to the all-state first team list. The defender only let a small number of attackers by him this season, and it was rare that opponents scored on him. Treadaway's play was something that normally does not show up on that stat sheet, despite it being absolutely crucial to Sandpoint's success.
NORTH ALL-CONFERENCE 2ND TEAM
Owen Page (Attacker) – Page had the second most assists for the Bulldogs this season with 15; he also provided 17 goals on the offensive end and scooped up 44 ground balls. Page has been a force to be reckoned with all season long. He had a crucial two goals and two assists in a 10-5 victory over Coeur d'Alene.
Gabriel Linck (Attacker) – Linck scored a team-high 39 goals this season. The offensive specialist scored five goals against Moscow in a 23-1 victory on the road. Linck put up multiple multi-goal games this season and also provided 10 assists. Linck was surely a factor in Sandpoint's success this season.
Hayden Sisk (Defender) – Sisk played tremendous defense this year for the Bulldogs. He often forced players wide and baited them into taking shots with tough angles. The defender also scooped up 23 ground balls on the defensive end.
GIRLS
EASTERN ALL-CONFERENCE 1ST TEAM (Washington)
Alexis Downs (Attacker) – Downs led the Bulldogs with 33 goals this season, which averages out to 3.3 goals per game. In the last game of the season against the Stealth, she scored seven goals which was the most by any Bulldog in a game this season. Downs' vision and awareness was unmatched in the Eastern conference this year.
Terra Bode (Midfielder) – Bode was key in getting Sandpoint extra possessions this season. She finished with a team-high 20 ground balls and 32 face-off wins. If that was not impressive enough, the midfielder also added 16 caused turnovers and 10 goals to the stat sheet.
Kennedy Phillips (Defender) – Phillips is credited with some of the best defensive play in the Eastern conference. Phillips caused a team-high 18 turnovers this year. In a 7-6 win over Kamiakin this season, Phillips caused four turnovers in the contest to help propel Sandpoint to victory.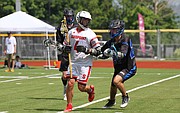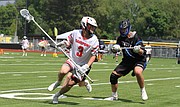 Recent Headlines
---