Sturgis exemplifies grace, courage, kindness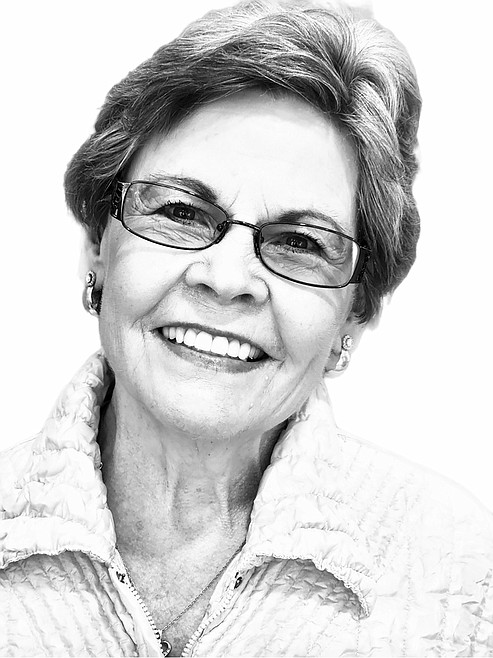 Mary Sturgis, pictured above, and her fellow recipients will be honored as the 2023 Women of Wisdom on June 17, at a gala brunch. Reservations will be accepted until June 9.
(Courtesy photo)
by
BARBARA BUCHANAN / Contributing Writer
|
May 30, 2023 1:00 AM
In selecting the women to be honored as Women of Wisdom, the Committee looks for women with vision, who achieve goals through collaboration, who love to learn, who are leaders, who are committed to serving our community, who inspire others, and who face life's challenges with grace and courage.
Mary Sturgis exemplifies each of these qualities.
Mary was born in Niles, Mich., and grew up in Albany, Ore. She met her husband, David, the summer before she began college at Oregon State, and they were married after her junior year. Mary and Dave are the proud parents of Brian and Heidi and three grandchildren. Mary taught part-time while her children were small. Once they reached school age, she began teaching kindergarten full-time in Spokane where Dave was employed by Goodyear.
The Sturgis family loved sports — skiing Schweitzer in the winter and recreating on Lake Pend Oreille in the summer. They were fortunate to be able to buy a condo in Sandpoint at Whiskey Jack and the family spent all their free time there. In 2006, with their children launched, Mary and Dave retired and moved to Sandpoint full-time.
Mary quickly immersed herself in the community. One of her first stops was with the Community Assistance League, first as a volunteer, then as a team leader and eventually as a board member. Mary manages the "Blankie Program" between CAL and Bonner General Hospital and volunteers several days a month at Bizarre Bazaar. She also volunteered with PAFE's Ready for Kindergarten program, the school district's Kaleidoscope art program, and as a CASA advocate, continuing her lifetime love for working with children. The Sturgis family are dedicated members of the Sandpoint Presbyterian Church where Mary volunteers and sings in the choir. Mary signed up to assist with the church's Summer Bible Camp and quickly became the organizational leader.
In 2007, Mary's first grandson Henry was diagnosed with cystinosis, a rare, multisystem genetic disorder. There is no cure for cystinosis and, because it is so rare, there is no federal funding for treatment or research. The Sturgis family learned of the Cystinosis Research Foundation, started by another family with a child experiencing cystinosis, which funds research for treatment and finding a cure. They formed their own cystinosis fundraising arm, and through a partnership with Schweitzer, began hosting "24 Hours for Hank", a 24-hour ski race benefiting the Cystinosis Research Foundation. "24 Hours for Hank" held its 15th annual event at Schweitzer this March. The event brings participants and donations from all over the country and is a major contributor to the Foundation's research grants. Henry, at 16, is now thriving, thanks to successful new treatments and scientists are closing in on finding a cure.
The women who submitted nomination letters for Mary, describe her as a beautiful person both inside and out: "It is hard not to be happy in Mary's presence. She always has a great story to share; she has a caring ear to lend when you are down. The grace and dignity she showed during the hard time her family endured with Henry's illness are inspirational. She is, indeed, a perfect candidate for a Woman of Wisdom." The Committee agreed.
Mary Sturgis and her fellow recipients will be honored as the 2023 Women of Wisdom on June 17, 2023, at a Gala Brunch. Reservations will be accepted until June 9, 2023, from Diane Stockton at 208-290-6362 or stockton_diane@yahoo.com.
Recent Headlines
---