Roger Gregory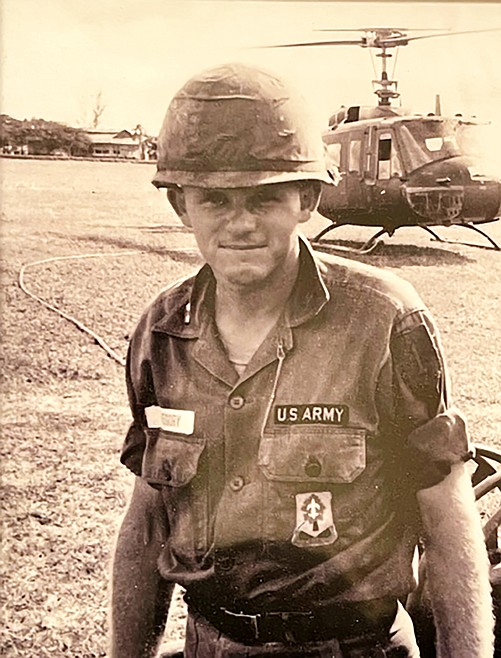 Roger Gregory, a Sandpoint native and now a businessman in Priest River, is pictured during his service in Vietnam.
(Courtesy photo)
|
November 9, 2023 1:00 AM
Roger Gregory remembers the soldiers.
One, who was lying on a stretcher, as he waited to be taken to a helicopter from the MASH hospital to a facility further away from the fighting.
"He was crying and he said 'I don't want to die,'" Gregory recalled.
That stuck in my mind — as did all of the soldiers killed in the fighting, waiting to get identified.
"It looked like they were just asleep," he said.
Gregory, who grew up in Sandpoint, served in the U.S. Army in France, before heading stateside and then to Vietnam where he served in the 1st Infantry Division.
Gregory spent five years in the Army and, while stationed in France, married a French girl, Annie Pierret. His service then took him to Ft. Riley, Kans., home of the 1st Infantry Division, before he was shipped to Vietnam in the fall of 1965 to fall of 1966.
"We went over on a troop ship, 3,000 of us on the ship," he said.
After his time in Vietnam, Gregory returned to the U.S. where he was assigned to Ft. Lawton in Seattle.
"Got out of the Army went to work for the Bon Marche, then bought the hardware store in Priest River in 1968 and been here ever since," he said.
Prior to Vietnam, Gregory said he applied for flight school to fly fixed wing and helicopters. He took the tests and was approved.
While waiting for orders to go to flight school, Gregory was promoted to captain. However, shortly afterward he received a letter stating they weren't taking captains.
"After returning from Vietnam, the Army sent me a letter stating they were now accepting captains, when do you want to report?," Gregory said. "I said 'no thanks' as I would have been right back in Vietnam."
Recent Headlines
---