Tuffy and the 93rd Transportation Company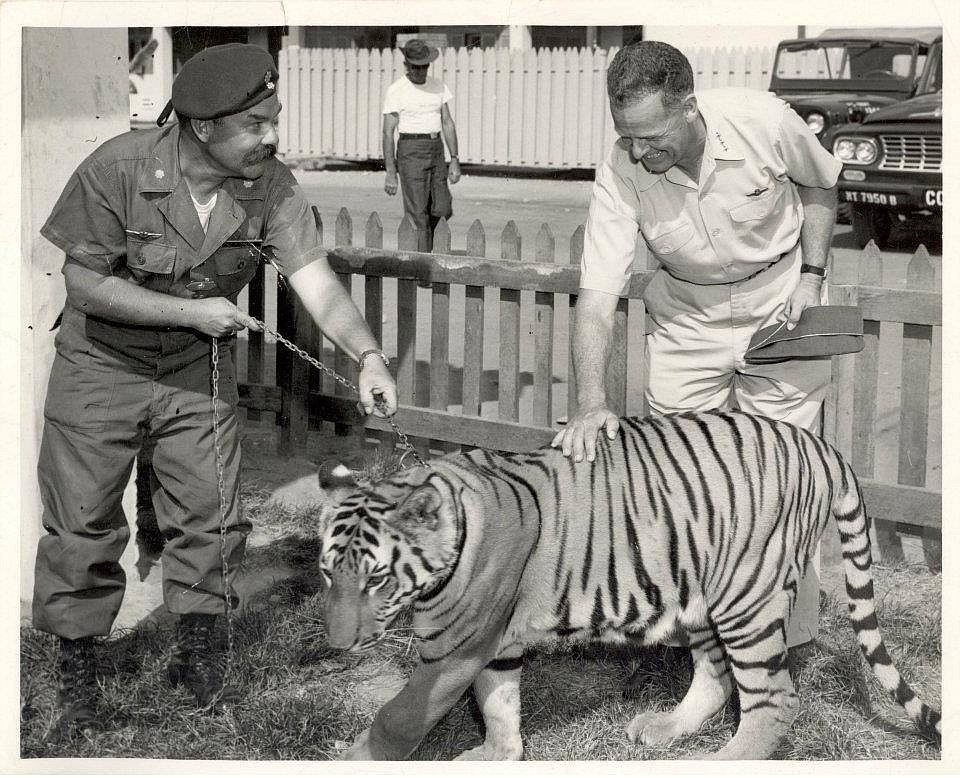 Lieutenant General Thomas and Samuel Moorman are pictured with Tuffy the Tiger, the mascot of the 93rd Transportation Company.
(Courtesy photo)
I'd like to share the experience's of my friend Larry who served in Vietnam as a crew chief of a Huey helicopter in the 93rd Transportation Company.
Larry has shared some of his experiences with me but doesn't like the spotlight on himself and didn't want his last name shared. I felt Larry and the incredible sacrifices his unit preformed during the war needed to be known.
His unit in Soc Trang adopted a tiger as a mascot; it known as Tuffy, hence they called their unit the Flying Tigers. New arrivals were "ambushed" by Tuffy to the delight of the others who probably never have seen a tiger close up.
Larry's Huey hit a tree on a return night mission — "the tallest tree in the jungle. He ordered the pilot to land so he could inspect the damage. Afterward, he advised the pilot that the "bird" would fly at a reduced speed, and they are able to make it back to the nearest base. Later, a rep from Huey came out to inspect the helicopter and said he could not believe the helicopter made it back from the extensive damage.
Another time on a mission, Larry told me that the helicopter started losing oil pressure. After making it back to base, Larry said he discovered an arrow had penetrated the engine in just the right place to puncture the oil line.
Larry said his helicopter was the only one ever shot down by an arrow.
These are just a few of the stories of 93rd Transportation Company. The bravery of these men was beyond comprehension and, of course, Tuffy the tiger story is interesting.
Recent Headlines
---