Sagle Elementary fundraiser delivers plenty of McFun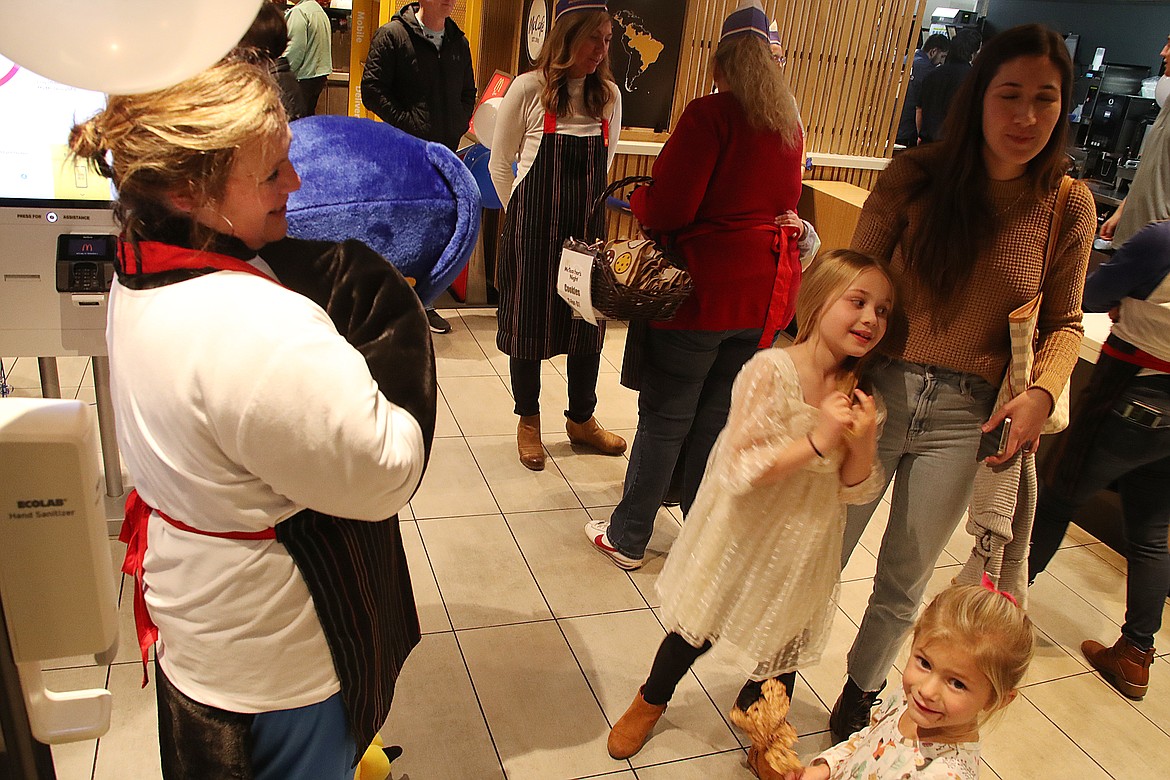 Lindsay Coon talks to Sagle Elementary students after revealing her identity as the Sagle Hawk during Wednesday's McTeacher Night fundraiser.
(Photo by CAROLINE LOBSINGER)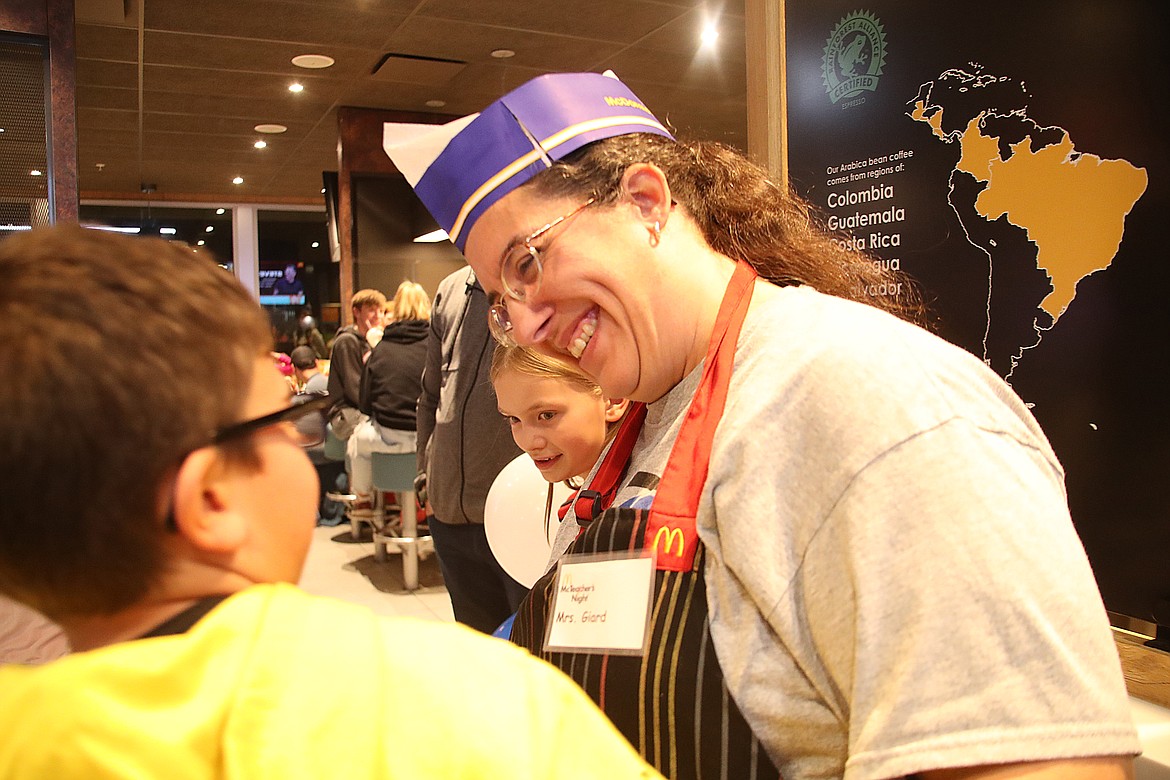 Sagle Elementary third-grade teacher Deanna Giard talks to a student at the school's McTeacher Night fundraiser at the Ponderay McDonald's.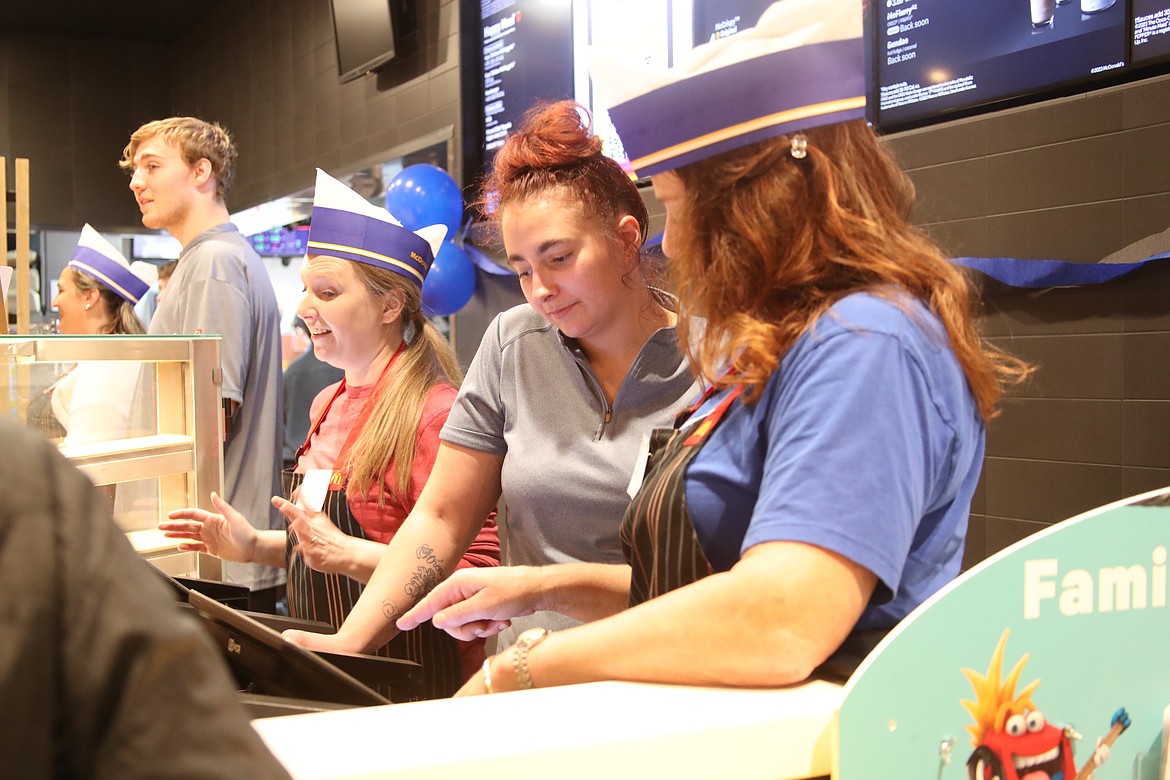 Sagle Elementary teacher Michelle Smith, far right, gets some help as she takes part in Wednesday's McTeacher Night fundraiser.
Previous
Next
PONDERAY — As Sagle Elementary's mascot stood by the door at McDonald's, dispensing hugs and high-fives in equal measure, students responded in kind.
They did, however, also spend a lot of time trying to figure out who was inside the mascot's costume, as the Hawk was among a dozen or so teachers and staff taking part in the school's first McTeacher Night fundraiser.
McTeacher's Night is a fundraising partnership between the restaurant and local schools. As part of the event, teachers and school staff work the counters, help out, and perform other assigned duties. Schools receive a donation based on a percentage of sales during the two-hour event and keep 100% of the tips.
"Seeing the kinds trying to figure out who it is has been hilarious," third-grade teacher Deanna Giard said as she stood at her station watching as a pair of students approached the Hawk with quizzical looks.
Some of the students stop and stare as they see the Sagle Hawk positioned near the counter as families waited to give their orders. Others attempted to peek where the Hawk's beak was located to see what they could see. Still others tapped on the Hawk's shoulder to see if that gave them a hint. Others engaged the Hawk in conversation to see if that helped.
"They look at her, and their eyes get big, and they smile," Giard said. "And then they are like, I don't know who it is."
(For those who didn't guess or see when she took off the oversized hawk head to reveal a big smile, inside was Sagle Elementary administrative assistant Lindsay Coon.)
The fun, smiles, and chance to raise some funds were what made the school's first McTeacher Night fundraiser a lot of fun, teachers, parents, and students agreed.
"It's been so much fun to see the kids outside of school, and I think they're surprised to see their teacher here," third-grade teacher Michelle Smith said. "When they see me, they're like, 'Oh my gosh, it's Mrs. Smith!'"
Teachers were tasked with a variety of duties — from selling cookies to staffing the registers to going around and checking to see if customers needed anything.
"My students were excited to see me, and the other kids were looking for their teachers, too," third-grade teacher Deanna Giard said. "It was really cute to watch."
Like Smith and the other teachers and staff who took part in McTeacher Night, Giard said she loved seeing the school's students come in and seeing the families in a different setting.
"I love seeing my students outside of school because they don't realize that you have a life outside of school," she said. "So I like that my students came over and gave me a big hug or a 'Hi, Mrs. Giard, see you in the morning.'"
Giard grew up in the Sagle area and attended Sagle Elementary as a student, just like her mom and grandmother — and did as her own kids and grandkids.
The turnout was strong, with a line out the door to start the night. It wasn't until an hour after the 5 p.m. start that things slowed down slightly, said teachers and staff taking part in the fundraiser.
The Sagle Elementary PTA was talking about different fundraisers when the school got the chance to do the McTeacher Night fundraiser. Everyone was immediately on board, principal Christine Davis said.
"We had a lot that wanted to come be a part of this," she said. "So it's just been really fun seeing families outside of school and enjoying some quality time with everyone."
Davis said it has been fun to watch the Sagle teachers and students have fun outside of school — and fun to watch the students attempt to guess who was inside the Hawk mascot costume.
Perhaps her favorite moment of the night was seeing a student, new to the school this year, come over and give her a big hug and invite her over to eat with his family, Davis said.
"It was really special just to sit there and kind of chit chat with him and his family," she said. "The fact that he's already feeling like he's a part of our Sagle School family in just one year is really special."
Recent Headlines
---