Ross Russell, Army Maj. (Ret.), 84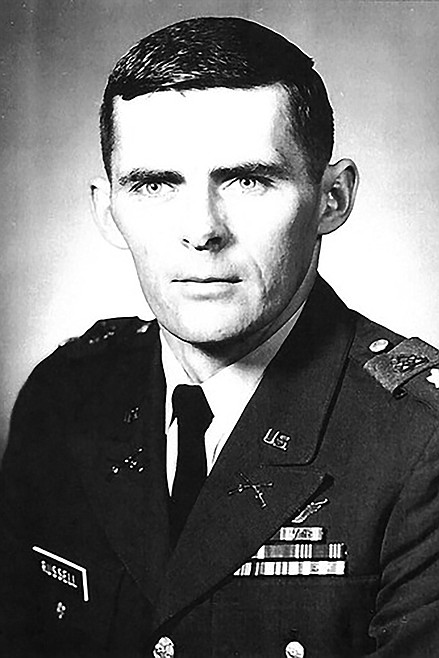 |
November 11, 2023 1:00 AM
Alexander Ross Russell, Army Maj. (Ret.), 84, passed away Thursday, Nov. 2, 2023, in Sandpoint, Idaho, surrounded by his family.
Viewing will be held at Lakeview Funeral Home on Friday, Dec. 1, 2023, from 4 to 6 p.m. Military funeral services will be held at 10:30 a.m. Saturday, Dec. 2, 2023, at the Lakeview Funeral Home, with family and friends officiating. A reception will follow at the Ponderay Mountain Lodge, Best Western Inn, next to Sweet Lou's.
Ross was born Dec.12, 1938, in Sandpoint, Idaho, to Alexander and Mae Russell/VanDerPas. He graduated from Sandpoint High School in 1956, where he excelled at basketball and pole vault. He attended the University of Idaho for one year before entering the United States Army. Ross married Janet Robinson in 1962 in Huntsville, Ala., they later divorced.
During his decorated Army career, Ross completed Ranger school and became a helicopter pilot. He served three tours in Vietnam, with 1,589 combat flight hours, was awarded two Purple Hearts, a Master Army Aviator Badge, a Vietnam Cross of Gallantry, a Bronze Star Medal, an Army Commendation Medal, and several other military awards. He retired, after 20 years, in 1980, at the rank of major.
Ross then returned to Spokane, Wash., and completed his bachelor degree at Eastern Washington University and worked for the FAA. Later, he returned full-time to Sandpoint and worked as the office manager at Alpine Home Health.
Ross married Barbra Legg on Jan. 7, 1996, in Sandpoint. Ross designed, and he and Barb built their log home along the shores of the Pend Oreille River. He was a true craftsman. He enjoyed hunting, fishing, and spending time with family, snowmobiling, huckleberry picking, bagpipes, and working in his shop. He was a member of the Vietnam Helicopter Pilots Association.
Ross is survived and missed by his wife, Barbra Russell of Sandpoint; two sons, Ross (Kirsten) Russell of Spokane and Rick (Sarah) Russell of Spokane; step-daughter, Kristin (Erik) Szakacs of Sacramento, Calif.; two grandchildren, Jenna and William Russell; sister, Vivian (Ken) Hooper of Sagle; brother, John Russell of Sandpoint; sister-in-law, Ginny Russell of Rockville, Md.; nephew, Jim Russell of Virginia; numerous nephews, a niece, several great-nephews and great-nieces, as well as very special cousins.
He was preceded in death by his parents; sister, Bonnie Boettger; two brothers, James and David Russell; nephew, Ken Boettger; and his niece, Debbie Russell.
If you ever asked Ross how he was doing, he likely responded, "Better than yesterday and not as good as tomorrow."
Lakeview Funeral Home in Sandpoint is handling the arrangements. Please visit Ross's online memorial at www.lakeviewfuneral.com and sign his guest book. In lieu of flowers, donations can be made to Bonner General Health Hospice or the Sandpoint VFW.
Recent Headlines
---