Tanner French resigns as SHS boys soccer coach, reflects on his successful journey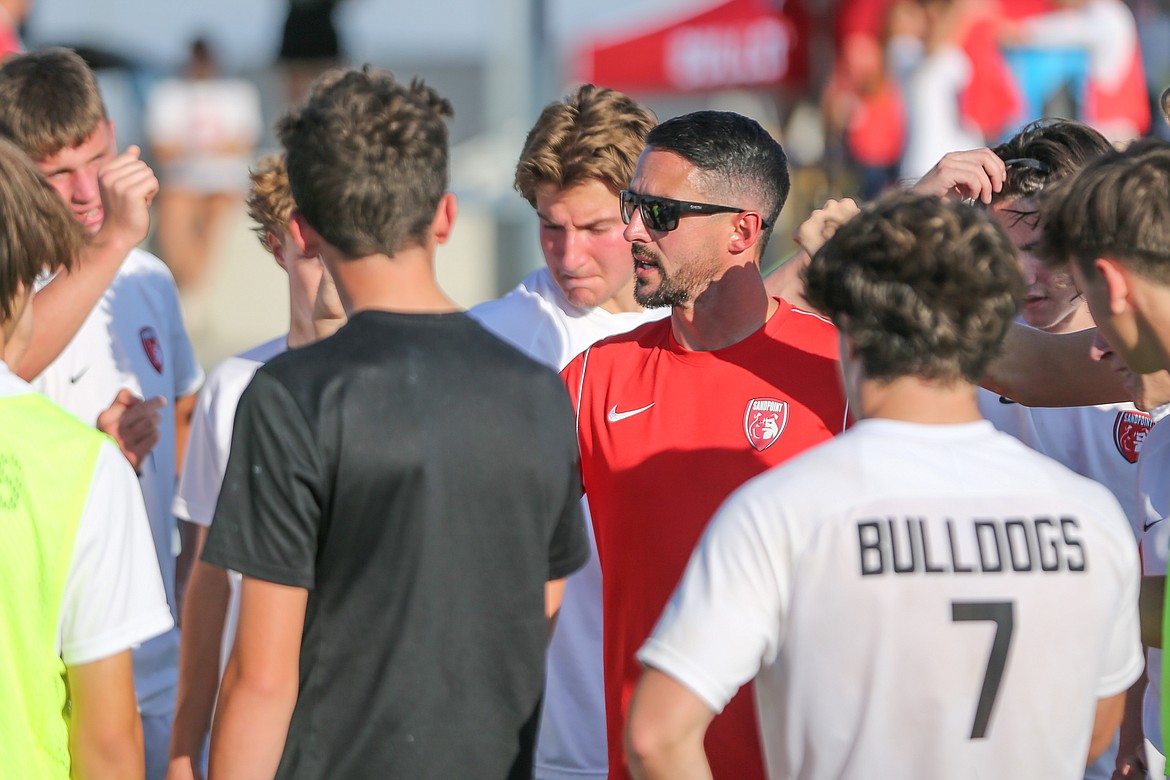 Sandpoint High boys soccer coach, Tanner French, gives his team a pep talk during a huddle earlier this season. French, in his five years as head coach, compiled a 34-11-3 record, outscored opponents 134-40, led his team to four district championships and finished as the 4A state runner-up twice (2021 and 2023).
Photo by Jason Duchow Photography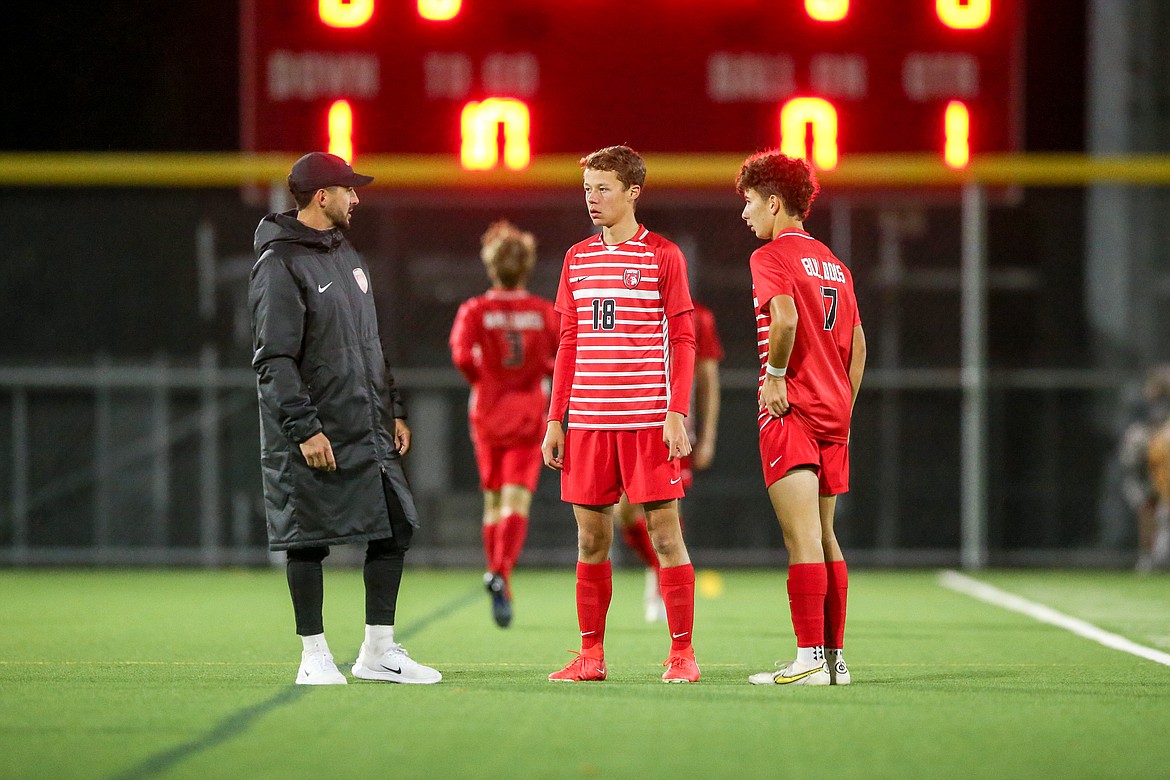 Head coach Tanner French spends time talking with Fisher Dail (left) and Logan McGrann after a game at War Memorial Field earlier this season.
Previous
Next
|
November 11, 2023 1:00 AM
SANDPOINT — Sandpoint High will have big shoes to fill, as boys soccer coach Tanner French has officially resigned after five successful seasons with the program, which included four district championships and two 4A state runner-up finishes.
French said stepping down from his role as head coach had nothing to do with this most recent season, and was actually something he had decided on before the season even started.
"I believe the banquet is for player appreciation and the focus should solely be on their performances this fall, though the personal decision (for me to step down) was made at the start of the summer, and had no association with the most recent season," French said. "It has been a swift, yet remarkable five years, and I want you all to know that I gave 100% of my experience, knowledge, and heart, each campaign. It's no secret that the program's ultimate goal is to have players lift the state championship trophy, but the true test was establishing values in the hope of developing young boys into men. With any coaching position, there is ridicule, but also appreciation; both of which I am thankful for."
During the SHS boys soccer banquet, which was held recently, French thanked his assistant coaches for helping him to make everything possible and reflected on his own journey as a coach.
"As the coaching staff mentioned during the banquet, high school athletics offers a feeling that will last a lifetime, and we wanted the boys to experience success on and off the field regardless of the trophy color," French said. "Coaching is a passion of mine and I had the opportunity to become a Division II assistant coach when I was twenty-five, but I wanted to give back to the community that shaped me as a player and person if I had the chance. I wanted the community aspect to encompass my passion. With that being said, I could not have fulfilled my obligations as smoothly without the help of my SHS alumni assistants, Daniel Anderson and Anthony Fox, as well as the willing parents in their various roles as volunteers. The three of us led the program to a 34-11-3 (134 goals for; 40 goals against) record in the past three years, with four district championships, a one-loss season in 2022, two 4A state runner-up finishes in 2021 & 2023, and a countless amount of experiences."
In addition to thanking his coaching staff and the players' parents, French also thanked various members of the community for their efforts in regards to the boys soccer program.
"I want to thank Derek Dickinson for the game commentary at Memorial Field every year, Kris Knowles for giving me the opportunity — as our AD for the first four years, TJ Clary for this past year as our AD, Beverly Burkhalter and Christy Williams for their preparation of necessary paperwork and logistics, Arlene Mitton in school bookkeeping, Beth Dean in school scheduling, and the grounds crew at both Pine St. and Memorial Field, Matt Diel, Heath Beason, and Jason Wiley. Thank you to Caroline Lobsinger and Max Oswald (and previous reporters) at the Daily Bee for keeping our community updated, and additionally Jason Duchow's ability to capture moments of our sport through his camera. Your willingness goes beyond your titles and I am fortunate to have worked with all of you."
French wanted to extend a special thanks to one last individual for her dedication to the boys soccer program.
"I'd like to thank my wife Maddy for her sacrifices made each year, as well as her support and ability to find positives during each season. Her empathy is unmatched and silently benefited the program every day."
Despite resigning from his position as head coach, French said he wants to remain as a part of the program in some capacity going forward.
"I truly feel that it is time to pass on the torch, but would like to remain as a volunteer for the years moving forward and help facilitate the processes of sustaining a dominant 4A team," French said. "At the end of the day, I will continue to support the program from a distance. The relationships that have been created among players, parents, and faculty will remain a priority of mine as I step away from a leadership role, because in the end, this is not goodbye, but see you soon."
Recent Headlines
---