Soup is a classic choice for cold nights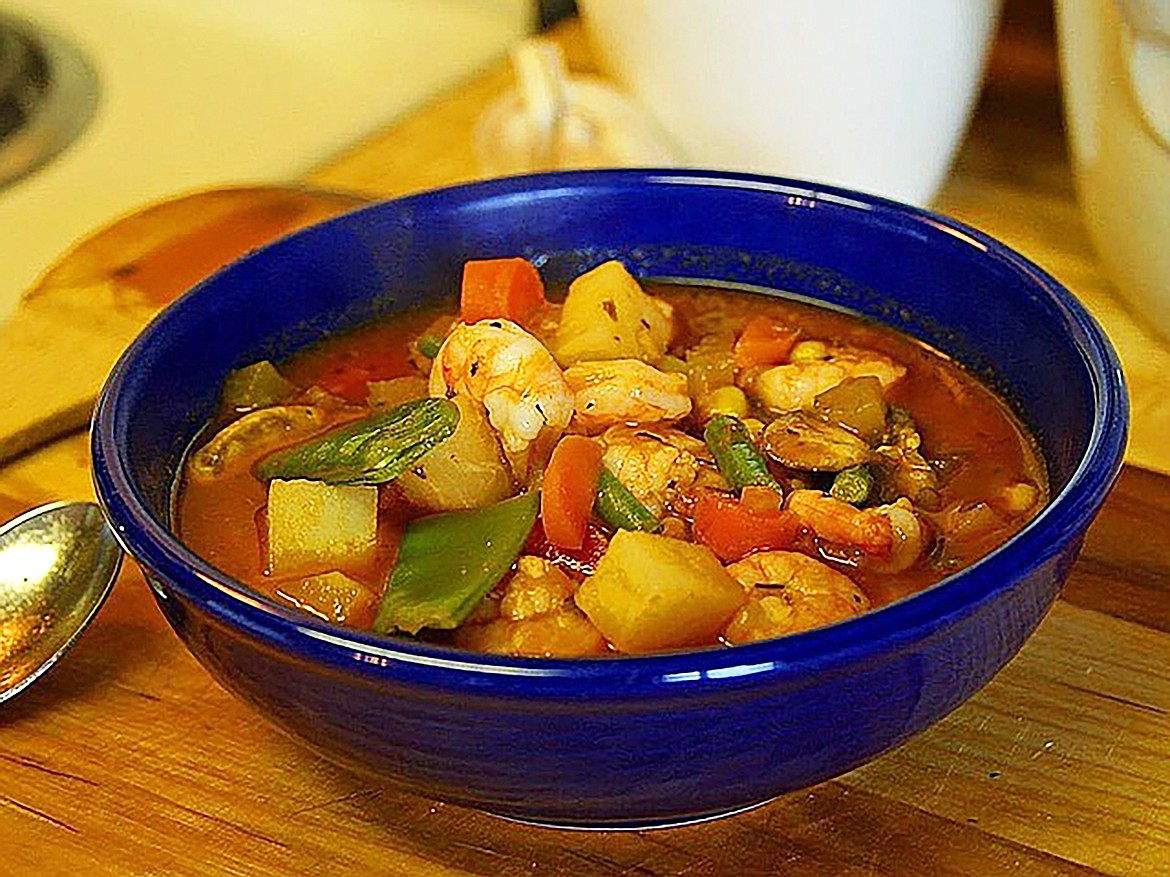 All-American Maryland seafood chowder needs only crusty bread to sop up the juices for a hearty supper.
(Photo courtesy PUBLIC DOMAIN IMAGES/PIXABAY)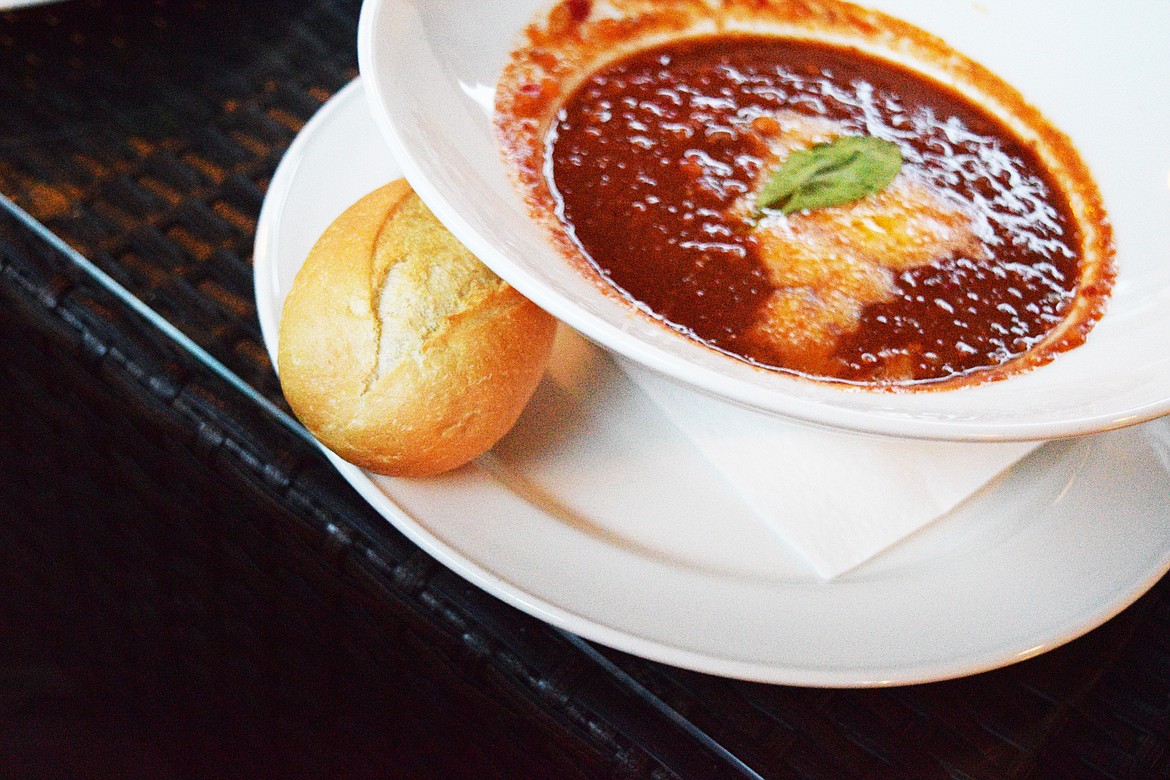 What's more American — or better on a chili fall or winter night — than chili?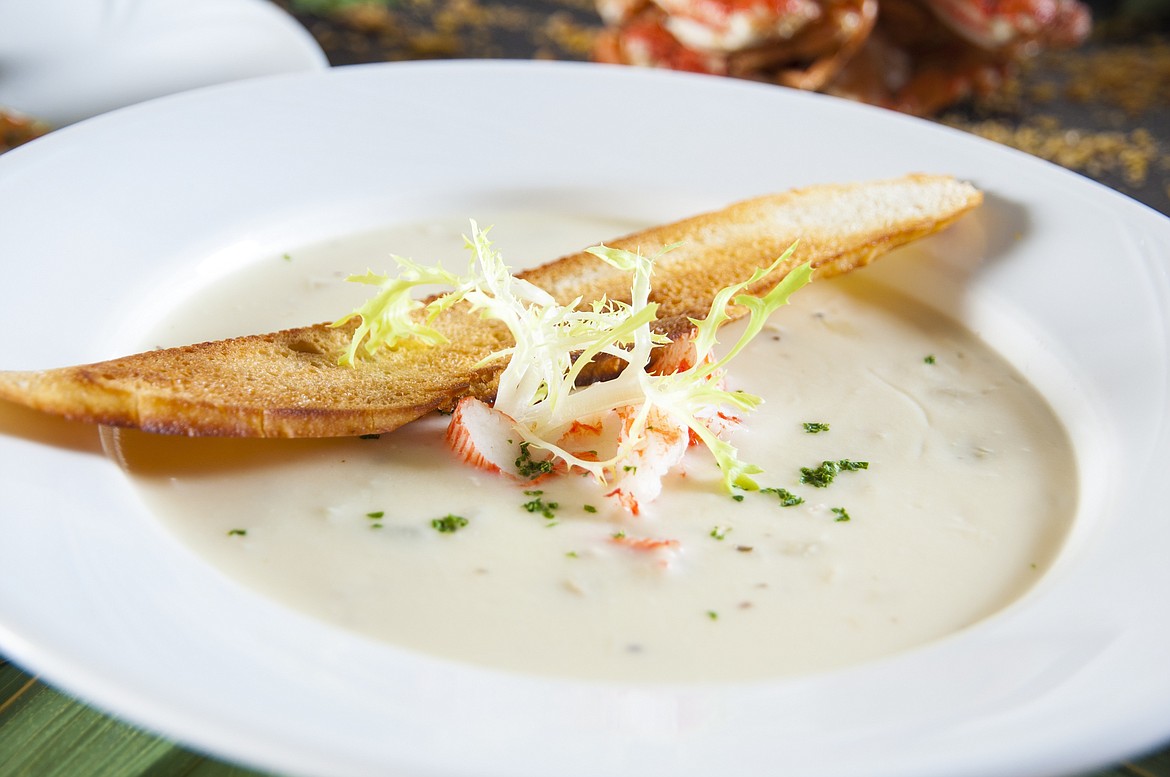 Crab bisque makes a delicious part of a fall or winter meal.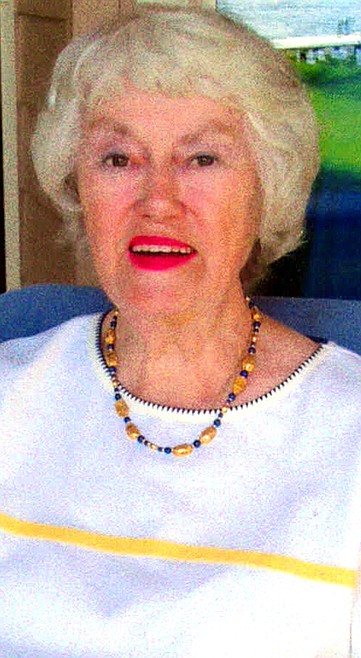 Previous
Next
|
November 12, 2023 1:00 AM
Today's roundup of soups and stews will complete our three-week adventure in that realm of cuisine. I feel that these four offerings are outstanding, and except for our first, pretty much "all-American."
It's been said that good old chicken soup will cure anything, and if that's so, this Italian treasure should fill the bill, though it features broth instead of the bird itself. It's richly savory, cheesy and elegant.
Stracciatella Florentine
2 14.5 ounce cans fat-free, reduced sodium chicken broth 
(or an equal amount of your own)
1 10-ounce package frozen chopped spinach
1/4 teaspoon ground nutmeg
4 eggs, well beaten
1/3 cup fresh grated Parmesan cheese
1 cup cheese-garlic croutons (optional)
In a large saucepan over high heat, bring broth to boiling. Add spinach. Cook until thawed, stirring occasionally with fork to separate leaves. Stir in nutmeg. Reduce heat to a simmer.
When soup is simmering, begin constantly stirring soup (a whisk works best) and slowly pour in eggs; immediately remove from heat. Ladle about 1 cup soup into each of 6 bowls. Sprinkle each with a heaping tablespoon of the cheese and 1/4 cup of the croutons (if used).
Tip: You can butter a thick, lightly-toasted slice of baguette and place in the bottom of each bowl in lieu of the croutons.
Now, back home in the U.S., let's create our pictured stew.
Maryland Famous Seafood Chowder
3 large onions, chopped
1/2 cup olive oil
1 quart water
2 cups dry red or white wine
2 10-ounce cans tomato puree
1 tablespoon EACH sugar and salt
1 teaspoon EACH minced (or 1/2 teaspoon dried) marjoram basil, oregano, pepper
2/3 cup minced parsley
1 pound skinless fish fillets (tilapia, orange roughy, halibut, etc.)
1 pound crabmeat
3 dozen mixed shellfish (oysters, clams, mussels) shells scrubbed
In large pan saute onions in oil till tender. Add water, wine, tomato puree and seasonings. Simmer covered, 1 hour.
Meanwhile, remove cartilage from crabmeat; rinse fish and cut into 6 pieces; check shellfish, discarding any that are open.
Add all prepared seafood to broth, cover and continue to simmer until shells open, 20-30 minutes. Makes 6 servings.
And what's more American than chili? My collection of old, authentic chili recipes all called for suet as a shortening. I'm changing this recipe's call for it to bulk (slab) bacon, which was also often used; other than that, it's the "real thing," no beans, no onions. This recipe serves the whole driver's camp.
Texas Red
1/4 pound bulk bacon, sliced into small pieces
6 pounds lean beef, coarsely cubed (or very lean ground beef)
1 cup chili powder
2 tablespoons ground cumin
2 tablespoons ground oregano
2 tablespoons salt
1-2 tablespoons cayenne pepper
4 large cloves garlic, minced
2 quarts beef stock, bouillon, or canned beef broth
1/2 cup masa harina or cornmeal
1/2 cup cold water
Fry bacon pieces in chili kettle until crisp. Add beef, about 1 pound at a time, and brown, stirring as it cooks.
Remove each pound after browning until all meat is browned, then return to the kettle, add seasonings and beef stock or broth. Cover and simmer 1 1/2-2 hours. Skim off any fat.
Combine cornmeal well with cold water and stir thoroughly into chili. Simmer 30 minutes longer. Makes about 3 3/4 quarts.
On the subject of seafood, here's a bisque that's an unusual combination of pureed and whole veggies. Delicious and beautiful!
Broccoli-Crab Bisque
1 1/2 cups chopped onion
2 teaspoons butter or olive oil
5 cups broth (fish or vegetable)
1 large head broccoli, stems peeled and cut crosswise, then 
sliced, florets set aside
4 medium potatoes, peeled and diced, divided
1 1/2 cups diced carrots, divided
3/4 cup chopped celery
1/2 teaspoon fresh ground black pepper
1 teaspoon lemon juice
1/2 teaspoon thyme leaves, crushed if dry
1 bay leaf
3/4 teaspoon salt (or less if using salted broth)
Dash cayenne or Tabasco sauce
2 cups whole milk or half and half
1 pound crab meat, sliced into 1/2-inch pieces
In a large soup pot, sauté the onion in the butter or oil until soft but not browned.
Add broth, broccoli stem pieces, half the potatoes, all the carrots and celery, pepper, lemon juice, thyme, bay leaf, salt and cayenne. Bring soup to a boil, reduce heat and simmer for about 20 minutes until vegetables are tender.
Remove the bay leaf, and either puree vegetables and broth, or mash vegetables into the broth in pan, mixing well. Return puree to pot, and add remaining potatoes. Cook soup over medium-low heat for about 10 minutes or until potatoes are nearly soft. Now add the broccoli florets to the pot, and cook soup another 5-10 minutes or until broccoli is tender-crisp.
Add milk and crab meat, and heat bisque through but do not allow to boil! Serve with croutons if desired.
---
Editor's note: For many years, Valle Novak wrote gardening and cooking columns for the Daily Bee. "Weekend Gardener" and "Country Chef" became renowned for their humor, information, and common-sense advice on how to do everything from planting to cooking. She left behind many columns to delight her many fans. This is one such column, originally published on Feb. 3, 2008.
Recent Headlines
---