PREP BASKETBALL: Priest River prevails over Clark Fork in season opener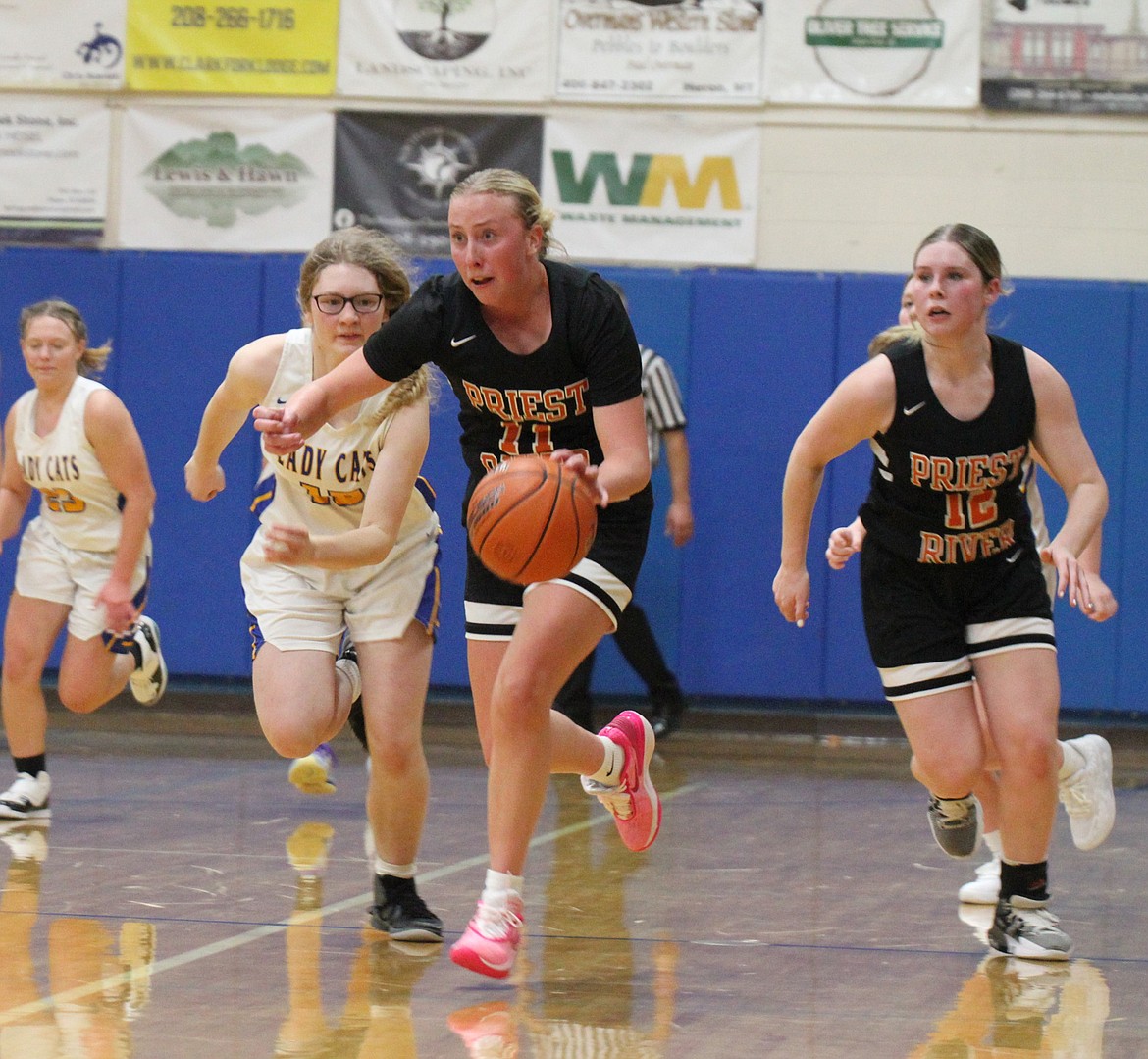 During a full court press late in the fourth quarter, Priest River's Marley Burgess-Duquette (11) strips Clark Fork's Jamie Herrick (15) of the ball and makes her way downcourt as Desi Humphrey (12) of Priest River follows in transition.
Photo by MAX OSWALD
by
MAX OSWALD
Sports Reporter
|
November 14, 2023 9:50 PM
CLARK FORK — The Spartans erased an early deficit and mounted a fourth quarter comeback to defeat Clark Fork, 37-33 in Tuesday's season opener at Clark Fork High School.
Midway through the second quarter, Priest River trailed 16-7 and decided to switch to a full court press on defense. The change by head coach Tyler Douglas paid off in a big way, as the Spartans went on a 12-3 run to tie the score 19-19 heading into halftime.
In the third quarter, Clark Fork's Amie Matteson kept things close after putting up five consecutive points, but was matched by Priest River's Desi Humphrey, who knocked down a three of her own and went for 4-for-4 from the charity stripe in the quarter. At the end of three, the Wampus Cats found themselves ahead 30-29, but Priest River shut down Clark Fork's offense in the fourth.
Priest River only allowed Clark Fork to score three points in the fourth quarter. After a couple of clutch baskets by Marley Burgess-Duquette, the Spartans controlled the tempo during the last minute of play and ran out the clock for a 37-33 victory.
"We had some ticky-tacky fouls and I think that's really what called it for us," Clark Fork head coach Jordan Adams said. "We had some underclassmen step up and do some good things, but a couple of our seasoned girls are irreplaceable. Hannah's athleticism is incomparable. Eloise's energy drives us. You lose both, and it makes an impact. I was pretty proud of the younger girls stepping up and filling those shoes, though. They did a lot of good things."
Eloise Shelton, who had three points and seven rebounds for Clark Fork, sat for most of the fourth quarter with a nose injury. Amari Printz-Hay posted a massive double-double, scoring 11 points and grabbing 16 rebounds. Hannah Thompson had four points, but fouled out in the second quarter.
For Priest River, Desi Humphrey led the way with 10 points, most of which came in the second half. Burgess-Duquette and Sam Pound had nine points each; Pound also had a team-high three steals on the night. Pavin Coleman recorded a team-high three assists for the Spartans.
Clark Fork (0-1) heads to Post Falls to face Genesis Prep on Thursday. Priest River (1-0) will be back in action at home against Kellogg on Monday.
Priest River 7 12 10 8 – 37
Clark Fork 13 6 11 3 – 33
PTS: CF – Printz-Hay 11, Reuter 7, Matteson 5, Thompson 4, Shelton 3, Scarlett 3. PR – Humphrey 10, Pound 9, Burgess-Duquette 9, McCracken 4, Coleman 3, Jensen 2.
AST: CF – Reuter 2, Shelton 1, Printz-Hay 1, Scarlett 1, Thompson 1. PR – Coleman 3, Humphrey 1, Yount 1, Burgess-Duquette 1.
REB: CF – Printz-Hay 16, Shelton 7, Reuter 4, Boehme 3, Matteson 2, Thompson 2, Herrick 1. PR – Burgess-Duquette 5, Jensen 4, Pound 3, White 3, Coleman 3, Humphrey 3, McCracken 2, Yount 1.
STL: CF –  Boehme 2, Reuter 1, Printz-Hay 1. PR – Pound 3, Humphrey 3, Yount 3, Coleman 2, White 2, Burgess-Duquette 1.
BLK: CF – None. PR – None.
Recent Headlines
---