YOUTH SWIM: Sandpoint Sharks set personal, pool records at Adam England Fall Splash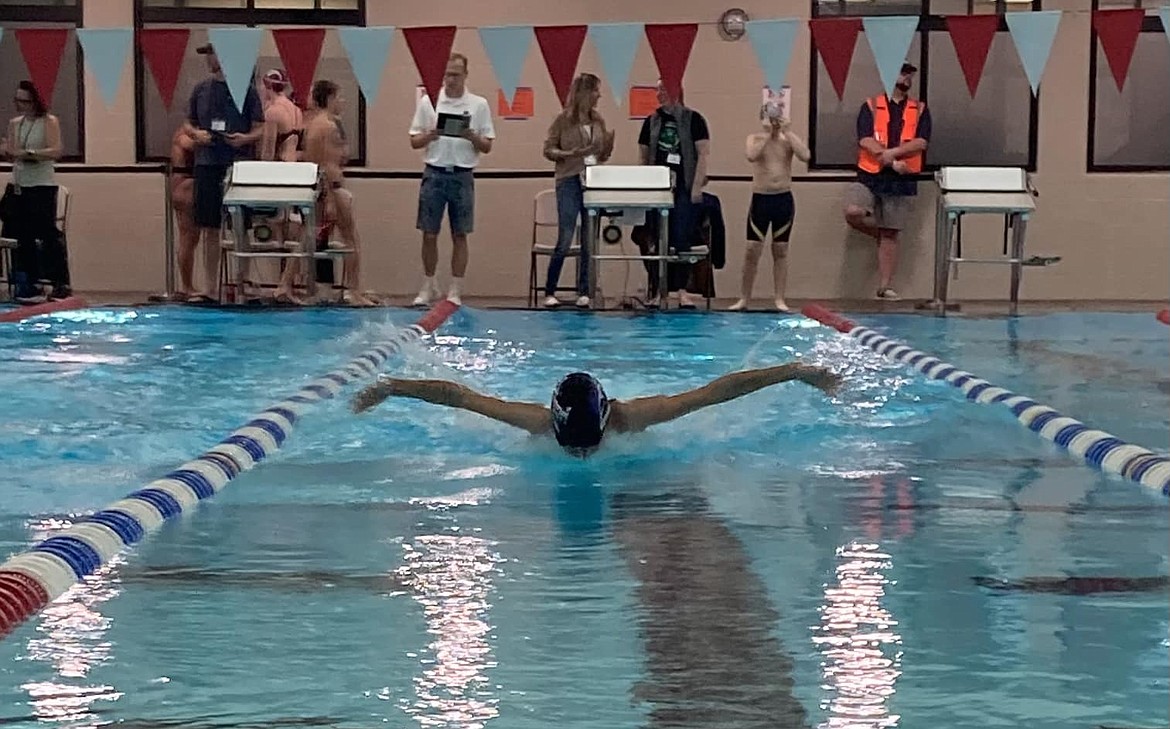 Sandpoint's Bodi Demmons competes at the Adam England Fall Splash held at the Kroc Center in Coeur d'Alene this past weekend.
(Courtesy Photo)
|
November 16, 2023 1:00 AM
COEUR d'ALENE — Several Sandpoint swimmers saw major time drops, and some even broke multiple pool records at the Adam England Fall Splash held Nov. 10-12 at the Kroc Center.
"Lou Foust started us off on Friday night with an almost 22-second drop in the 400 IM (5:04.31)," head coach Emily Renzini said. "Alivia Storms closed the weekend out on Sunday with a 75-second time drop in the 200 freestyle (2:39.58)."
Several swimmers were testing new racing strategies and it worked to their benefit, especially Myelle Jensen, who swept every one of her events and broke three pool records. Jensen broke pool records in the 400 IM (5:14.38), 200 backstroke (2:25.15) and 50 fly (29.84). In addition, Bodi Demmons took third place for the Sharks in the 200 fly (2:45.63) in his first time swimming the event.
"All of our 32 swimmers that we had on deck last weekend showed up for fast swims and positive attitudes," Renzini said. "I've really enjoyed coaching this team and watching them grow in their own ways through a sport we all share together."
When McCoy Jensen, a captain on the Sandpoint High School swim team and member of the Sandpoint Sharks wasn't racing, he worked as assistant coach during the morning session of the meet.
"It was a privilege to help coach the sharks and witness the progress of several individual athletes including Ikaika Leavitt, Kale Wright, Bodi Demmons and Josh Jackson," Jensen said. "Their hard work is paying off."
The Sharks have a few weekends off to rest and enjoy the Thanksgiving holiday before getting back in the pool. The team will be back in action at the Spokane Waves Winter Invitational, which will be held Dec. 9-10 at Whitworth University.
Interested in being part of the Sandpoint Sharks? Coach Emily Renzini will be hosting tryouts Dec. 18-21 between 4:30 and 5:30 p.m. Each tryout will last about 20-30 minutes. Contact Coach Emily at headcoach@sandpointsharks.com for more information and to set up a time to hit the pool.
Recent Headlines
---