BULLPUP WRESTLING: Sandpoint girls are making history with record turnout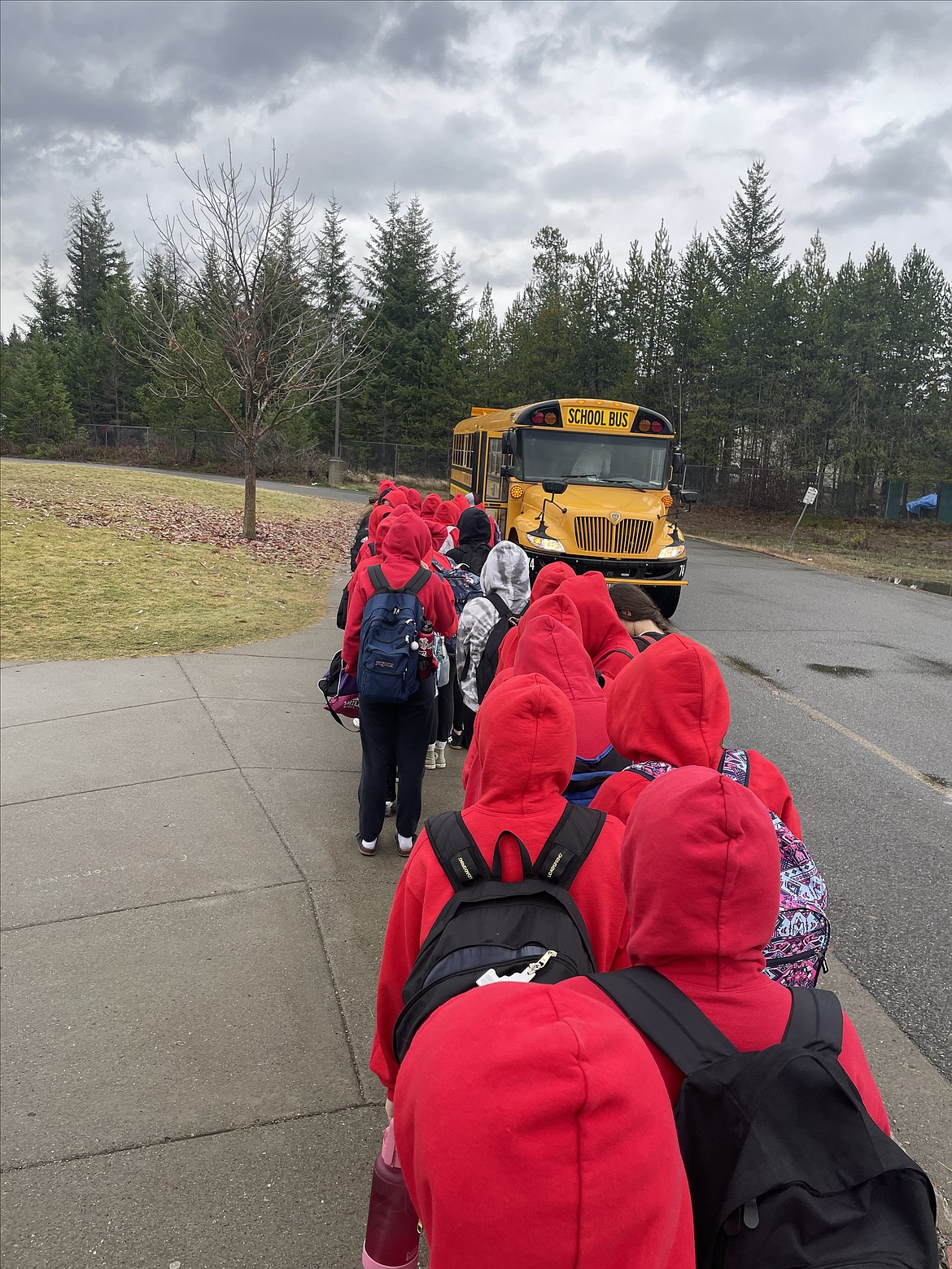 The Sandpoint Middle School girls wrestling team makes their way to the bus after a meet at Timberlake earlier this season. 30 out of the 32 girls on Sandpoint's roster wrestled either an opponent or one another at the meet.
(Courtesy Photo)
by
MAX OSWALD
Sports Reporter
|
November 17, 2023 1:00 AM
SANDPOINT — Throughout the years, Sandpoint had just one or two girls who competed for their middle school and high school wrestling teams. Fast forward to 2023, and the SMS girls wrestling program now has one the largest programs in the entire state with 32 girls signed up this year.
Valerie Johansen, the head coach of both the middle school and high school girls wrestling programs, said that just a couple of years ago the team had increased to nine girls. So, what led to the record number of 32? Johansen, who also coaches one of the middle school volleyball teams, started promoting the sport to some of her volleyball athletes, and they quickly became interested.
"It helps when there is a female that's going 'hey do you want to wrestle? We can do it, we have girls wrestling. You can do it,'" Johansen said.
Johansen didn't wrestle herself growing up, but her daughter, KJ, did wrestle for Sandpoint as well as for Corban and Minot State University. Through those experiences with her daughter, Johansen was able to gain a plethora of knowledge – an amount of knowledge that led her to become the coach she is today. Also due to being invested her daughter's journey, Johansen has developed a deep-rooted passion for fighting for equal opportunities in girls wrestling.
"Ok let's do it," Johansen said after the school district asked her to become the head coach a couple of years ago. "I have been able to bring in volunteers like Josh Ratigan (high school boys wrestling coach) and my husband, who was also a wrestling coach, and they are willing to work with our group. Because of this, we went from 5 to 9 to 22 to now 32 consistent wrestlers."
27 out of the 32 girls wrestlers who are part of the program this year have never wrestled before. Johansen said despite being a young team they are excited, willing to learn, and are not shying off when things get difficult.
"Wrestling is a hard sport," Johansen said. "We have some girls this year that have never even competed in a sport before, and they're coming out for wrestling. Not a single one of them has shied off the mat or said 'I can't go out there'. It's just been 'Yes I can. Yes I can. I can do hard things'. That's one thing that we say everyday."
Since Sandpoint is ahead of the game when it comes to girls wrestling, only a handful of girls are able to see action against athletes from different schools, but Johansen said the team has been willing to wrestle each other this season.
"Some teams have eight wrestlers and some teams have just five wrestlers, so it's great when we can get our girls to some of these quad duals where you can get half of your girls wrestling other girls," Johansen said. "We did have a meet where we had 12 girls wrestling other athletes, which means we still have a big chunk of our girls that are wrestling each other, and I think that's okay. As we go to these places and other teams see 32 girls walking into the gym, taking up an entire mat to warm up, hopefully that's inspiring to them and shows them 'hey, if they can do it, so can we'".
Girls wrestling is growing immensely throughout the entire country. Division 1 schools like Iowa and even Division III schools like York (PA) and McDaniel (MD) formed official team's for the first time this year. With an increasing number of collegiate teams getting a part in the spotlight, now have even more role models to look up to.
"For schools like Iowa, who have officially started a women's club program, it's tremendous," Johansen said. "For the first time they put girls out on the Iowa wrestling mats… and that's happening every week. Every week there is a new school offering girls wrestling. The opportunities that are out there now are opening doors for some girls to attend college, like for my daughter – girls wrestling paved the way for her to go to college."
Johansen said she is very intentional about getting experienced girls wrestlers in the room to work with her girls. Last year, Coeur d'Alene 3x Idaho State Champion and All-American at 126 pounds, Alyssa Randles, came in and worked with the girls as part of her senior project. This year, Sandpoint was fortunate enough to hire an assistant coach, Brigid Shannon. Shannon was a high school All-American at Idaho Falls and became the first women's wrestling All-American at Corban University after placing sixth at the NAIA National Tournament at 130 pounds during the 2020-2021 season.
Johansen said having Shannon brings a different vibe to practice as she can get down and wrestle with the athletes and can relate to them a bit better in regards to the physical aspect of wrestling.
"I'm really excited that Sandpoint was willing to do that," Johansen said about the school district's hiring of Shannon. "The trajectory of North Idaho has gone from 'you're a girl on a boys team' to now, these are girls on a girls team who belong on the mat and now they feel that — that's magical."
Johansen said the team is extraordinarily brave this year and is setting a trend for others to follow.
"Middle school is a fun age; it's a fun age because they're still willing to try new things without worrying about who's watching," Johansen said. "That's half the battle with wrestling because it's just you and another person out there on that mat. Last year's team, we dared greatly, but this year's team is just bravehearts … I'm super excited about where we'll go."
The SMS wrestling team, for the first time ever, will be able to represent Sandpoint at the girls middle school district championship which will be held Dec. 6 at Priest River Lamanna Jr. High. It's the first year District 1 has had enough girls to put on a full tournament, proving that interest in girls wrestling in North Idaho is still very much on the rise.
Recent Headlines
---