David Hutchens, 71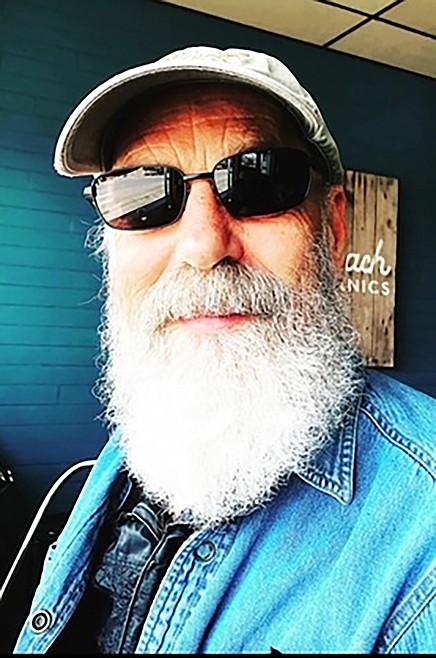 |
November 18, 2023 1:00 AM
Charles David Hutchens stepped off into the next mystery on Sunday, Nov. 5, 2023, at Garfield Bay under the tender care of hospice hosts Becky and Jerry "Hooey Man" Luther.
A private family service has been held.
David was born Dec. 26, 1951, in Phoenix, Ariz., and raised in Chandler, Ariz. His grandmother, Grace, lived down the alley and taught him the magic of roses and gardening in the desert. Coming of age, with the skill of pottery adopted, he afforded himself a bus ticket and arrived in Spokane, Wash., with a dog in tow.
In no time at all, he settled in Sandpoint, Idaho, where he became a father and established himself as an accomplished artist, master gardener and fine finish carpenter. He spent a lifetime of braiding three masteries into the path of sustenance. His husbandry included dogs, horses and birds with rolling pigeons being his latest passion.  The Modena, his first bird love, was also the last: the full circle.
As a lifelong student of clay, one early stop along the way landed him in Sun Valley as the director of The Sun Valley Center for the Arts. Decades later he returned to the desert and found himself at Arcosanti developing a clay center. He enjoyed being Paola Solari's last best friend. He read Paola's works aloud weekly and spent hours at his elbow. David was given the great honor of building Paola's coffin and setting him to rest in the red soil of the desert that they both loved and understood.
While in Arizona, David participated in cultural endeavors where potters, geologists, archeologists and anthropologists combed the desert to find original sources of clay and David taught them to harvest clay in season and make coil pots under the original sun. It was reclamation on many levels.
David traveled waterways like others use highways. With friend Jamie, he built spruce kayaks that struck awe when parked atop his truck. Everything he built, be it a pot, a boat, a door, a hutch, a barn: it was at the apex of craftsmanship. Heart. Hand. Soul.
David's greatest life focus was daughter, Aleya. He loved being in the adventure of parenting thanks to Aleya. As Aleya came of age, David took her to Italy to experience the long-beaten trails of humanity. They visited villages and walked old paths, ate authentic foods and looked at the world's revered art. Aleya will return to those paths with David. His final trek and we are reminded that, "No one is lost to us"; words of poet, Debra Magpie Earling.
David is survived by beloved daughter, Aleya Hutchens of Sandpoint and brother Dan Hutchens of Phoenix. In the last decade with his partner, Patty Factor, they built a home on the family homestead at the base of Goat Mountain in Clark Fork where Patty remains tending horses and dogs. David was preceded in death by mother Betty Marchant and grandmother, Grace of Arizona. 
Lakeview Funeral Home in Sandpoint is tendering arrangements. Please visit the online memorial. Tell the stories. Share the heart, hand, soul stories at www.lakeviewfuneral.com and sign the guest book. In lieu of flowers, send a donation to the public school ceramics/clay programs in Hope or Clark Fork or the Sandpoint Arboretum. Grow a tree.
Recent Headlines
---