NIC Alumni Association announces awards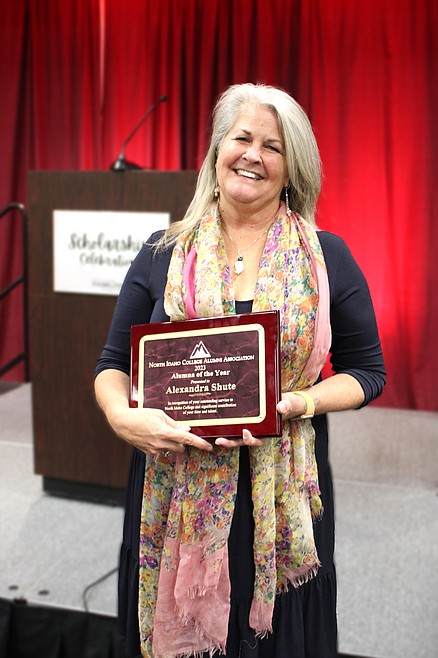 Alexandra 'Ali' Shute holds her award at the North Idaho College Foundation Scholarship Celebration Monday, Nov. 6 at NIC's Coeur d'Alene campus.
Photo courtesy of North Idaho College
|
November 18, 2023 1:00 AM
The North Idaho College Alumni Association Board of directors announced its annual Alumni Awards at the NIC Foundation Scholarship Celebration on Nov. 6 at NIC's Coeur d'Alene campus.
The NIC Alumni Association honored Alexandra Shute as Alumna of the Year, David Foster as Honorary Alumnus and Darlene Barrier Caruso as Distinguished Alumna.
Each year, the board of directors recognize individuals that enhance NIC and the Alumni Association through their commitment and service.
Shute was selected as Alumna of the Year in recognition of her service to the community and her support of higher education. 
Shute said her connection with NIC began in 1993. As a newly divorced mother of three kids, she said she went to NIC to learn the skills necessary to carve out a new career path.
"NIC gave me confidence in myself," Shute said. "I felt smart and productive and learned valuable tools for financial independence."
Shute graduated from NIC in 1996 with a degree in commercial art. She currently owns and operates the Post Falls graphic design company Sixtwofour Designs and is the executive director of the Coeur d'Alene Arts and Culture Alliance. She also helped raise funds for the shade structure over the amphitheater at Riverstone.
Foster was selected as Honorary Alumnus of the Year in recognition of his dedication and commitment to North Idaho College. He retired from NIC in August after 37 years at the college.
He began his career at NIC in 1986 as biology lab preparator. Foster went on to teach courses in Forestry Orientation, General Botany, Ecology and Principles of Wildlife Biology. Foster said that he loves teaching and mentoring students and is especially proud of the work he and his ecology students did through the years in partnership with the local community.
"Students benefit by working on real projects and the community benefits from their efforts and the resources they provide," Foster said.
Foster attended Aquinas College in Grand Rapids, Mich. before moving to Moscow, where he earned degrees in wildlife resources and range resources from the University of Idaho.
Caruso was awarded Distinguished Alumna for her achievement in her profession.
For 21 years, Caruso has represented Nevada's gaming regulators. She is currently the chief deputy attorney general for the Gaming Division, which provides legal counsel to the Nevada Gaming Control Board and Gaming Commission for licensing, discipline, and all regulatory and administrative matters related to gaming in Nevada.
"Having the opportunity to attend school at North Idaho College was a blessing and the experience gave me the confidence and skills necessary to succeed at university, law school and beyond," Caruso said. "Being selected as Distinguished Alumni of the Year is an honor as it reflects my journey as a kid from Idaho who made her way through many chapters in life to a career that has been both fulfilling and rewarding."
Caruso grew up in Coeur d'Alene and graduated from Coeur d'Alene High School. She studied Pre-Law at North Idaho College and graduated in 1989 with an associate's degree. She graduated from Eastern Washington University, received a law degree from Gonzaga and currently resides in Las Vegas with her husband and four children.
For information, contact NIC Alumni Relations and Development Coordinator Pam Noah at 208-769-5978 or pam.noah@nic.edu.
Recent Headlines
---