PREP SWIM: Reflecting on Sandpoint swimming's historic season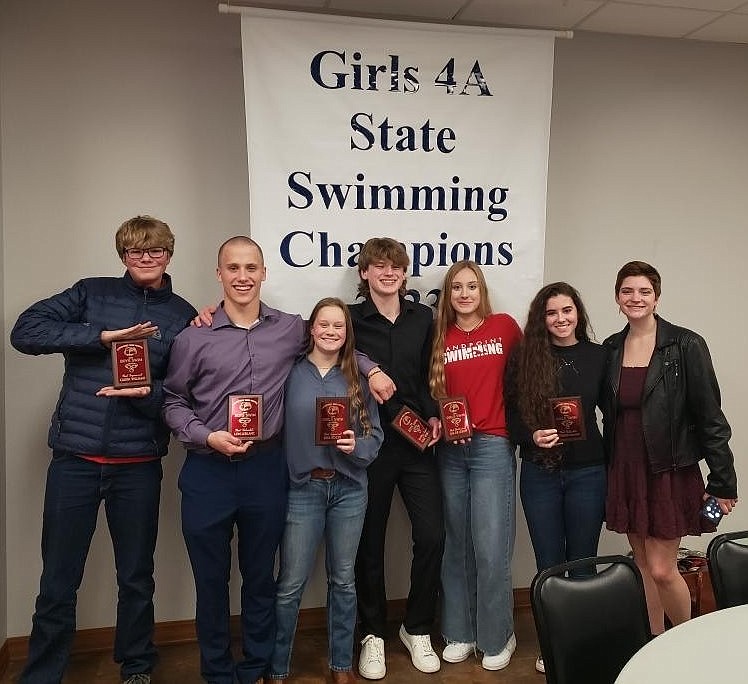 Members of the Sandpoint swim team pose with their awards at the end of season banquet. Pictured left to right, Calvin Williams, Lon LeBlanc, Bria Rocke, Kale Wright, Ava de Leeuw, Ryleigh Bamer, and Sara Hogue.
(Courtesy photo)
by
MAX OSWALD
Sports Reporter
|
November 18, 2023 1:00 AM
SANDPOINT — Three weeks ago today, Sandpoint boys and girls swimming celebrated historic feats. Sandpoint's girls were named 4A state champions while the boys were named 4A academic state champions. Head coach Greg Jackson said every single one of his athletes made sacrifices in order to accomplish these once-in-a-lifetime achievements.
"Everybody on this team deserves recognition for their achievements," Jackson said. "The girls as state champions, the boys as academic state champions and for finishing fifth. Everyone played an equal role in one way, shape, or form."
Of course, both the boys and girls teams were expected to perform well as usual, but this year some unexpected standouts and surprises ended up being the icing on the cake.
"We certainly had our standard athletes that we expected to do well, and they did do well,' Jackson said. "On the girls side, Ryleigh Bamer, Ava de Leeuw, Mia Driggs, and we had a surprise freshman in Reina Montecchi and that was really neat. But really, the unexpected standout was Sara Hogue."
Hogue, the team's only senior, was unsure if she was going to swim this year. After seeing things through, she decided to make it happen, and Jackson said she did not hold back. 
"She excelled in so many different ways," Jackson said. "Not just in performance, but in melding with the team and being an unsaid leader … by being that example, putting her head down, doing what she needed to do while being humble about it. It was just exciting to see her with so much success."
At the state championship, Jackson made a couple of uncommon moves by putting Hogue in three relay races instead of two individual and two relay races; he also did not stack his relays in the preliminaries. Jackson admitted before doing it that he didn't know if it was a good idea, but his gamble clearly paid off in a big way with all of the relays performing exceptionally well. The girls 200-yard medley relay of Ryleigh Bamer, Sara Hogue, Mia Driggs, and Reina Montecchi that captured gold at the 4A state championship, was originally seeded fifth.
"In a meet where the winner was decided by 12 points, that was an 18-point swing," Jackson said. "It was nice to be able to do something like that and have it pay off."
Part of that relay was Bamer, who Jackson said had many memorable swims this season, including her third place finish in the 100 butterfly at state.
"She's another athlete who just put her head down, put the work in, and got things done in addition to being this year's captain," Jackson said. 
Another remarkable moment this season was at the district championship. Freshman Halle Wyman, who never swam the 100 backstroke before, decided to give the event a shot and ended up grabbing a qualifying spot at the state championship meet.
"I think that really motivated her," Jackson said. "Her motivation to swim and compete has improved and increased and she is looking to put in more work in the off-season. The theory behind that is, freshmen who swim year-round end up coming in with the abilities of a junior."
For the boys, some of the same heroics were on display all season long. Led by McCoy Jensen and a plethora of others, the team placed fifth among a stacked 4A field.
"Lon LeBlanc really surprised me this year in both leading the team as a co-captain and with his performances," Jackson said. "Kale Wright was also another good story. The overall energy he brought to this boys program — being there, being consistent, putting the work in, being a team player and swimming what maybe he didn't feel was his best event at times."
Jackson also mentioned how Jensen didn't swim in his best events either, often swimming in what would help his team qualify for the state championship.
"That sacrifice, it was our unsung song at state," Jackson said. "A lot of sacrifices from this team contributed to their overall success. I'm not ashamed of a fifth place finish from that boys team; they really did well."
Jackson said he attributes the teams' decades of success to just taking things one step at a time. 
"Our focus is never winning a state championship during the regular season," Jackson said. "As we get closer to districts and state, we start to identify other teams and say 'hey, we have a shot at this', which has luckily always been the case for us."
Jackson said it also comes down to that the team as a whole trusts in the program, has trust in the training, and has the ability to swim well at the end of season. Compiling that all together has helped Sandpoint succeed as a team.
"They train and act like champions," Jackson said. "They set that tone for themselves, not because they expect one, but because that's who they are."
Jackson said the school district has always been very supportive of the program, which has also contributed to the teams' success. SHS athletic director TJ Clary even made his way down to the state meet — the team thought they may be in trouble, but in reality, Clary was just supporting the team.
"This is what support feels like," Jackson said to his team. "To have him be there was important when the girls won and when the boys were named academic state champions. That was really cool." 
Jackson said this season was one to remember, and that he was proud to be a part of it.
"When I talk about how proud I am to be a part of swimming and North Idaho, the Inland Empire League, I think about this team being so cohesive, so supportive. For a sport like swimming, where it tends to be individual participation, they did an amazing job at being a team. The sacrifices made by the greater benefit of the team; they understood that … whether it was how they performed, the decisions they made, the attitude they had, all of it was so positive and things that their parents should be proud of — I'm proud of them, proud to be a part of it — I was able to help show everyone at the state meet that these are Bulldogs — a great example of what Bulldogs are."
At the end-of-season banquet, seven Sandpoint swimmers received awards for their efforts this season. The Bulldog Award was given to Sara Hogue and Kale Wright; most improved went to Bria Rocke and Calvin Williams, most dedicated was given to Ava de Leeuw, and the team MVPs were Ryleigh Bamer and Lon LeBlanc.
Recent Headlines
---