Mayors walk to help area youth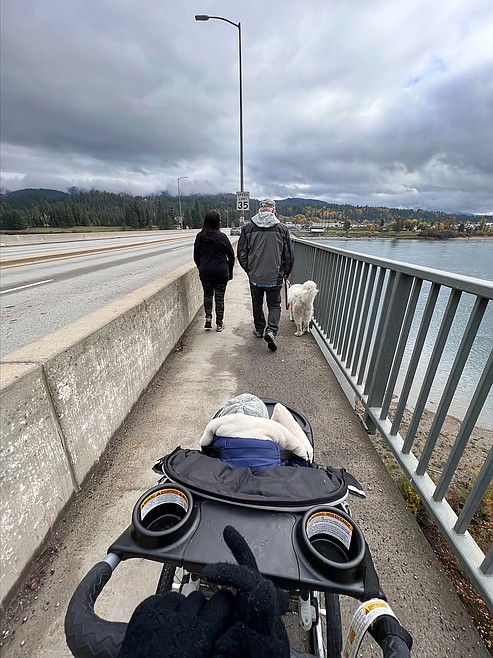 Oldtown Mayor Lonnie Orr is pictured during a recent walk. Orr was one of a half-dozen Bonner County officials who took part in the Mayors Walking Challenge. The event is sponsored by the Blue Cross of Idaho Foundation.
(Courtesy photo)
by
CAROLINE LOBSINGER
Staff Writer
|
November 19, 2023 1:00 AM
It is a chance to give back to their communities and do something positive for schools, local mayors said of why they enjoy taking part in an annual walking challenge.
"I am proud to have been able to help my local school, while bettering my health and enjoying all the beautiful weather that the Pacific Northwest had to offer," Oldtown Mayor Lonnie Orr said.
Orr said he enjoys going for walks, especially with family members.
"To be able to get out and walk, especially with kids is such a forgotten pasttime," Orr said. "I enjoyed October so much; I will let my clerk sign me up next year."
Ponderay Mayor Steve Geiger said he looks forward to the challenge, and appreciates the Blue Cross of Idaho Foundation sponsoring the annual challenge.
Geiger said it is a chance for the state's mayors to bring awareness to, and promote, of the benefits of physical activity.
"It's a great opportunity for us to give back to our communities in a positive way," Geiger said. "It's always great seeing how the other mayors in our area do in the challenge and Bonner County always does a great job representing our state."
Geiger, who has participated in the challenge for at least six years, said it's one of the many great things he gets to do as Ponderay's mayor.
"I will always look out and do anything I can to help our kids," he added.
Dover Mayor George Eskridge said he enjoys taking part in the challenge and helping his community's youth.
Idaho communities received a record $85,500 for projects and programs that encourage physical activity, thanks to the efforts from 98 participants who successfully completed the Mayors Walking Challenge. The annual statewide program offered by the Blue Cross of Idaho Foundation for Health paid out a record amount.
Mayor who walked at least least 10,000 steps per day in October earned $1,000 for their communities. Mayors who walked at least 5,000 steps per day earned $500 for their communities
The Mayor's Walking Challenge started as a regional program in 2014 and expanded it to a statewide event in 2018. Since its inception, mayors have earned more than $604,000 for their communities. Those funds have contributed to a variety of projects and programs that promote a healthy lifestyle around Idaho, including playgrounds, physical education equipment for schools, walking clubs, amenities at parks, scholarships for youth programs, and more. 
In Bonner County, local mayors who participated were Russell Schenck of Clark Fork, George Eskridge of Dover, Vern Fleischer of East Hope, Lonnie Orr of Oldtown, Steve Geiger of Ponderay, Jeremy Cowperthwaite of Spirit Lake. In Boundary County, participating was Geoff Hollenbeck of Moyie Springs.
Recent Headlines
---