SHS girls soccer coach Conor Baranski resigns after 12-year legacy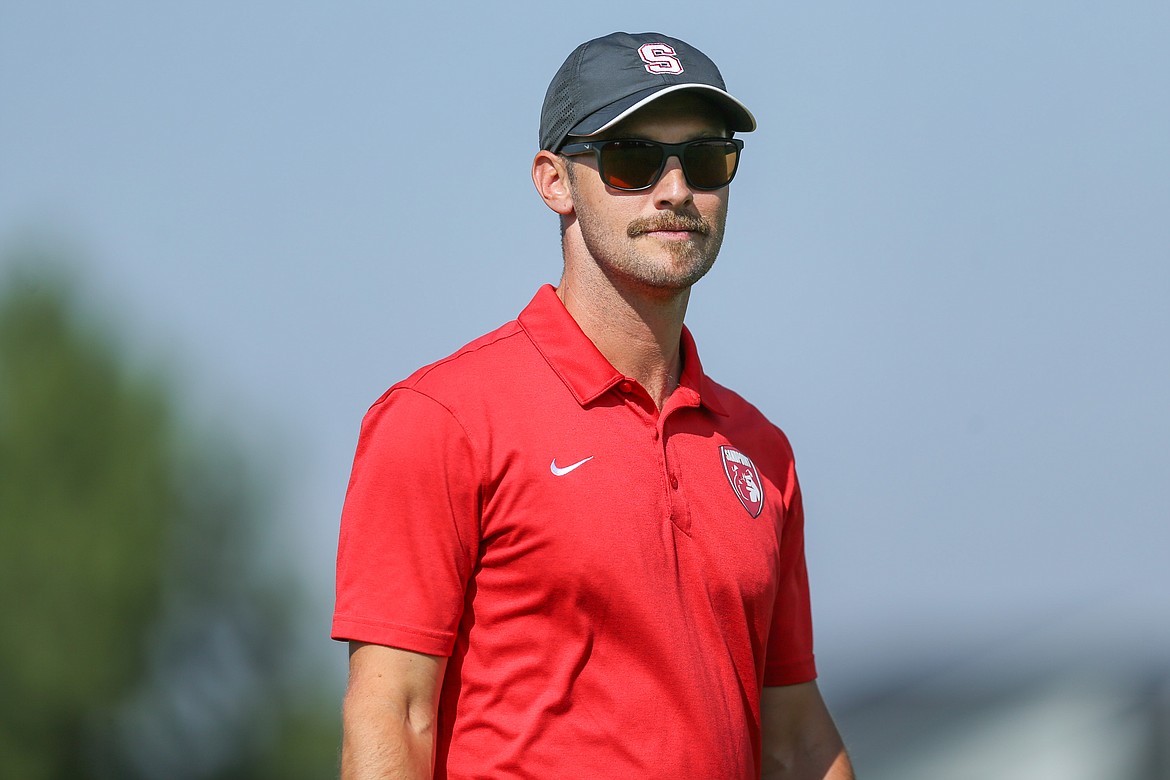 SHS girls head soccer coach, Conor Baranski, watches his team from the sidelines in a game earlier this season. Baranski, during his 12 years as head coach, led the team to four 4A state championships and nine 4A IEL district titles.
Photo by Jason Duchow Photography
by
MAX OSWALD
Sports Reporter
|
November 21, 2023 1:00 AM
SANDPOINT — Citing wanting to spend more time with his young family, Conor Baranski, who brought home four 4A state championships, and nine 4A Inland Empire League titles back to Sandpoint, has resigned as the Sandpoint High girls soccer coach after a remarkable 12-year legacy.
"The decision is 100% based on my need to spend more time with my family, my kids specifically," Baranski said. "It's always been hard, but they're now 6 and 4 (years old), so this season was the hardest since they now have their own stuff going on."
Baranski not only coaches soccer, but said he still actively watches, reads, talks, plays — basically eats, sleeps, and breathes soccer — and if his kids are going to like it as much as he did, he wants to make sure he is more involved.
Over his 12-year stint as head coach, Barasnki said his No. 1 goal was to be a good steward of an already well-established program.
"I was fortunate to take over a successful program and my goal always as the head coach was to be a good steward of the program, succeed on and off the field, focus more on players than tactics, and try to churn out good humans rather than just good soccer players."
Baranski said he has always felt supported by all of the different school district administrations he has worked with, which has been quite a handful. He thanked former athletic director Kris Knowles and current athletic director TJ Clary and said he felt supported by everyone up to Jacki Crossingham (SHS principal). Baranski also thanked his wife, Ali, for her undying support.
"My wife has always been extremely supportive of my desire to make the community better through soccer," Baranski said. "I couldn't possibly please everybody, but overall I have felt a lot of support from parents even through making difficult decisions for their kid(s)."
Barasnki also wanted to thank his assistant coaches Alan Brinkmeier, Sidney Waner, and Madi Schoening for all they have done for the program. 
"Alan has been my faithful deputy the whole way; he is an excellent assistant in that he'll always give me advice and then allow me to make my final decision without judgment," Baranski said. "Madi and Sidney's addition to the staff has been incredibly influential. The four of us have been a democracy for the past two seasons, and it's been the best dynamic among a staff that I've ever had. All three of them have become true friends through coaching our program."
In addition to all the members of the soccer community he is thankful for, Baranski said that when he reflects on all his years as head coach, there are 'countless' memories that bring tears to his eyes.
"Seeing players that have overcome things, players who are incredibly mature beyond their years … I am grateful for the time and energy I was able to put into them," Baranski said. "I just have been impressed with how many young women are willing to work this hard. I told the girls (about my resignation) at our banquet and we just all had one big group hug; it was a special moment that filled my heart … One day, I would love to come back. I find it so fulfilling and such a worthy thing to spend your time on."
One story specifically that Baranski noted was a 2013 state championship win over Bishop Kelly, in which assistant girls soccer coach Madi Schoening was on the team. But one memory that stuck with him the most was during the middle of his first season, when his players put pink ribbons in their hair after his mother passed away from breast cancer in order to celebrate her life.
"It was pretty moving," Baranski said. "We went down to Moscow and won and I just remember feeling so warm."
Some of the biggest benefits Baranski said he took away from coaching were to always be genuine, something he learned early in his career after periods of self-reflection, and to not be ashamed of having high standards. Over his last three years as head coach, Conor produced a 32-12-6 record, and over his career, a plethora of winning seasons as part of the storied SHS girls soccer program.
Recent Headlines
---