Open House kicks off Fire Prevention Week Saturday
SANDPOINT — Selkirk Fire is kicking off Fire Prevention Week with live demonstrations, truck tours and hands-on CPR instruction at its annual open house.
The event will take place Saturday, Oct. 7 from 11 a.m. to 2 p.m. at the Selkirk Fire Station.
The open house provides an opportunity for the community to connect with local officers and learn more about their role in fire safety and prevention. Interactive activities and free lunch will be provided for guests. Selkirk firefighters will also be giving tours of their newly renovated Sandpoint fire station.
Each year is unique and there are likely to be new faces from the community and the fire department, especially with recent hires, Tennille Toussaint, an engineer with Selkirk Fire, said. Last year, they welcomed a well-remembered guest.
"We had somebody that our department had saved with CPR a few months before come back to our open house," she said. "He got to meet a lot of the people he had seen only a few weeks prior."
The efforts on Saturday will help propel the community into a week of fire safety education. Fire Prevention Week runs from Oct. 8 through Oct.14 and is time designated for fire station employees to visit schools, day care facilities and educate the public. This event will help initiate the week with public education and community connection, Toussaint said.
"Usually when we help out our community, it means calls for help and calls for service, so it's nice to come together as a community and talk a little bit about what we do, and meet face to face," she said. "We have many new members in our department and it's good for them to get to know the community that they're serving."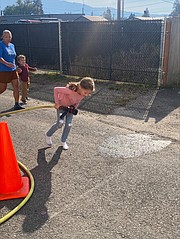 Recent Headlines
---