Citizens plan protest for Travers Park trees
SANDPOINT — Travers Park trees — a topic that has dominated the conversation during public forums at recent council meetings — are being fought for in more ways than one.
To make room for improvements at Travers Park, certain trees are expected to be removed. While some have shown support for the upcoming changes, others are prepared to give the threatened trees a voice.
To demonstrate their dedication to saving trees at Travers Park, community members have formed a group that plans to protest outside City Hall on Wednesday at 4:30 p.m. The event is being organized by citizens Molly McCahon and Rebecca Holland.
"Our peaceful protest will publicly show our opposition to this awful plan and deliver a strong message to city officials that a better location for the indoor facility can be found with community input," an invitation to the protest said. "It is important to us to preserve our park trees and make some modest improvements to our existing, very sturdy, playground equipment in Travers Park."
New designs for the park have been developed to accommodate a new sports complex, which has also raised some concerns. The James E. Russell Sports Complex was made possible when the city received a $7.5 million donation in 2022 from Jim Russell and his mother, Ginny. Council members said previously they hope the complex will offer a place for youth to play and stay active during the winter, especially for those unable to afford ski passes.
While plans for the park have been in the works since 2020, the council unanimously voted Sept. 27 to move forward with construction, which includes the removal of 20 trees. However, Maeve Nevins-Lavtar, parks planning and development manager, said 60 trees are expected to be planted in their place. One Pin Oak is being preserved, which is expected to cost around $9,180 to protect, with an additional $3,000 for root pruning, Nevins-Lavtar said.
She told the council the city plans to repurpose those trees which will be removed.
"The trees, when they are removed, are going to be salvaged," she said. "We will be reusing the wood for the benches and for the wood that goes on the skrim of the building, and anywhere else we can … for example, signage. We are using a local mill company for that."
However, these are not the only concerns citizens have voiced. Location, parking, preservation, lack of shade, and loss of fields are just a few of the other concerns that have been presented during the public hearing portion of recent council meetings.
Many have suggested that the location of the complex be changed and mentioned Great Northern Park as a solution. Council member Jason Welker explained that the Travers Park location was chosen intentionally for a variety of reasons.
"If we were to put this building at Great Northern, we would lose multiple sports fields and we would have a whole other group of angry people in here yelling at us about the loss of football, lacrosse and soccer practice fields," Welker said.
"Not to mention the neighbors that would look right out their back windows because there's not a buffer of existing tennis courts between a possible location at Great Northern and the multiple houses that are located right on that existing parking lot, which by the way, is much smaller than the planned parking lot at Travers Park."
He also said this location would not be cost-effective, or appropriate toward the individuals donating the money that made it possible because of how hidden it would be.
"We just heard from another public commenter not related to this project tonight about the issues with traffic on Lincoln Street, which is right where Great Northern is," Welker said. "Putting a building at Great Northern would require massive infrastructure investment and widening Lincoln, accommodating the increased traffic that that structure located there would create."
Rebecca Holland, one of the organizers of the protest, has participated in multiple public forums and collected about 730 signatures in a petition in an effort to save the trees.
"What is needed is this whole community, all of us, need to get together and have a sit-down, a real workshop like it used to be. We haven't had workshops and you know it," Holland said at the Sept. 27 meeting. "The building is beautiful, but I can't imagine Jim Russell, who was raised here in the '30s … would approve of killing these 20 gorgeous, big trees and moving a playground. Add the inclusive things to it — this is all good, but this plan sucks."
Pam Duquette, who is running for a seat on the council, has also attended multiple council meetings to speak about the trees.
"I'm not meaning to beat a dead horse, or in this case dead trees, but I'm still in opposition to the removal of the trees at Travers Park for placement of the Russell building," she said at a recent meeting. "Too many people are still not aware of what magnitude this project encompasses and how it will affect Travers Park."
She also said she doesn't believe the trees are at the end of their life.
"I put in a public records request to see what the arborists saw as the prospect of end of life of the standing trees, as I understood it was one of the reasons we had to cut them down," Duquette said. "Nowhere did I see any information on the poor condition of all the trees being cut down."
"You don't need the indoor tennis court to do playgrounds and other updates," said commenter Monica Gunter at another council meeting.
Gunter said the grant that originally funded Travers Park was intended to fund outdoor recreation, so she believes an indoor recreation facility is an inappropriate project for the property. She expressed concerns about the parking situation and said it will be a disaster should the city move forward.
At that same meeting, Jeniffer Stapleton, city administrator, made some clarifications addressing concerns. When Councilor Jason Welker asked how many sports fields will be lost, Stapleton replied that none of the existing uses will be impacted by the sports complex.
"It's relocating the playground, but all of the existing fields will stay as will the skatepark with an expansion and an expansion of the bike skills course," she said.
She also confirmed that Travers Park will continue to be primarily an outdoor sports complex, noting that no baseball fields will be lost as a result of the project. Future additions include changes to parking accommodations, which speaks to some of the concerns mentioned, the city administrator said.
Councilor Joel Aspuiro, at the Sept. 27 meeting, addressed a comment saying that the council had attempted to conduct the project "in the secret of the night."
"All the meetings are open to the public. I just want to be clear and defend council, as far as I know there have been no meetings done in secret in the middle of the night without the community being invited or able to be here … I do support it, and I'm thankful for staff and everybody working hard. I'm thankful for the community coming out and giving their positives or negatives about it. I believe there is a lot of misinformation about this. I still, and we all have, encourage everybody to come to meetings and speak up and make your voices heard. Nothing is done in secret."
Jim Russell, one of the donors and son of the man for whom the building is named, told the council that he supports both the location and the design.
"I want to thank the council, madam president. I want to thank Jennifer and Maeve. And I also want to thank everybody that's in the room that participated in this meeting," Russell said. "I think the dialogue was excellent ... The whole intention of this was to bring community together and I know some people are not happy — many are, many may not be, but the community is coming together in this endeavor and I think that's valuable. I know my dad would think that's valuable also. This was a joint donation by mom and myself in honor of my father."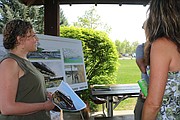 Recent Headlines
---