Sandpoint Rotary raises $87,000 for Book Trust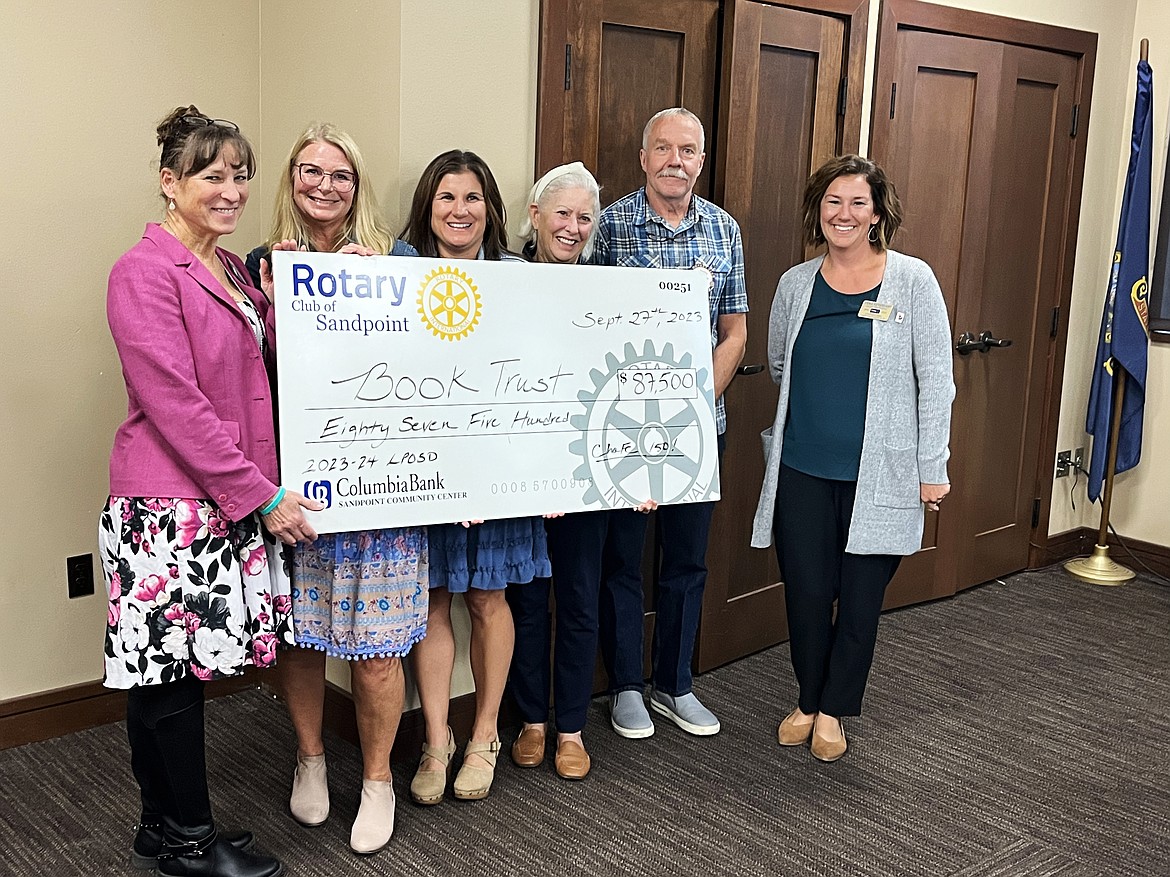 Lake Pend Oreille School District officials accept a donation from the Sandpoint Rotary for the district's Book Trust program. The club raised $87,500 during its CHAFE 150 ride. Pictured, from left, are Dr. Becky Meyer, LPOSD superintendent; Sherri Hatley, Hope Elementary principal; Natassia Hamer, Washington Elementary principal; Karen Quill with The Book Trust; Brad Williams, Sandpoint Rotary member and co-founder of CHAFE 150; and Emma Kevenkamp, Sandpoint Rotary president.
(Courtesy photo)
|
October 4, 2023 1:00 AM
SANDPOINT — This year's Sandpoint Rotary's CHAFE 150 left more than the cyclists breathless.
Even though the 16th annual ride took place months ago, the resulting huge $87,500 donation to the Lake Pend Oreille School District's Book Trust program left many Rotarians and educators feeling like they crossed a finish line at the club's Sept. 27 meeting.
"Through the efforts of sponsors, Rotarians, and other volunteers, you have helped an entire generation of North Idaho kids," said Rotarian Brad Williams. Williams is the longtime organizer of the CHAFE ride.
The successful CHAFE ride also helped Sandpoint Rotary fund more than $20,000 in college scholarships as well as a multi-day leadership retreat program for high school students and other youth activities.
But the star of the presentation was the Book Trust.
Sandpoint Rotary adopted The Book Trust several years ago as a sponsored program, so it made sense to make the organization the largest recipient of the ride, Rotary officials said.
"We all love The Book Trust, and we can see what a difference it makes for our children," said Rotarian and CHAFE coordinator Mel Dick. "It's a game changer."
The Book Trust provides books for every kindergarten through third grader in the school district. Students are given a book allowance and can purchase a book or books. The students get to keep the books they purchase, and for many students, they might be the only ones in their homes.
This exposure to books has led to a measurable increase in student reading scores, said Dr. Becky Meyer, LPOSD superintendent and Sandpoint Rotarian.
The goal is to create a culture of literacy in the classroom and the living room. Book Trust provides students with a unique opportunity to choose and own their own books, which leads to the development of positive attitudes about reading, improved reading habits, and the creation of home libraries. Throughout the school year, students choose books from a custom Scholastic flyer. These free books then become cherished additions to the students' home libraries — libraries that are enjoyed by siblings, family, and friends.
The 2024 CHAFE 150 will be held on June 15. The main beneficiary of the ride will once again be the Book Trust Program of LPOSD.
Sandpoint Rotary began organizing the annual CHAFE 150 bike ride 10 years ago and, during that time, has contributed over $600,000 to various programs of LPOSD.
Recent Headlines
---