Citizen 'locked on' to Travers Park tree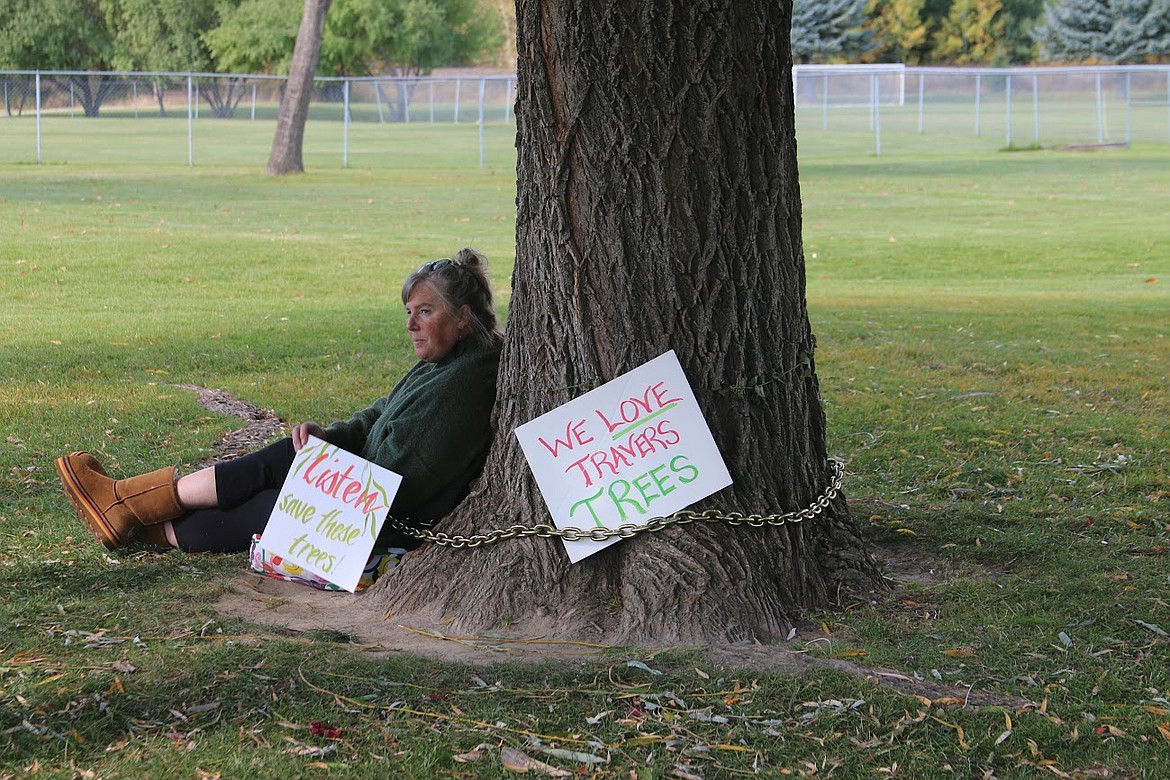 Molly McCahon, in opposition to planned tree removals at Travers Park, chained herself to a tree across from the playground.
[Photo by EVIE SEABERG]
SANDPOINT — A local resident chained herself to a tree at Travers Park on Thursday to protest the city's plans to cut down 20 of the park's trees to make room for a planned tennis and pickleball facility.
Molly McCahon, one of the organizers of a Wednesday protest of the city's plan, chained herself to a willow tree slated for removal while Rebecca Holland, the other organizer of the protest collected signatures in an attempt to save the trees.
While Holland collected signatures, McCahon was bound to the lush willow tree across from the playground with a thick gold change. Around her were signs saying "We love Travers Park trees" and "Listen, save the trees."
The pair said they don't plan on stopping their effort to save the trees without a fight. McCahon said she came without a plan, but intends to continue throughout the week and more if she needs to do so. At the same time, Holland was placing signs, handing out flyers, and talking to parents at the park.
She has devoted her summer and beyond to these endeavors, Holland said.
Those protesting the Travers Park Trees have had a busy season attending council meetings, planning and attending protests, and now locking on to the sturdy trunks of the trees scheduled to be removed.
Many community members are angered by the removal of the trees, and the location of the building. In addition to location, parking, preservation, and lack of shade are just a few of the other concerns that have been presented during the public hearing portion of recent council meetings.
"People are ignited about this issue because this is their park; this is their children's park," Holland said at Wednesday's protest. "We have no problem with this building, this big building being built, but it should not be [where the city put it]."
Recent Headlines
---