Valor Christian High School celebrates grand opening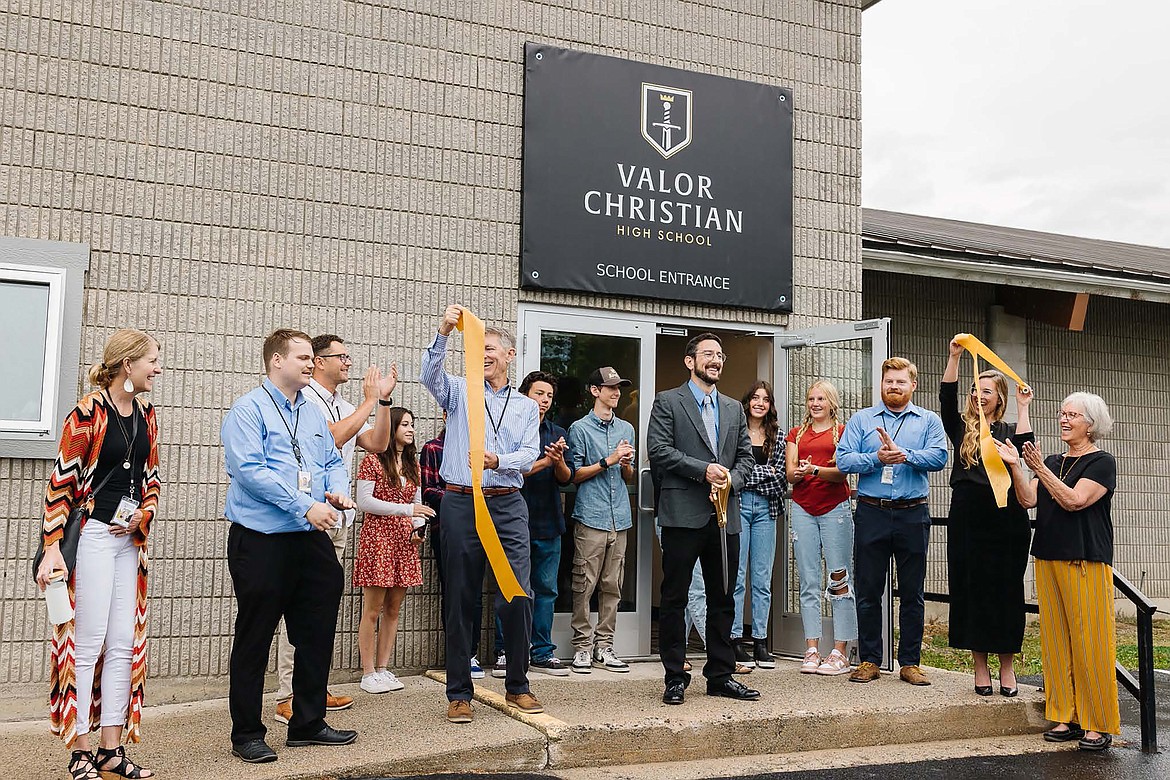 Valor Christian High School board members, teachers, and students celebrate the cutting of the ribbon to make the school's grand opening.
(Photo courtesy REBECCA MILLER PHOTOGRAPHY)
|
October 6, 2023 1:00 AM
A new private school has begun its fall academic year following a ribbon-cutting ceremony Aug. 30.
Valor Christian High School offers classes for 9th and 10th grade students and will be adding 11th and 12th grades over the next two years. About 75 supporters and families were in the audience to commemorate the school's grand opening.
The new school offers seven class periods with classes such as Algebra 1 and 2, literature, American history and biology, as well as Bible and theology and a number of electives.
"We are covering all of the standard subjects and will continue to expand our elective offerings each year," board member and co-founder Luke Patterson said. "We have great teachers, time-tested curriculum and our students are already feeling stretched to meet the high academic standards we have set. We will challenge our students each day, but at the same time provide them the support they need in order to succeed."
Patterson said the school's mission is to educate students in a biblical worldview, to hold them to high academic standards, with a focus on good character, as preparation for a life as Christian adults.
"We have worked hard to actively incorporate these elements into every part of how the school functions, from the curriculum we've chosen, to the teachers we've hired and the school policies and rules," Patterson said.
Extracurricular clubs such as student leadership, home-making and strength-training are offered by the high school. Valor is partnering with the Kootenai Thunder for its first year of sports. In the future, it plans to apply to join the Mountain Christian League with its own team, the Royals.
"We are so excited to provide a new option to local families with high-schoolers who desire a rigorous academic environment that also upholds strong Christian values," Patterson said. "As a team, we are 100% committed to ensuring that we deliver a high-quality education that does not compromise in the areas of faith and truth. Valor is tuition based, and that can be a sacrifice for families, but we believe that it truly is a worthwhile investment into our kids and community. We feel called to partner with parents in equipping their kids to be strong, intelligent and successful adults and are so excited to see this school grow each year."
Valor, 201 N. Division Ave., can be reached at 208-254-0130. Applications are still being accepted for the 2023-'24 school year and can be found online at valorsandpoint.com.
Recent Headlines
---