Hundreds brave cold to attend Sandpoint's Panhandle Overland Rally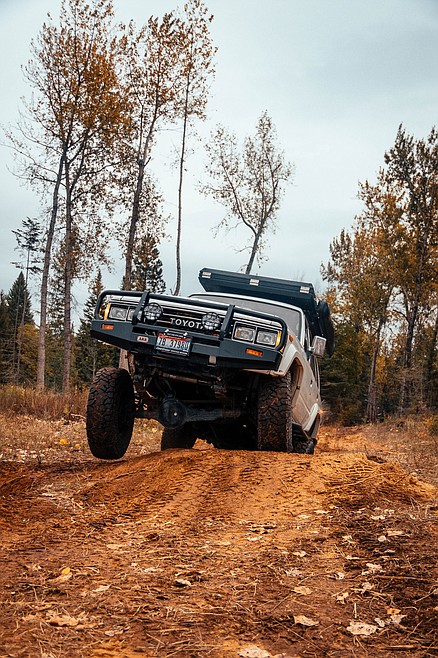 A Toyota Land Cruiser makes its way through the off-road track at the Panhandle Overland Rally.
Photo by LAUREN REICHENBACH
Hundreds braved the chilly winds and nearly incessant rain last weekend to participate in Idaho's fourth annual Panhandle Overland Rally in Sandpoint.
Overlanding, a self-reliant form of travel — often over incredibly rough terrain — to remote destinations where the journey is the main goal, is quite popular in the Idaho Panhandle and surrounding areas. This year, vehicles came from as far away as Germany to attend the overland event.
Vehicle vendors like Decked, Toyota, Gustavo Vans, Grind Hard Plumbing Co., Rockstar Energy and more set up in the windswept, muddy field in preparation for the weekend.
"We had over double the amount of vendors this year as last," said overland rally team member Lisa Muldoon.
With over 26 vendors and more than 250 attendees throughout the weekend, there was never a dull moment at the rally. Multiple communal fires were running almost around the clock to keep vendors and guests warm as the wind chilled most everyone to the bone. This only further encouraged the overland community to come together as everyone braved the weather.
"We tried to expand more on the community aspect of overlanding and bringing people together," Muldoon said. "Other than the weather being crappy, the event was a success."
The rally also hosted multiple events to teach people more about safe overlanding practices as well as offering an off-road track for people to test their wheeling abilities.
Attendees got to learn about what items they should pack for an extended road trip, how to properly recover a vehicle in need of assistance, and were able to get their current recovery equipment inspected for safety. Trainer-led courses also took place throughout the weekend on the off-road track so drivers could learn how to navigate larger obstacles safely and effectively.
"People really seemed to love the education and off-road track we provided," Muldoon said.
In the evenings, the fires picked up again and the Sam Leyde Band as well as Andrew Jannakos joined the fire circles for some intimate concerts.
Muldoon said she hopes to see the event grow more every year as she enjoys watching people from the overland community come together and participate in a great weekend of fun and education.
Recent Headlines
---