SPD officer honored for saving man's life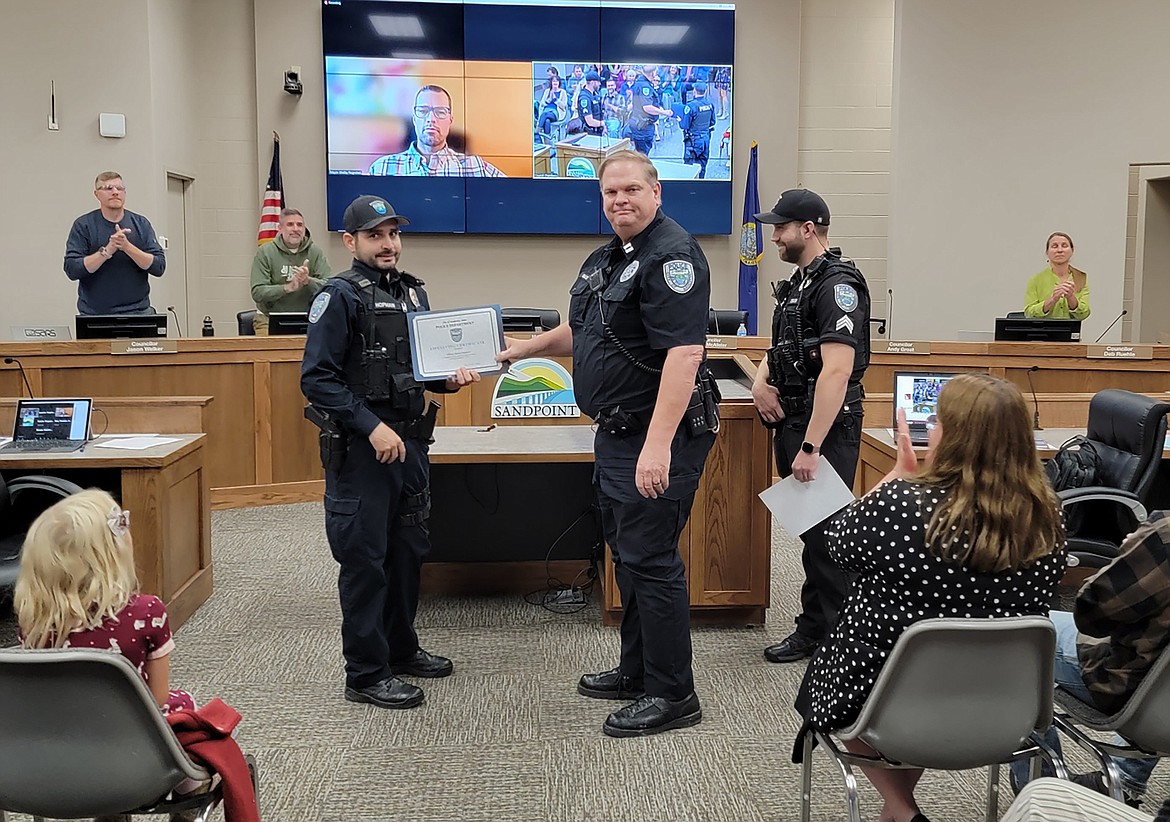 Sandpoint Police Officer David Hopman, left, is presented a Life Saving Award at Wednesday's Sandpoint City Council meeting. Presenting the award are Sandpoint Police Capt. Rick Bailey, center, and Sgt. Skylar Ziegler, right.
(Photo courtesy CITY OF SANDPOINT)
SANDPOINT — A Sandpoint police officer was recognized at Wednesday's city council meeting for his quick discernment and life-saving actions when responding to a call in late August.
When dispatched to a possible reckless driver reported as swerving, and in the wrong lane of travel, Officer David Hopman made an important call.
"Hopman was able to locate the vehicle in the parking lot of a Safeway and found the driver slumped over the steering wheel," Sgt. Skylar Zieglar said in presenting the award. "He was able to wake him up and immediately noticed that the driver was not impaired but likely having a medical issue. He immediately knew something was wrong and contacted EMS."
EMS determined that the driver was experiencing a massive cardiac event, Zieglar said. Hopman's discernment likely saved the driver's life. To acknowledge his actions, he was presented with a Life Saving Award.
"On behalf of the city and our community, I would like to thank you for your service and dedication, and diligence for responding to calls for service," Zieglar said.
A second presentation was given by Lt. Steven Chamberlain about new medical bags that better equip officers for mass casualty incidents. The new bags offer materials to treat many victims at once, as opposed to personal kits that can only address the condition of one person.
"A couple of weeks ago, Selkirk Fire, Bonner County EMS and SPD all got together here in this room and did a tabletop exercise simulating a mass casualty incident," Chamberlain said. "As law enforcement, our role used to be we stopped the shooting — we stopped the killing … We really realized, especially through this training, that we don't just stop the killing, we very likely will be the first people to stop the dying."
To address the need to respond to more people at once, the department purchased five new bags that are outfitted with tools primarily to stop bleeding, including combat gauze, tactical gauze, compression gauze, tape, scissors and a front pouch full of tourniquets, he said. SPD has collaborated with EMS for training on how to properly use equipment.
"This is our medical bag. Hopefully it's something that we never have to use, but if we do we want to be able to save lives," Chamberlain said.
Recent Headlines
---