Goose hunt applications open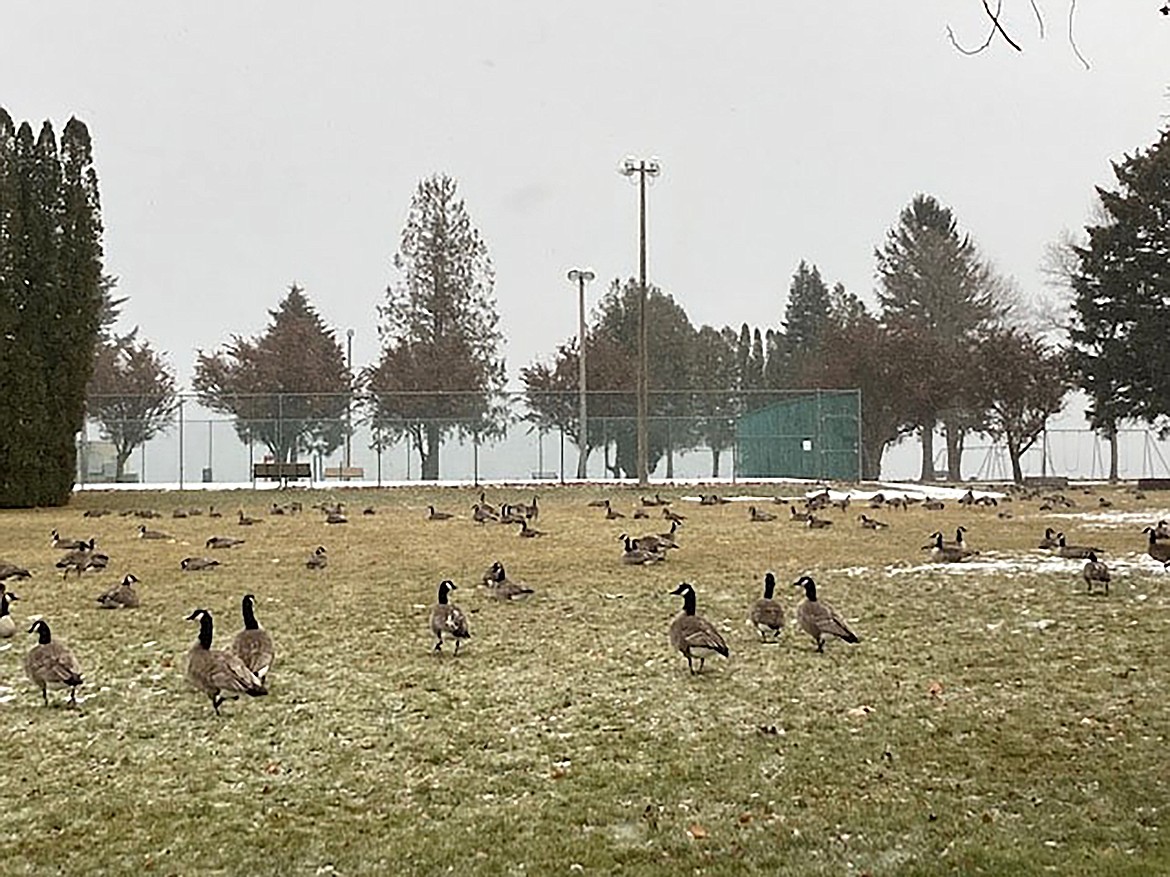 Geese — and their poop — have been an ongoing problem at the beach for years. City officials said they've tried everything possible to keep the birds away from the beach, from decoys to relocation.
(Photo courtesy CITY OF SANDPOINT)
SANDPOINT — After permitting city beach goose hunts earlier this year and observing their effect, the city has opened up applications again for hunts this fall.
This time around, hunts will occur twice weekly during the month of November.
Hunters will be selected via a blind drawing, which will be held at Sandpoint City Hall Council Chambers on Oct. 19 at 5:30 p.m. The applicant must be present, in person at the time of the drawing.
To participate in the hunt, a complete application must be submitted by the Oct. 15 deadline. Applicants must be 21 years of age or older and provide proof of a valid Idaho hunting license, Federal Migratory Bird Stamp, and Migratory Bird Permit at the time of application, city officials said. Each applicant may list up to three additional hunters to include with them in their blind. Additional hunters listed do not need to be present at the drawing but must provide all necessary documentation to authorities on the day of the hunt.
When the hunts for February were originally permitted, they were designed to help combat a growing goose population at City Beach, which was accompanied by E. coli in the geese's feces. At the time, city officials said they had tried everything possible to keep the birds away from the beach, from decoys to relocation.
"Everything that the city has done to try to mitigate the geese at the beach basically isn't working," Sandpoint Police Chief Corey Coon said at the time. "Talking with Idaho Fish & Game, the next logical step is to actually go ahead and approve a goose hunt as part of that management plan."
On average, between 250 and 300 Canada geese make the park their home, carpeting the grass and beach with fecal matter. Because of the large amount of goose poop, high levels of E. coli bacteria can concentrate in the waters near the park, city officials said.
"If we get some results, I think it'd be a success. And then, from what I've been told, geese are pretty smart," Coon said. "Once they start seeing blinds set up, and we're going to use picnic tables as blinds, they'll associate picnic tables with possible hunters, and they won't land."
During the same meeting, Jennifer Stapleton, city administrator said using goose hunting as a management plan is less wasteful than other options.
"The proposal, and what we had heard from the public … was the approach of actually a harvesting of the geese as opposed to a wasting through euthanization of the meat," Stapleton said. "[The hunt] would be potentially an interim step before we even consider going to that next level."
The official 2023 goose hunt dates are Nov. 1, 4, 7, 10, 15, 18, 20, and 22.
Recent Headlines
---