'According to Coyote' set for Panida stage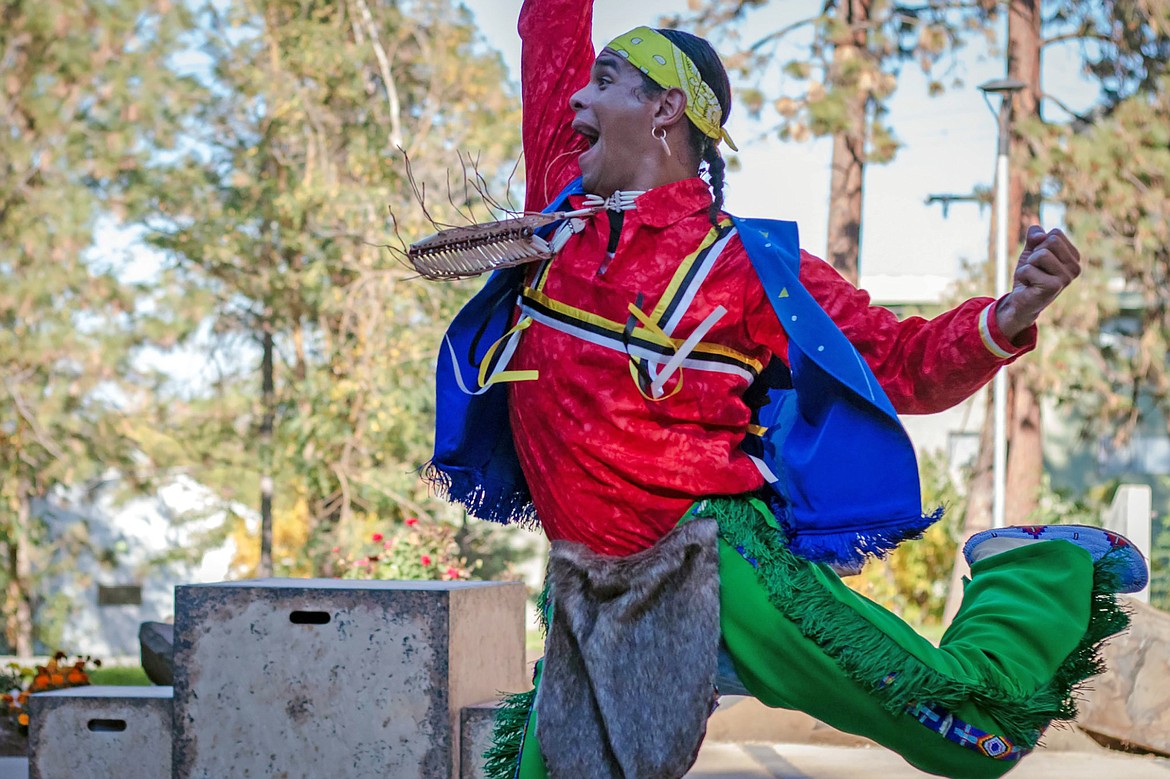 Nez Perce actor, Kellen Trenal, blends indigenous storytelling, dance, music and song into a one-man performance of the famous trickster/creator Coyote.
(Photo courtesy IDAHO MYTHWEAVER)
|
October 11, 2023 1:00 AM
It's OK if you don't know Idaho Mythweaver. Or why Saturday, Oct. 14, promises to be a lot of fun — as well as being a big fundraising event and birthday year celebration at the Panida.
Maybe you just want to see the play, "According to Coyote."
The community will have a chance to enjoy all of the above at the event, set for 7:30 p.m. Saturday.
"We usually work behind the scenes, putting Indigenous peoples front and center, instead of us," Jane Fritz, media director, said. The Sandpoint resident has been involved in the educational nonprofit organization since its beginning 35 years ago. 
"We have worked in partnership with the tribes of the Columbia Plateau Region promoting and presenting authentic expressions of Native American culture either using the media — public radio in particular — and in person with elders as storytellers, as teachers in elementary schools, and even as speakers and drummers and singers at traditional gathering sites like the Clark Fork Delta," she said. 
Among the highlights of Mythweaver's 35 years:
• 1991 — "Speaking the Earth Mother" which featured seven elders from the five Idaho Tribes traveling to and sharing traditional storytelling in 14 Idaho communities;
• 1991-1992 — "Idaho Keepers of the Earth" a five-part public radio documentary series exploring the oral literature of the five Idaho Tribes and how the inherent values of the traditional stories teach us about how to live in balance with the natural world. 
A redux of this series is being reformatted as podcasts, and broadcasted on KPBX, with the first of the series on the Kootenai Tribe of Idaho recently posted on mythweaver.org, Spotify and Apple Podcasts thanks to the Bonner County Endowment Fund for Human Rights of the Idaho Community Foundation.
• 1996 — Plateau Tribal Radio Project which trained Indigenous young adults to learn radio production from professional radio producers so they tell their peoples' stories themselves. One Nez Perce student, Brian Bull, sought a career in radio and today is a Murrow-award-winning reporter at KLCC public radio in Eugene, Oregon and is frequently heard on National Public Radio.
• 1999-2000 — Two Kalispel tribal gatherings with speakers, drumming, dancing, storytelling, mini-powwow and salmon feast, the first at the Clark Fork Delta and the latter at Lakeview Park in Sandpoint;
• 2012 — "The Camas Path: History of the Kalispel Tribe of Indians," four public co-presentations with Jane Fritz and Francis Cullooyah, cultural director; 
• 2013 — Kalispel sturgeon-nosed bark canoe displayed at Classic Wooden Boat Show with tribal canoe makers available to speak to the public;
• 2013-2016 — "Kalispel Heritage in Our Backyard" with Kalispel cultural immersion teachers at three Bonner County elementary schools; 
• 2014-2016 — Celebrating Kalispel Culture on Lake Pend Oreille with six public boat tours on Lake Pend Oreille with Kalispel educators; and 
• 2017-2020 — "Native Voices Archive Preservation" digitization of raw tape, 100 cassette recordings, from 1989-1999 of tribal elders of Idaho Tribes. 
Three years ago, just before the pandemic, the Mythweaver board of directors opted to pivot from its direct work with tribes into the world of Podcast production working with excerpts of the Native Voices Archive interwoven with new voices and stories to address current challenges of the wild, natural world. "Voices of the Wild Earth" has featured nine podcasts to date ranging from salmon on the Columbia River system, relationships with trees and forests, history of tribes on the landscape, and Coyote and storytelling. All of the Podcasts have been broadcast over Spokane Public Radio as well.
Most of the past decades of cross-cultural work of the Mythweaver has been supported in large part by the Idaho Humanities Council as well as over the past seven years by Idaho Forest Group. 
This weekend's celebration and performance is cosponsored by Ting Fiber Internet. There's a special raffle of an original painting by Troy, Montana artist, Terrel Jones, called "Spawning Channel" of sockeye salmon, and a Silent Auction of a dozen specially selected items planned for the night of the event. 
"So many of our friends over the years have donated remarkable and generous gifts and baskets from our community's most popular businesses," says Fritz. "They range from gift certificates to actual items and those attending the evening will not want to miss bidding on them," she added.  
This Oct. 14 fundraiser also features the storytelling performance theater written by the late John Kauffman, Nez Perce, for the Kennedy Center for the Performing Arts in 1987. 
"It's part of the birthday celebration because we brought the original play with John's sister, Carlotta Kauffman, as solo actor 30 years ago to the Panida stage. So it's a storytelling homecoming for Coyote, as well," says Fritz. 
Recent Headlines
---