Yes, Sandpoint Cheer is internet famous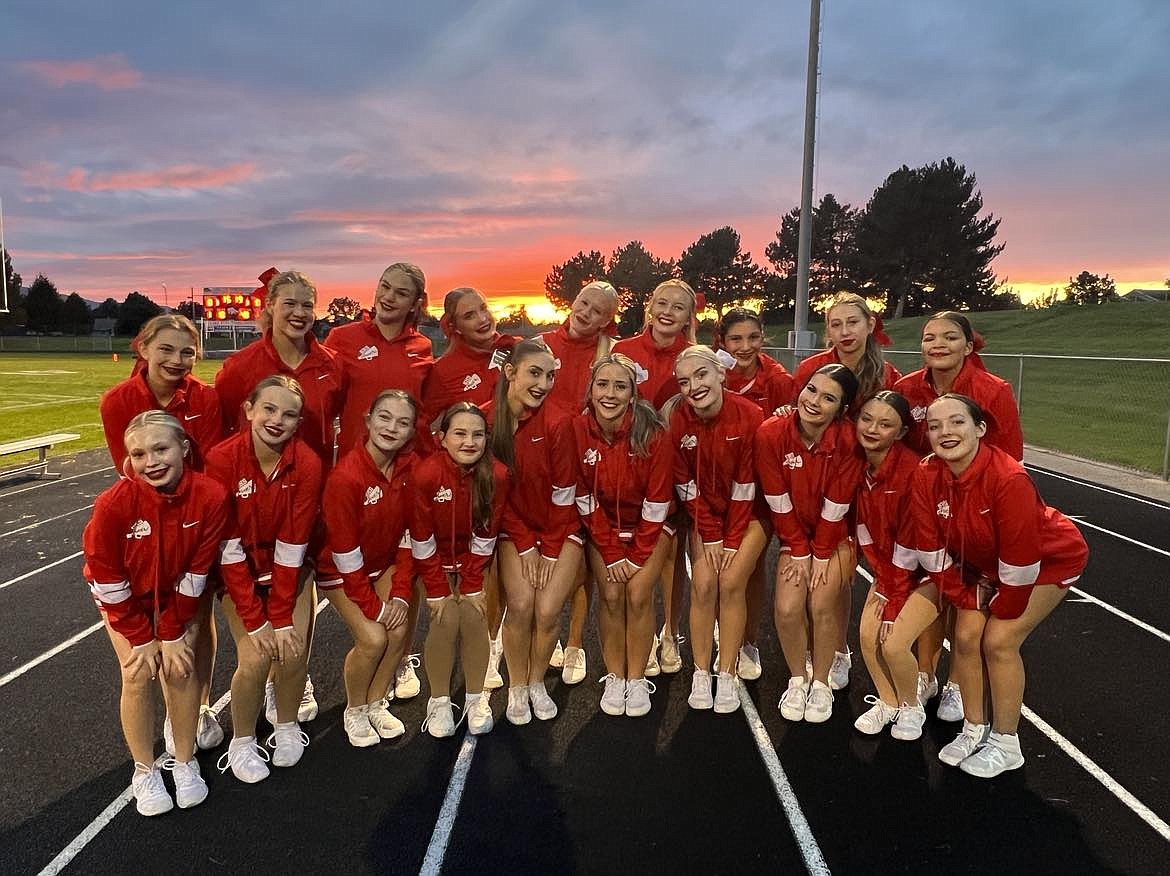 The Sandpoint cheer team poses for a team photo earlier this season. Back row, left to right: Macy Crabtree, Donna Tutin, Sophia Binnall, Hailey Gove, Emma Lytton, Lily Bopp, Bella Grillo, Remi Koebel, and Yessika Sosa. Front row, left to right: Adelyn Schaefer, Megen Vasquez, Kylee Sheetz, Alora Weisz, Shaina Crabb, Mia Przybylski, Annie Gove, Liz Sullivan, Ashlyn Balbin, and Jasmine Alexander. Not pictured: Taylor Granier, Kaylie Nesbitt, Tess Sloan, and Tessa MacDougall.
(Courtesy Photo)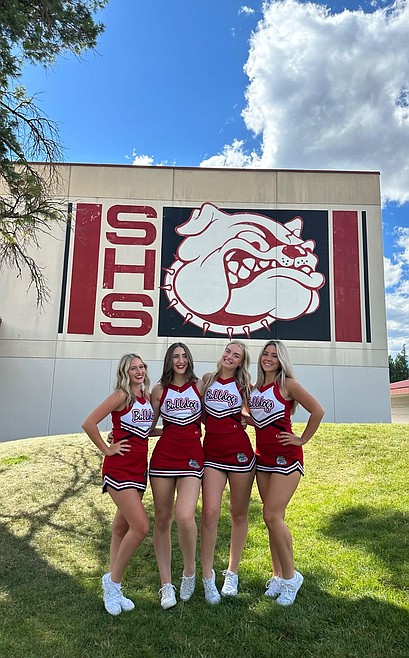 Sandpoint cheer team seniors pose for a photo outside of Sandpoint high school. From left to right, Taylor Granier, Shaina Crabb, Annie Gove, and Mia Przybylski.
Previous
Next
by
MAX OSWALD
Sports Reporter
|
October 12, 2023 1:00 AM
SANDPOINT — There are some hard-working athletes who don't often get the recognition they deserve.
I'm sure you have heard them Friday nights or at other area sporting events, cheering on the Bulldogs of Sandpoint High. Recently, you may have seen Sandpoint's cheerleading team somewhere else … on social media perhaps? The team recently racked up over 1.5 million combined views for their routine titled the "Pendulum," which is performed at Sandpoint home football games.
Posted in late August, Sandpoint's cheer team had no intention of the video being seen by over a million people, but when Press Sports, a media outlet that focuses on helping athletes gain exposure and features top sports plays from around the globe, posted the video of the routine, things took off quickly as viewers were impressed. The video was being shared by different accounts on all platforms. The video, originally posted on the SHS cheer team's Instagram, now has over 114,000 likes.
The "Pendulum" stunt is where the top person, usually a flyer, falls away from the original bases into at least three stationary catchers on both sides, all while maintaining physical contact with the bases, to create a swinging motion, similar to a pendulum. The Sandpoint cheer team's flyer swings back-and-forth up in the air until the team fully spells out "Bulldogs" for the home crowd.
"It takes the entire team because you have to push from both ends — from side to side," Sandpoint cheer head coach Lisa Crabb said. "It takes a lot from our flyers as well because they have to be able to hold their tension. The girls really enjoy it and it is one of their favorites to perform."
Crabb, in her first-year as head coach, said she is driven to coach because it is exciting to be able to watch her team hit milestones and receive accolades and recognition for their hard work. After all, cheerleading is a sport that is active year-round, especially so in the winter when the competitive cheer season begins.
"The cheer team is just go-go-go," Crabb said. "From senior nights, to basketball, to wrestling, to developing competition routines, we are always busy."
This year's seniors, Taylor Granier, Shaina Crabb, Annie Gove and Mia Przybylski, resonated with the fact that they are busy a lot of time, but cheer is something they really enjoy doing. When they found out they went viral for their stunt, they were shocked.
"We were all just checking it everyday, refreshing it, looking at all the comments about how everyone thought our stunt was cool," Przybylski said. "It was just really neat to see because we have been performing that stunt for well over a year now."
Granier said when she scrolls through her feed of cheer videos nowadays, she often thinks how special it was that the team was a part of that. Gove chimed in saying she really couldn't believe it, being from such a small town.
"Some people just think it's a cool stunt, but it's something we have been practicing for over a year. Now that we show people we went viral, they think it's really cool," the girls all said.
Getting recognized for accomplishments is one thing, but all the seniors agreed it's being a part of such a great team that matters the most.
"There is a lot of teamwork that goes into cheer," Shaina Crabb said. "Making new stunts, building pyramids with this team, it's always just really exciting. Nobody is sitting out; we join in and do everything together."
Granier and Gove also added that just being involved with the community and the ability to be on the field were big reasons as to why they loved being a part of the Sandpoint cheer team.
In addition to their already busy schedules, Sandpoint's senior cheerleaders also mentioned how they enjoy working with the next generation of cheerleaders through the Sandpoint Affordable Football League, also known as SAFL, often hosting nights where the leagues younger cheerleaders perform with Sandpoint High cheer team at home football games.
"We also do mini cheer camps with SAFL in the summer and winter," head coach Lisa Crabb said. "We try to get them interested while they're young, and our girls love working with the little kids, and the kids just adore the heck out of them."
With such an involved and enthusiastic group of cheerleaders, it's not hard to see why the team garnered over 1.5 million views over various platforms. The next time you are at a Sandpoint sporting event, thank a cheerleader for always being there for our Bulldogs.
To view the original video, visit shs.cheerteam on Instagram and look for the reel posted Aug. 25.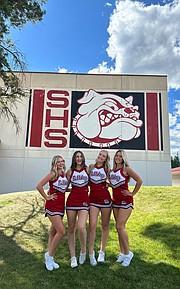 Recent Headlines
---