NIPH concert celebrates Mozart, Schubert
|
October 13, 2023 1:00 AM
Soaring sounds of soprano Alanna Dixon and flawless flute stylings of Gosia Szemelak-Dauksza will thrill classical music lovers in a pair of North Idaho Philharmonia concert this weekend.
Featuring pieces by Mozart and Schubert, two concerts will be held. The first will be at 7 p.m. on Friday, Oct. 13, at First Lutheran Church, 526 S. Olive Ave, Sandpoint; and the second will be Sunday, Oct. 15, at 2 p.m. at First Presbyterian Church, 521 Lakeside Ave., Coeur d'Alene.
Soloist Alanna Dixon has been studying with Brenda Rutledge at the Music Conservatory of Sandpoint for four years, and will be singing the Mozart motet (Exsultate Jubilate, K. 165.) Mozart wrote this work as a religious piece featuring the soprano voice throughout, with lyrics in Latin. Dixon has developed her voice with extensive training and dedication. This will be her debut solo performance.
Highlighting young new talent and encouraging the development of young musicians is one of the underlying principles of North Idaho Philharmonia. Formed in 2021 in collaboration with the Music Conservatory of Sandpoint and other high-level performing arts institutions, NIPH is focused on orchestral and chamber music literature. NIPH regularly invites guest conductors, composers and soloists from around the world. Each performance is intended to create a once-in-a-lifetime musical experience. Assistant Conductor Kent Kimball has deep roots in choral and orchestral music and will take the baton for this concert. Mr. Kimball confided that the Schubert piece is his "favorite classical orchestral piece of all time."
Also on the program, the Mozart flute concerto featuring soloist Gosia Szemelak-Dauksza. Gosia graduated from Academy of Music in Kraków, Poland in 2012. During the course of her musical education, she attended flute workshops in Poland, Spain, and the UK, under the guidance of world-renowned flutists such as Professor Peter Lukas Graf, Professor Janos Balint, Łukasz Długosz, and Wil Offermans. She teaches flute, piano, and Early Childhood Little Mozart classes at the Music Conservatory of Sandpoint.
This year's North Idaho Philharmonia performances are made possible thanks to generous support from WESTAF: Western States Arts Federation.
The audience is invited to linger and enjoy a light reception following Friday's performance at the Lutheran Church. This event is not ticketed; a suggested donation, $20 per adult, would be appreciated.
Information: Music Conservatory of Sandpoint, sandpointconservatory.org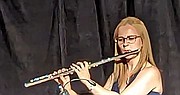 Recent Headlines
---