SHS students present CTE programs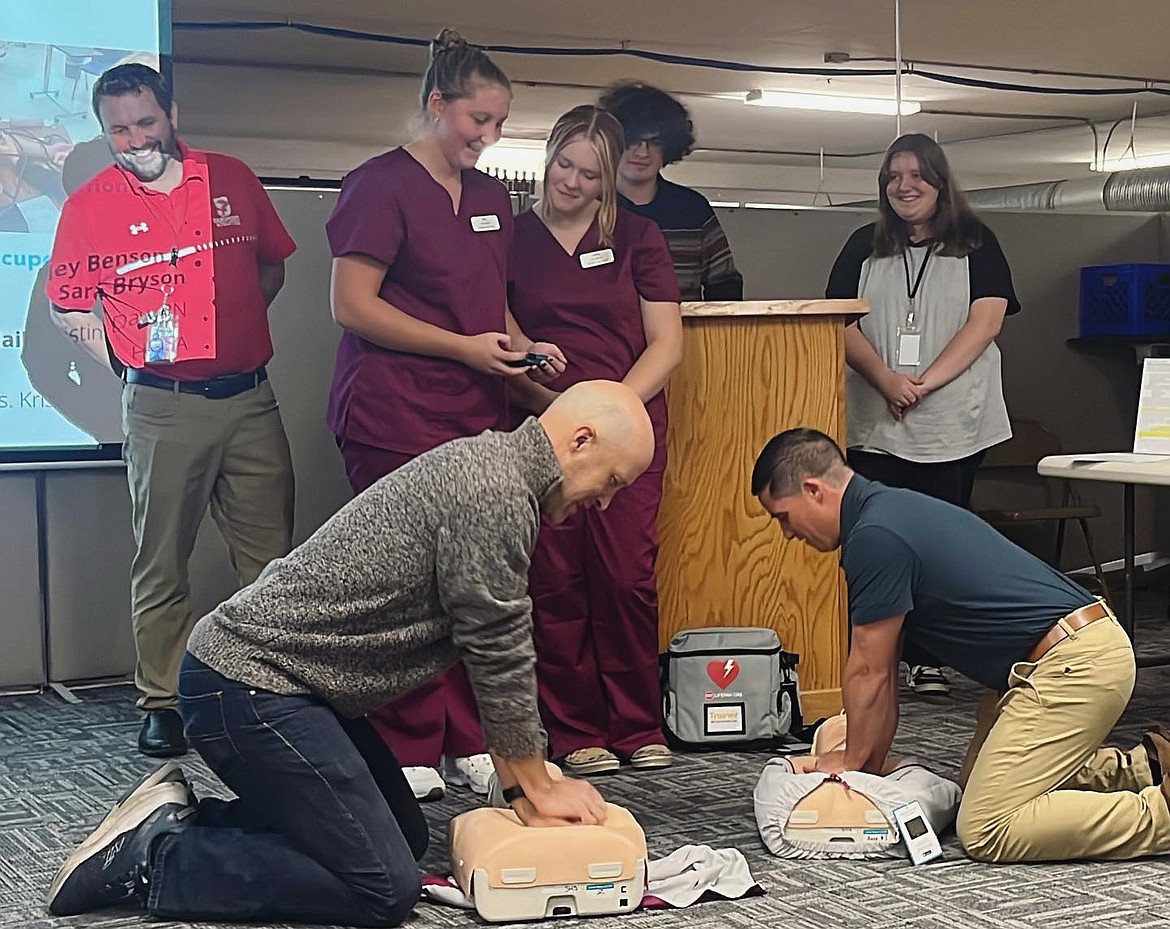 Two LPOSD trustees perform CPR as part of a presentation given by Sandpoint Highschool students
(Courtesy photo from LPOSD's Facebook page)
PONDERAY — Lots of laughter filled the audience at Tuesday's Lake Pend Oreille School District board meeting, as trustees Lonnie Williams and Jalon Peters participated in a CPR competition as part of a presentation given by Sandpoint High School students.
Remaining trustees sang along to "Stayin' Alive" while the pair concentrated on saving the mannequins' lives through accurate compressions. Two seniors at SHS, Sara Bryson and Hailey Benson, were guiding them and monitoring their accuracy with an app. By the end of the activity, Williams scored 71% and Peters scored 75%.
The students' intention was to demonstrate some of the skills taught in Career Technical Education courses offered at the high school. In this case, students were sharing about a health occupations course. Through that course, students have the chance to participate in clinicals, shadow doctors, and become certified as a certified nursing assistant.
Two other students presented their CTE classes. Heaven Day, a sophomore, talked about the skills she learns at her computer networking and support class. Students in the class learn about the parts of a computer and how they work together. They recently learned how to make ethernet cables and read binary clocks.
"[The teacher] goes over how to write a cover letter, how to write a resume, how to get a job and then how to keep a job," Day said.
Will Clark, SHS senior, discussed his journalism and graphic design class and the school's newspaper, Cedar Post. Through the journalism program, he said he is learning how to navigate deadlines, edit with Adobe Audition, and how to speak confidently. The course offers students the opportunity to host an hour-long radio show on 88.5 KRFY.
TJ Clary, assistant principal at SHS, previewed other classes including a popular culinary arts class, a business professionals class, and a residential carpentry class.
"We have a total of nine occupational areas," Clary said. "We have 10 instructors at Sandpoint High School this year, and part of our graduation requirements is that [students] take two credits in the area of CTE in order to graduate."
The residential carpentry class has gained momentum and popularity, and new improvements are in the works, Clary said.
"We had a group of adults go down to Spirit Lake to look at the tiny houses and what that might look like, and there is word on the street that we're going to be starting a tiny house in the residential carpentry program," Clary said. "We're really excited about that."
Other CTE classes include welding, embroidery and classes that offer exposure to CAD and 3D design.
Recent Headlines
---