Festival celebrates outreach program's third year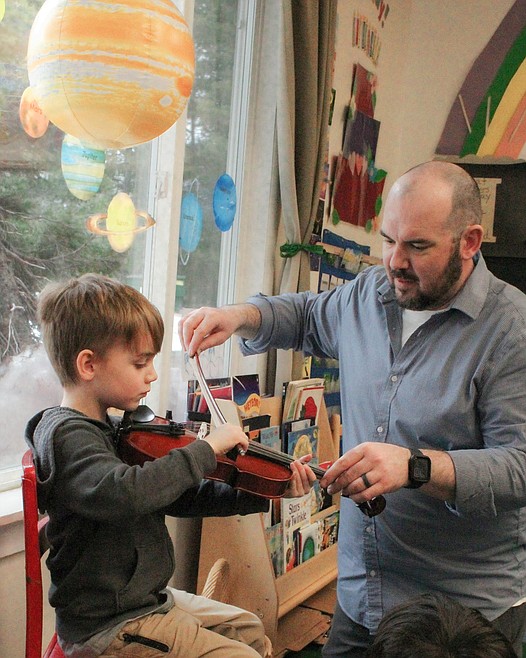 Festival at Sandpoint Production & Education Manager Paul Gunter teaches a Selkirk School preschool student how to play the violin.
(Photo courtesy FESTIVAL AT SANDPOINT)
|
October 15, 2023 1:00 AM
This October, the Festival at Sandpoint entered the third year of its Pre-K Outreach program, a free series of in-class lessons designed to engage students through rhythm, movement, and song.
During each session, students focus on a specific rhythmic element while integrating new instruments. This rhythm-based approach helps students establish strong foundations at a pivotal age of 3-6 years, which is one of the largest gaps in music education nationwide.
The curriculum is tailored each year to work with existing music requirements in the local schools and introduce students to a myriad of instruments and new genres of music.
Pre-kindergarten and kindergarten teacher Sharon Williams reflected on Selkirk School's experience with the program over the past year.
"Paul Gunter visited our school once a week and presented lessons appropriate for three classes of young children," Williams said. "The needs of our three-schoolers differed greatly from those of our preschool and pre-kindergarten/kindergarten students and Paul addressed those needs with lessons that were dynamic, motivating, and just plain fun for each specific group of children."
Classes can be adapted to fit the school's needs and can be integrated into the school day or offered as an after-school program, Festival officials said.
"The Pre-K Outreach program from the Festival at Sandpoint is outstanding. It is unique in that very young children are actively engaged in learning about music," Williams said. "We are extremely fortunate to have such an opportunity for our children in Sandpoint, and I am very grateful to have had these lessons at Selkirk School."
Thanks to the generous support from donors, volunteers, and the local community, Festival officials said they are able to work toward its non-profit mission to foster a love of music through ongoing youth education programs that are both affordable and accessible to local schools within our community.
We would also like to give a special thanks to the Idaho Community Fund's Bonner County Fund for Arts Enhancement and the Community Assistance League for their grants in support of our education outreach efforts and youth orchestra program in 2023.
The Festival at Sandpoint provides in-class sessions to Little Lambs and Selkirk School. Schools interested in the program can contact the Festival office at info@festivalatsandpoint.com or 208-265-4554.
Information: Festival at Sandpoint; online, festivalatsandpoint.com; email, info@festivalatsandpoint.com; or phone, 208-265-4554
Recent Headlines
---