City breaks ground for sports facility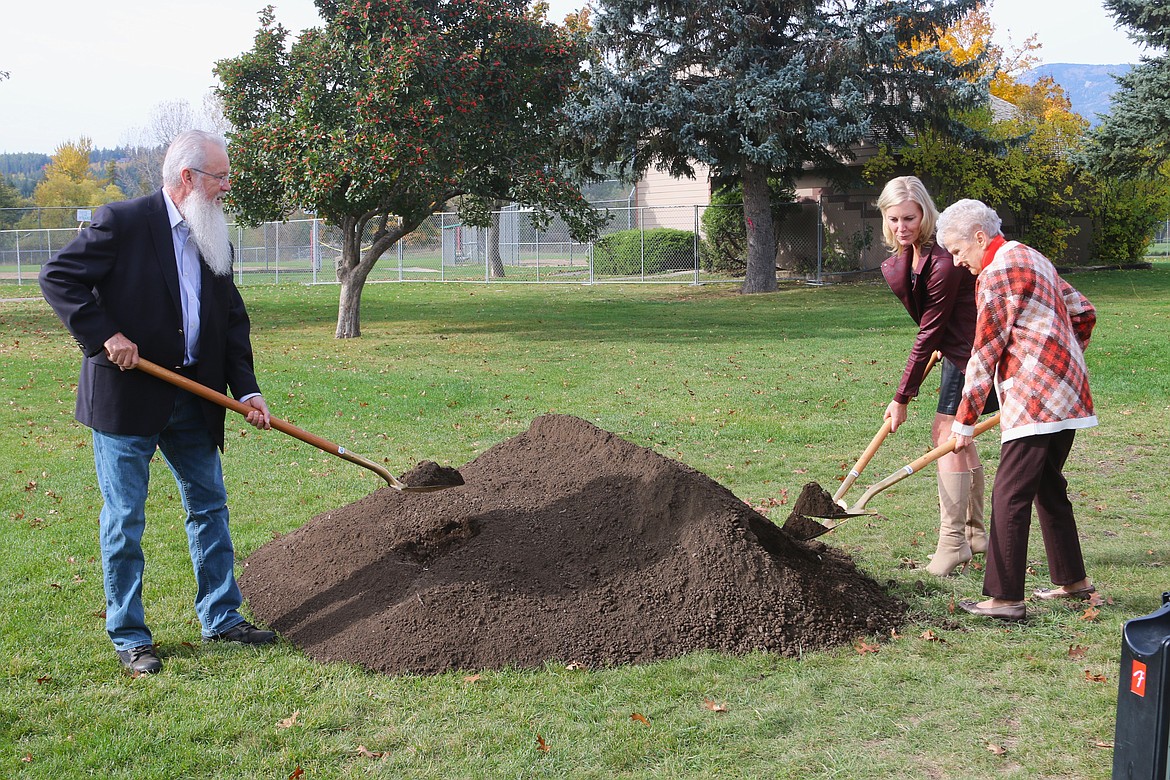 Jim Russell, his mother Ginny Russell and City Administrator Jennifer Stapleton break ground for the new James E. Russell Sports Center.
[Photo by CAROLINE LOBSINGER]
SANDPOINT — After a 19-month wait since donating $7.5 million toward an indoor sports facility at Travers Park, the Russell family, city officials and others broke ground on the project.
The groundbreaking ceremony took place where the new facility will be built, with construction crews, leaders of primary facility user groups, city councilors, designers, the Russell family and others in the audience.
Meanwhile, protesters opposing upcoming changes to the park bordered the construction zone yelling for city officials to "find a new location" and "save the trees." They continued chanting as Kate McAlister, city council president, and Jim Russell, James E. Russell's son, spoke to the crowd.
"I remember in one of those early meetings, the idea of sponsoring a bench with his name on it at City Beach was suggested," Jim said during the speech he gave on behalf of his mother and himself. "We were hoping to do something more meaningful and significant."
That's when plans for the pickleball and tennis facility were born.
Integrated into those plans were upgrades that would bring the playground up to current ADA code, improve a bike skills park and expand the skatepark. Through these changes, the family hopes to create an inclusive environment for residents of all abilities and disabilities, Russell said.
"The city planned and re-planned the center itself to incorporate wood harvested from the trees in the affected area," he said. "More importantly, the city included 60 new trees to be planted to replace the 20 trees affected by the construction. A net gain of 40 additional trees for current and future generations to enjoy."
After meetings, public comment, and considering all inputs, the city council weighed all of these inputs and ultimately decided unanimously to move forward with construction and approve the first of phase construction contract amendment Sept. 27, Russell said.
Jennifer Stapleton, city administrator, emphasized how important it was to the Russell family that they gather while James's brother Ross, who entered hospice recently due to dementia, could attend.
"His health has been declining rapidly," Stapleton said. "... It is so fragile that he may not be able to attend at all."
Despite best efforts, Ross was not able to attend. However, the family still celebrated as Jim and his mother, Ginny Russell, shoveled fresh ground at the park together.
"This is a dream of my father's that started nearly 20 years prior to his passing in June of 2019," Russell said. "That dream was to give back to the city where he was born and raised, and provide a venue for sports that could be used year-round. Today marks the next step of turning that dream into a reality."
Jack Legg, Jim Russell's brother in law, said he wasn't surprised that the family was giving back to the community.
"He was such a sports athlete." Legg said of James. "He was in his 80s and he was still shooting — he was shooting his age at golf. I mean, how do you do that? That's how athletic he was. He [wanted] to give that back to the community."
Russell said that he believes improvements will make Travers Park an even more desirable spot in the community.
"It is my sincere hope, that over time in the months and years to come after initial construction, and as improvements continue to be rolled out, that the community, including those who oppose the improvements today, come to see the positive impact these improvements have on the community as a whole and for generations to come," Jim Russell said.
He finished his speech by thanking all involved for their efforts.
"Our only regret is that Dad cannot be here physically to witness this ceremony, watch the construction progress, participate in the eventual opening ceremony, and most importantly cannot physically play tennis or pickleball here," he said. "But I know in my heart that he is here and will always be here watching over this facility."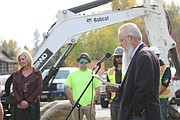 Recent Headlines
---