Travers Park protests continue
SANDPOINT — "It's not too late," protesters chanted in unison at Travers Park early Monday morning after Rebecca Holland, a pioneer of the group, was given a notice that she was being trespassed from the park and city council meetings.
The gathering was the second protest organized by those opposing the removal of trees at Travers Park to make room for a new indoor sports facility. By 8:30 a.m. a crowd had congregated with homemade signs and paintings of trees.
Molly McCahon, one of the event organizers, was not at the protest.
"[She's] working really hard on something — this is not over," Holland said.
Not long after the protest began, Lt. Steven Chamberlain with Sandpoint Police Department, accompanied by other officers, arrived to ask Holland to leave the park and gave her a document that stated she was trespassed because of her behavior toward city staff and council members. Holland read portions of the document aloud, listing the reasons why she, specifically, was being removed.
"Making threats toward city staff in person and by social media, making assaulting, demeaning and other offensive remarks, attempting to harass and intimidate city staff from performing the functions and responsibilities of their job, being continually disruptive at city council meetings, being in repetitive contact with, blah, blah, blah…," Holland said as she read the paper.
"OK, well I will have my lawyer look at all this stuff, I guess, I'm not reading all this [expletive]," she said.
Following her comments, Chamberlain told her she needed to gather her things and leave.
Holland did not immediately leave, but continued to encourage those around her to persevere in rallying against the city's decisions regarding improvements.
She began voicing her frustrations with the mayor, saying the group's petition has more signatures than he had votes when he was elected.
"And I voted for him and campaigned for him," Holland said.
Other protesters yelled comments saying the police weren't allowed to remove her from the parking lot.
"You have no right to remove her," one person said.
"She can even be out on the sidewalk, she just can't be in the city park," Chamberlain told Holland's husband.
Some protesters were committed to resisting the police and their removal or Holland.
"We need to circle her and not let them in unless they take us all … until they take every single one of us," said Monica Gunter, daughter of Frank Travers, for whom the park was named.
However, after being asked to move multiple times, Holland eventually walked out to the street to continue her efforts.
Two candidates in the upcoming general city election, Jeremy Grimm and Pam Duqette, were also in attendance holding campaign signs.
"I am against this project moving forward at this point," Grimm, who is running for mayor, said. "The public hasn't been heard, alternatives haven't been looked at, and I'm especially concerned about this [being] a landfill."
Duquette, who is running for city council, said she is also against current plans for the park.
An eighth grade class from Sandpoint Waldorf school also stopped to talk with protesters while visiting the park.
"I do have a lot of children who feel strongly about losing the park," Yvette Mcgowan, the student's teacher said. "They feel very attached, and it's hard because I've been coming here for 19 years with children, and to see it go is hard."
Later in the day, as the city hosted a groundbreaking ceremony for the facility, protesters lined construction fencing yelling slogans and sometimes insults as Jim Russell, one of the donors that made the planned facility possible, gave a speech.
During the ceremony, loud boos echoed in the park as others yelled to "save our park" and "find a new location" among other things.
Sisters Sally and Christine Moon, whose family has been in Sandpoint since 1904, were both protesting at the event but also took a sympathetic stance toward the Russells and their involvement in the facility.
"It's a sad day for the Russells," Sally Moon said after the ceremony "… we want the city to fess up to what they did and that's why we're here."
In response to her sister saying most involved aren't from the area, Christine said she believed there were some good intentions involved.
"I disagree that the people who did this aren't locals because they are," she said. "They've moved here and they're working very hard to make the community a good one, they just didn't really work very hard on the history."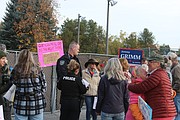 Recent Headlines
---