Land outside Clark Fork protected for wildlife passage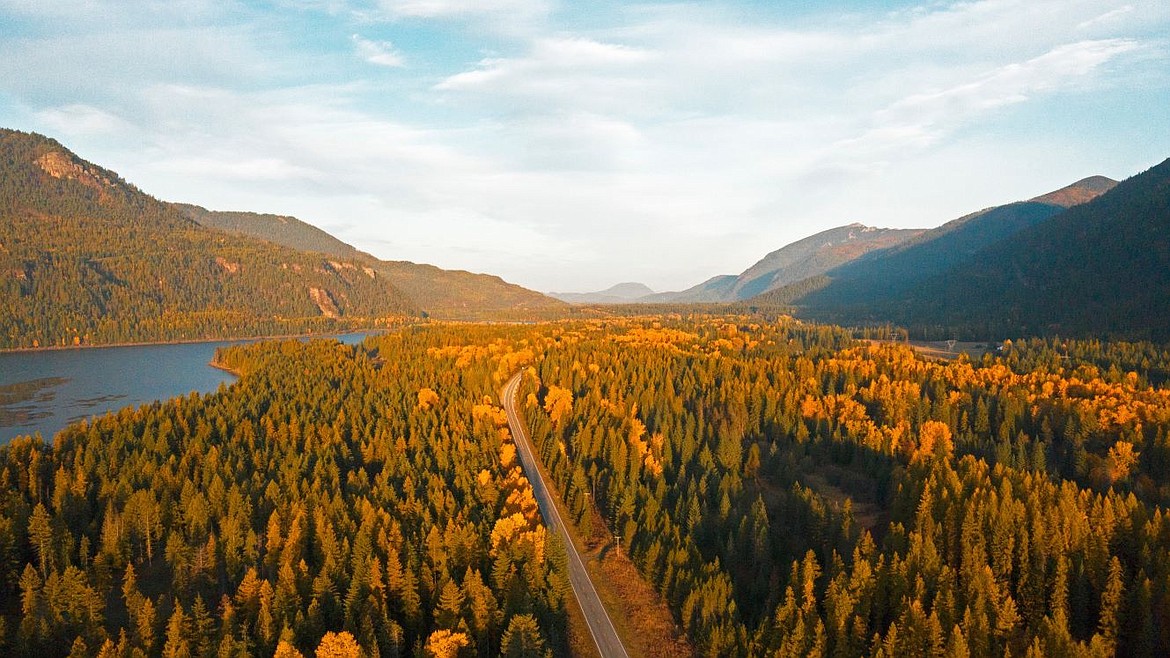 A portion of Highway 200 and the recently protected wildlife land.
Courtesy photo
More than 150 acres in the Idaho Panhandle and Northwestern Montana are now protected from subdivision and development within an important habitat connection area for grizzly bears and many other wildlife species.
Completing their third land acquisition in the area since 2021, The Vital Ground Foundation and Yellowstone to Yukon Conservation Initiative have worked with private landowners to protect 151 contiguous acres near the confluence of the Bull River and Clark Fork River after this month's 22-acre purchase.
"Animals need enough room to sustain a healthy population and roam freely," said Pelah Hoyt, Y2Y's director of Landscape Connectivity. "By working with willing landowners and partners like Vital Ground, we are able to restore key corridors and improve wildlife movement parcel by parcel."
Lying in a natural bottleneck area for wildlife moving through the Bull River and Clark Fork valleys, the project will maintain important range for elk, moose and sensitive species like wolverine and the Canada lynx. As a nationally-accredited land trust, Vital Ground will consolidate the newly-protected property with its two neighboring parcels and carry out a stewardship plan combining habitat restoration and open space conservation.
The 22-acre acquisition includes mostly forested habitat and nearly a half-mile of frontage along Highway 200. Lying directly south of the 80-acre property that Vital Ground and Y2Y purchased in 2021 and southeast of the 49 acres protected earlier this year, this new acquisition completes a habitat corridor linking national forestlands to the north with the Clark Fork valley.
Vital Ground and Y2Y have worked hand-in-hand with biologists for years to identify safe pathways for wildlife across linkage zones like the Bull River-Clark Fork confluence area. Experts said maintaining these passages is increasingly important as more people relocate to Montana and Idaho.
"Given the level of development pressure Northwest Montana is facing, we're thrilled to be making another conservation investment in the Bull River linkage area," says Mitch Doherty, conservation director for Vital Ground. "In just two years, we've been able to protect over 150 acres in one of the last undeveloped connectivity areas along this stretch of Highway 200."
As real estate pressures continue across the west, experts allege that increased subdivision and dense development along the Lower Clark Fork Valley would not only impose further habitat fragmentation and increase the risk of conflicts between bears and people, but also threaten public access to popular areas for hunting, fishing, hiking and other activities central to the region's rural identity.
"We are delighted to team up with Vital Ground once again," said Hoyt. "Working together with landowners to restore habitat, conserve wild places and secure connections and corridors will make a difference for generations of people and wildlife to come."
While providing habitat for a wide range of wildlife and fish species, the cluster of properties purchased at the Bull River-Clark Fork confluence area serves as a link for grizzly bears across a larger area. In the Idaho Panhandle as well as the northwestern corner of Montana, grizzly populations are much smaller than they are in the ecosystems anchored by Glacier and Yellowstone national parks.
The Bull River-Clark Fork project improves connectivity between these sensitive populations, protecting a pathway from the Cabinet-Yaak Ecosystem, which is home to around 60 grizzlies.
"Grizzly bear linkage across the Clark Fork River is important for the future of bears in the Bitterroot," said Wayne Kasworm, a grizzly bear biologist for the U.S. Fish and Wildlife Service who has documented several grizzlies near the project area in recent years. "This project is a start and a stepping stone to protecting habitat for bears to make that journey."
Recent Headlines
---