Dogsmile Adventures helps others heal through sailing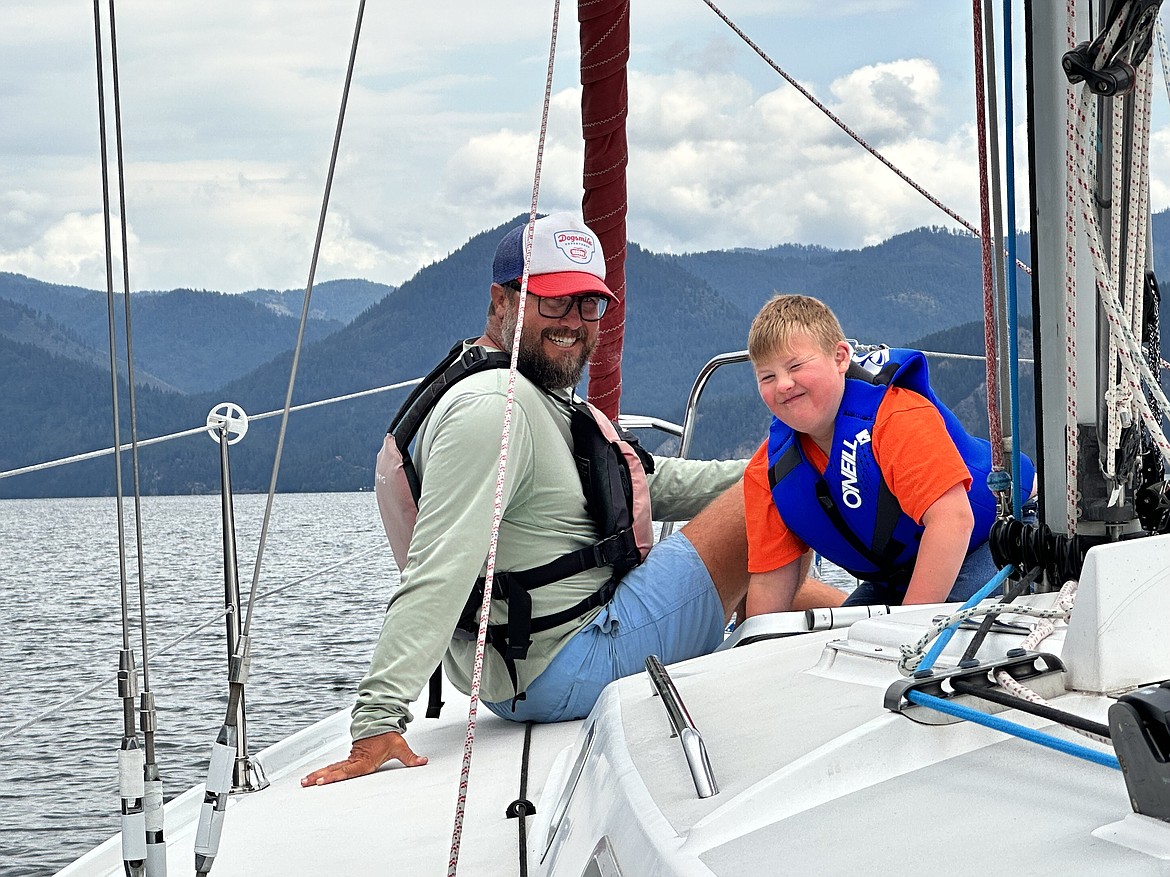 Dogsmile Adventures founder Capt. Jon Totten with a young sailor with Specialized Needs Recreation aboard the SV Dogsmile on Lake Pend Oreille.
(Photo courtesy DOGSMILE ADVENTURES)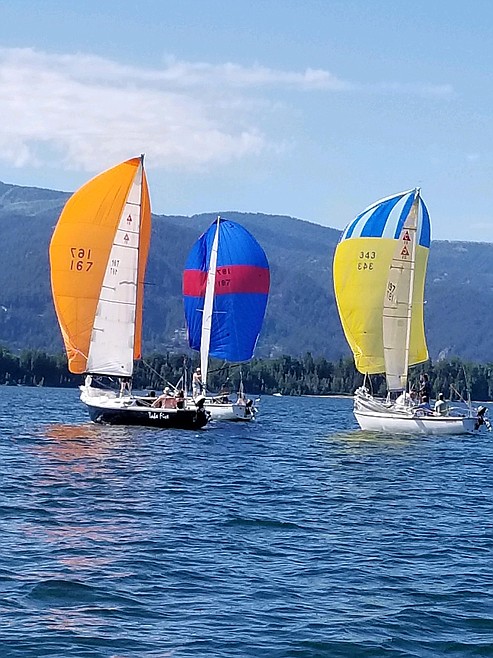 Dogsmile Adventures is a local nonprofit founded by longtime sailboat Capt. Jon Totten. Dogsmile creates powerful opportunities for people to discover healing and potential through sailing adventures.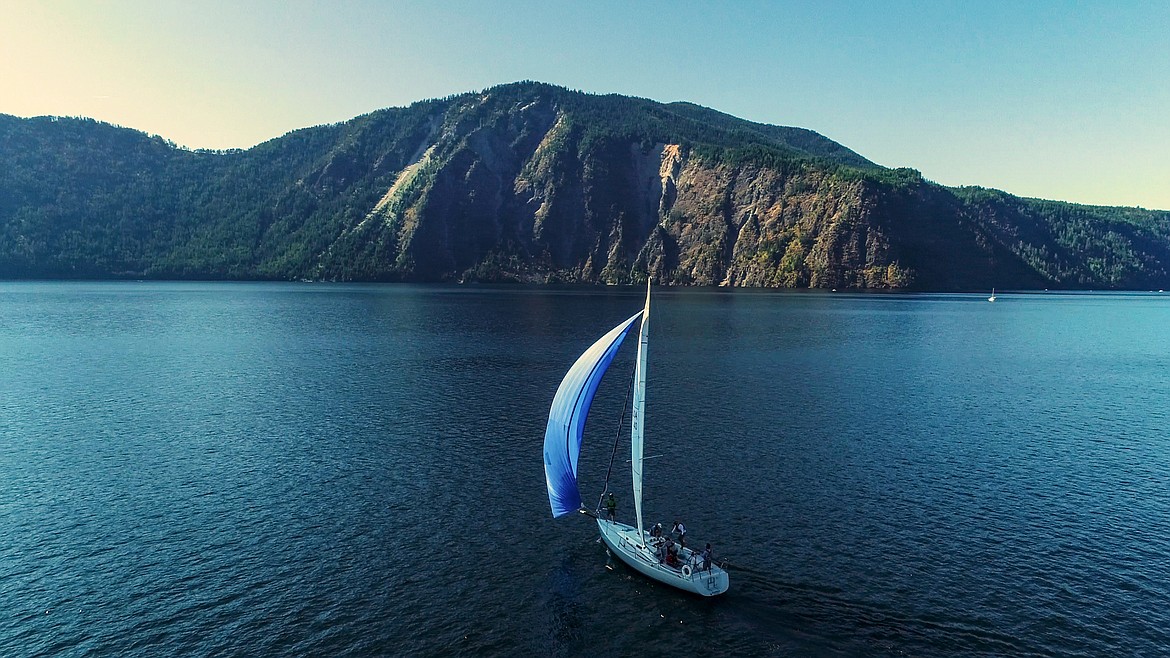 Dogsmile Adventures, sailing the waters of Lake Pend Oreille, in Bayview, Idaho, during the summer of 2021.
Previous
Next
|
October 29, 2023 1:00 AM
SANDPOINT — Putting smiles on faces and creating happier hearts.
That's what Dogsmile Adventures is all about, officials with the nonprofit said.
"A dog smile is an expression of unadulterated happiness," Capt. Jon Totten, founder and executive director, said previously of how the therapeutic sailing nonprofit got its name. "You're so happy that you don't care about how you look or how you're seen or what anyone else thinks."
Dogsmile Adventures will hold its annual celebration and "Race to Alaska" film premiere online Nov. 14 at 6:30 p.m. at dogsmileadventures.com. Those interested should sign up now for the online silent auction, with bidding open from Nov. 1-14. Individuals can sign up for the online auction at onecau.se/dogsmile2023.
Auction items include two different sailing charters in Mexico, a sailing charter in the San Juan Islands, a sunset dinner cruise aboard Sizzler on Lake Coeur d'Alene, a Bayview float house weekend and day sail on Dogsmile's J105 sailboat, a sail and stay on Lake Pend Oreille with Cloud Nine Sailing, a surf charter on Lake Coeur d'Alene with Action Sports Rentals, and a very special prize, the limited edition, last of its kind Jeff Weir print, "Home."
Everyone is welcome, and every bit of participation helps fund Dogsmile programs, with all proceeds helping make boat rides available.
"This year's program is going to be amazing," Totten said. "Come celebrate with Dogsmile supporters from all over the world. I look forward to seeing you there."
The community's support helped Dogsmile Adventures celebrate its third season, logging 3,664 hours of therapeutic sailing and creating nearly 1,000 unique experiences. 
"That's more than seasons one and two combined, and our incredible sponsors and individual donors made it happen," Totten said.
That success is on top of that seen in 2022, during which the organization more than doubled its service over the previous summer. It has served everyone from veterans to a women's shelter to a youth sailing camp to North Idaho College and the University of Idaho.
Also in 2023, Team Dogsmile joined the Race to Alaska, the longest wind- and human-powered event in North America. Their experience is documented in a film by Action Sports Media, which will premiere Nov. 14.
"The Race to Alaska was an unbelievable experience," Totten said. "We can't wait to share this film with everyone."
Dogsmile Adventures is a 501(c)3 charitable organization which creates opportunities for people to discover healing and potential through sailing adventures on Lake Pend Oreille and Lake Coeur d'Alene.
The organization offers sailboat rides, lessons, a racing academy, and custom experiences. Its focus is on underserved communities, such as veterans, local youth, victims of domestic violence, and those struggling with drug and alcohol addiction, but Dogsmile programs are open to anyone interested in experiencing the healing power of sailing.
The Race to Alaska, or R2AK, is an annual 750-mile adventure race from Port Townsend, Wash., up the Inside Passage to Ketchikan, Alaska. Any form of boat is allowed as long as it has no motors.
Totten learned how to sail on Lake Coeur d'Alene through North Idaho College's Outdoor Pursuits program in 1998. Totten, an outdoor educator, guide, and sailor for the past 25 years, has spent time on sailboats all over the world, he said.
In 2019, he was working as a charter captain, operating a million-dollar sailboat, taking wealthy clients around the southern Caribbean. When the pandemic struck, Totten found himself stranded on his boat in the U.S. Virgin Islands for six weeks.
Talking to a friend as he pondered what to do, Totten was struck by the realization that many never got to enjoy the serenity, beauty, and joy found in sailing.
When he returned to Coeur d'Alene, he launched Dogsmile Adventures.
Information: dogsmileadventures.org
Recent Headlines
---