Candidates debate issues at forum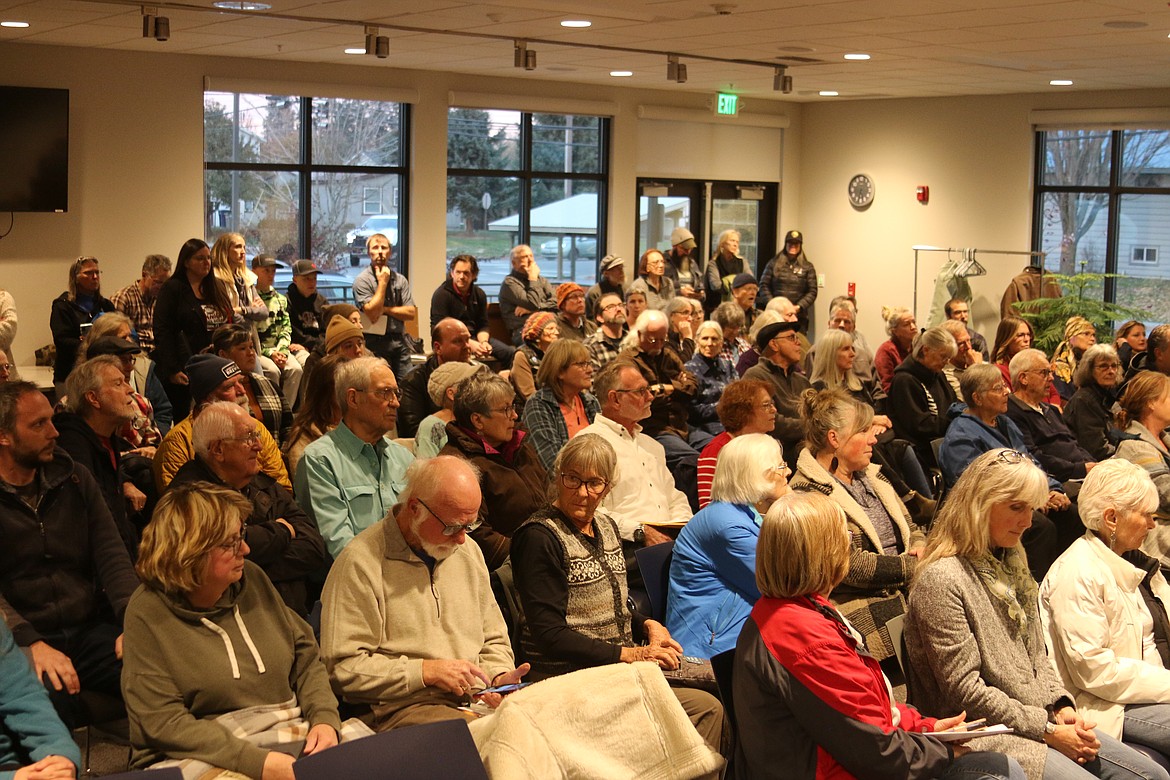 Community members packed the room Monday at a forum inviting candidates for school board, city council and mayor to debate hot topics in the upcoming election.
[Photo by EVIE SEABERG]
SANDPOINT — People packed the Sandpoint Library community room Monday, as every chair was claimed at a public forum hosted by the Bonner County Daily Bee to cover hot topics for the Nov. 7 election.
With eight minutes left to spare, each attending candidate for school board, city council and mayor had a chance to answer questions and make their mission known to the community. 
Two candidates running for the Zone 1 seat on Lake Pend Oreille School District board of trustees, Jenn McKnight and Scott Wood, spoke about how they would balance conflicting views on curriculum, and what their role as a trustee would be in shaping education in the school district.
Jenn McKnight described herself as a Christian and mom who supports family values and "staying in budget."
"I'm pro-family and pro-citizen," McKnight said in her opening statement. "What I won't do is try to put out a $90 million levy. I'm pro building maintenance. I will not vote to raise your taxes."
Instead, she said she will promote stronger academics. In regards to curriculum and activities, she said decisions need to be made by the families.
"We see this a lot with some of the social, emotional stuff," she said.
Instead, she said schools should be focusing on academic subjects like math and writing. If something conflicts, she believes decisions should be made by the parents. 
The role of a school board trustee is to listen to the citizens, she said.
"I've been out there and I've been hearing what the citizens want," McKnight said. "They want the value stuff left to the families and they want better academics."
Scott, a fourth-generation resident of Bonner County, said he would focus on physical improvements of school buildings and campuses.
"The difference between Jenn and I is, most of the community that I talk to, and the community that I'm from — they want to see some buildings fixed," Wood said. "They want to see more technical education classes in the schools. I come from a different side."
In regards to structure improvements and upgrades, Wood said he, his wife, and his two sons all have attended the middle school — and nothing has changed. While he believes part of his role as a school board trustee would be to support education, he also said maintaining facilities for students and teachers should be a main focus. 
"I don't want to make sweeping changes to the school district or the board," Wood said. "I feel like the district is going in the right direction. I don't feel like there needs to be significant policy changes.
While candidates running for school board in West Bonner County School District were not able to attend in person due to a board meeting, Margaret Hall, Carlyn Barton, Elizabeth Glazier and Kathy Nash all provided statements.
District 1 incumbent Margaret Hall said she was encouraged by her constituents to run again.
"I will work tirelessly to find solutions to the district's internal and external challenges, including the extreme community polarization, critical financial issues, staff retention and student performance and attendance," Hall said in her statement.
Alan Galloway, who is also seeking the Zone 1 seat on the WBCSD board of trustees, did not respond to an invitation to attend the candidate forum or submit a statement on his candidacy.
In Zone 3, incumbent Troy Reinbold did not respond to an invitation to attend the forum or submit a statement.
However, Elizabeth Glazier, a mom and agent with Edward Jones who is challenging his seat, said she believes she would be a strong asset to the board.
"As a school board trustee, I will rely heavily on my knowledge of budgeting, cost-saving strategies, performance benchmarking and working with people to help us achieve excellence for the students, teachers and community members of WBCSD," Glazier said.
In District 5, incumbent Carlyn Barton submitted a statement and her competition, Kathy Nash had her campaign manager deliver a statement on her behalf.
Barton said her goals for the district include fiscal responsibility, anti-bullying education and teacher retention.
"First we need to complete the audit and become financially transparent to all patrons," Barton said. "Second, we need to rectify WBCSD operational deficiencies and comply with the Idaho State Board of Education. Third, we need to bring integrity back to our school board. When we complete these three most significant steps we will be able to start mending the division of our district."
Jim Kelly, Kathy Nash's campaign manager, offered a statement about her dedication to running for election.
"Kathy has been attending school board meetings and reviewing budget issues for the past five years," Kelly said. "Her research has uncovered swampy budget practices that are not only concerning, they are downright shocking."
With her experience as an accountant, Nash said she would benefit the board by encouraging better financial practices and management and efficient use of taxpayer funds. She will also only support school levies that follow the completion of a detailed forensic audit that examines necessary funding.
While only one of the three candidates for Dover City Council was able to attend the forum, the audience still had the chance to hear from candidate Keith Congleton. He answered questions about housing availability, uniting the old and new sides of Dover, and defining "progress for the city." Both Dan Parkin and Steven Haynes said they are traveling and expressed their regrets that they were unable to attend.
During the Sandpoint City Council forum, strong themes of historical preservation, community involvement, building height restrictions and street improvements emerged from comments given by the six candidates running for two open seats.
They answered questions about the Downtown Waterfront Design Competition, how each defines "progress" for the city, and how to improve citizen involvement.
Some candidates touched on scheduled Travers Park renovations that have been highly opposed by a group of community members. A portion of the audience had protested outside the Library with the goal of encouraging voters to support their cause.
During the portion of the forum set aside for candidates running for Sandpoint Mayor, candidates answered questions about the city administrator position, important skills for a mayor, and how to best involve the community.
In an effort to ensure fair coverage for each attending candidate, in depth coverage of Sandpiont and Dover city council candidates as well as Sandpoint mayoral candidates will be available in Wednesday's paper.
Recent Headlines
---