POAC announces new adult art class schedule, new location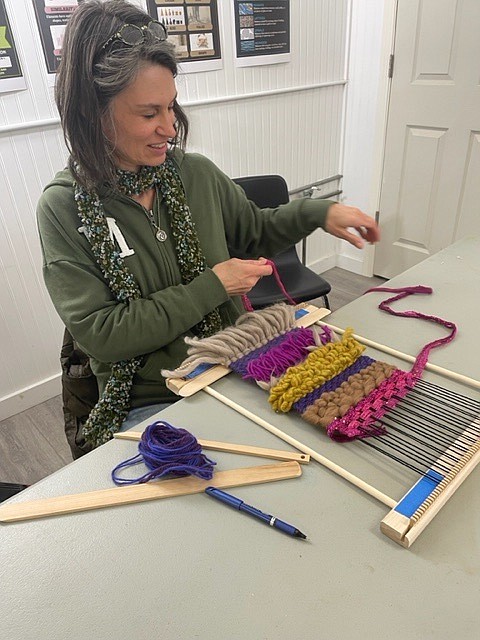 POAC's Joyce Dillon Studio is moving to a new location, 313 N. Second Ave., in time for adult art classes to begin in mid-September. Pictured is student Meyla Bianco Johnston as she completes a wall hanging in a weaving essentials class.
(Courtesy photo)
|
September 1, 2023 1:00 AM
Heads up if you're interested in taking one of Pend Oreille Arts Council's adult art classes. POAC is excited to announce that the new fall class schedule has been finalized and, even more exciting, the new Joyce Dillon Studio will be ready for students in time for the first classes in mid-September.
The new location, 313 N. Second Ave. — directly across the street from Jalapeño's — will have great lighting, be on the ground floor, and have ample parking around the back. The complete schedule is online at artinsandpoint.com. There, you'll see that most of the popular classes are back with a few new additions. As always, you should sign up early to be sure to get one of the limited spaces.
Jan Rust, Joyce Dillon Studio Committee chair and board member, said that they are pleased to welcome two new teachers this fall, Dave Gonzo and Robilyn Robbins.
"Robilyn will be teaching classes in watercolor portraits. Her classes are for students with all levels of experience. They are recommended as a perfect introductory class for anyone wanting to try watercolor or portrait painting for the first time. Classes start Friday, Sept. 15," Rust said.
"Dave will be offering classes in metalwork, including torch-welded sculpture, forging ornate wall hooks, and creating copper/steel ladles. These classes are held at Dave's studio at 1023 Baldy Mountain Road and begin Thursday, Sept. 14."
Back in the studio, classes include sculpting in polymer clay, starting Thursday, Sept. 21; Kimekomi on Friday, Sept. 29; weaving essentials Oct. 3; wildlife and landscape acrylic painting Oct. 3; and, on the same date, drawing in the city with Barry Burgess. Glass windchimes will be made from recycled materials Oct. 4.
Dates and times for classes, through the end of the year, are posted on POAC's website, artinsandpoint.org. POAC is committed to bringing arts and culture to Bonner County through visual and performing arts programs. All POAC events are family-friendly, and costs are kept to a minimum to help make them affordable to the community. Funding is obtained through grants, sponsorships, and individual donations.
Recent Headlines
---